Team Nitro Kart Wins Races and Championships at New Castle USPKS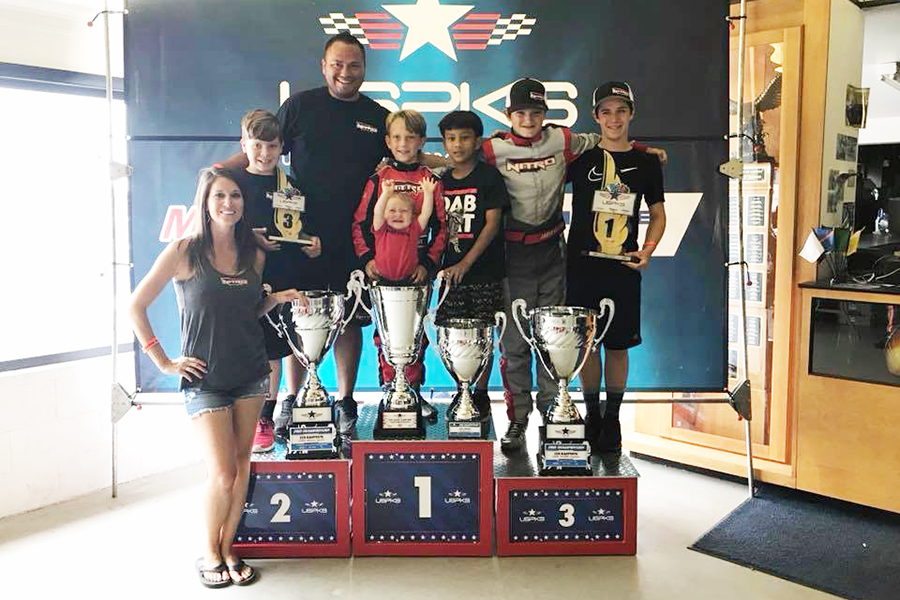 New Castle, Ind. (July 27-29, 2018) – The 2018 United States Pro Kart Series season came to an end last weekend with the Hoosier Grand Prix at New Castle Motorsports Park. Team Nitro Kart was at full strength and looking to close out the season with wins and championships and they did just that, with 5 wins, 11 podiums, and 3 championships at the end of the weekend. The weather can be tricky in this part of the country during the summer, but the racers enjoyed a dry track all weekend for some fast and furious competition.
MINI SWIFT
Nitro Kart Drivers: Brent Crews, Sebastian NG, Sofia D'Arrigo, Adam Brickley, James Overbeck
Team Nitro Kart's Sofia D'Arrigo earned the pole for Saturday's Mini Swift Final, with a pair of 3rd place finishes in the heat races as many drivers had one good heat race and had trouble in the other, including Brent Crews, who won the second heat but was only 9th in the first. In the Final, Crews was able to get out into the lead in front of a tight pack of karts and was soon joined at the front by his Nitro Kart teammate Sebastian NG, who had to make several passes to get to 2nd place. Crews and NG swapped the lead a couple of times but, at the finish, it was Crews by a nose over NG for the win. Sofia D'Arrigo was 6th at the line, with Nitro Kart teammates Adam Brickley in 15th and James Overbeck in 17th place.
On Sunday, Brent Crews looked to keep his winning weekend going and he got off to a great start by winning the Pre-Final, in a very tight finish over Jace Park. In the Final, Park turned the tables by taking the win by twelve-thousandths of a second over Crews after a heated battle with many lead changes. Sebastian NG ran up front early but was shuffled back to 7th at the finish. Fellow Nitro Kart driver Adam Brickley was 17th at the flag, with James Overbeck in 19th and Sofia D'Arrigo in 21st.
MICRO SWIFT
Nitro Kart Drivers: Ben Maier, Spencer Conrad, Aryton Grim, Hoyt Mohr, Santiago Duran, Vincent Capitillo, Cameron Weinberg, Carson Weinberg
Team Nitro Kart's Ben Maier came into this weekend with a very healthy points lead in the Micro Swift class, and he could clinch the championship one race early and he was able to do that, and in style, with a clean sweep of qualifying, both heat races, and victory in the Final by over 4 seconds, over CRP Racing/Nitro Kart driver, Hoyt Mohr. Team Nitro Kart driver Spencer Conrad came home 3rd for a Nitro Kart podium sweep. Fellow Nitro Kart driver Cameron Weinberg claimed 5th place, with Nitro Kart newcomer Santiago Duran in 6th, Aryton Grim in 8th, Carson Weinberg in 12th, and Vincent Capitillo in 14th.
Sunday at New Castle was a victory lap for Team Nitro Kart's "Blazin' Ben" Maier, and he made the most of it with another win in the Final, but it wasn't as straightforward for him as Saturday. Ben was "only" 3rd in qualifying and 4th in the Pre-Final, which was won by Niro Kart teammate Spencer Conrad, but he was able to grab the lead by lap 4 and was able to stay up front until the finish. CRP Racing/Nitro Kart driver Hoyt Mohr took another solid 2nd place, with CRP Racing/Nitro Kart teammate Aryton Grim in 3rd for another Nitro Kart podium sweep. Pre-Final winner, Spencer Conrad crossed the line in 4th, with Santiago Duran again in 6th. Carson Weinberg came home in 8th with Vincent Capitillo in 10th, and Cameron Weinberg out early with a DNF.
Ben Maier's national championship was his second of the season, as he won the SKUSA Winter Series earlier this year.
KA100 JUNIOR
Team Nitro Kart Drivers; Jacob Graham, Hayden Jones, Will Cox
Team Nitro Kart's Jacob Graham, in his first season in the Junior category, came into the final 2018 USPKS round at New Castle with a strong lead in the KA100 Junior class. All he needed to do was score good points on the weekend and he would win his first national championship. Instead, he won the Final on Saturday, although he benefitted when Spencer Lofton, who had crossed the line in 1st, was given a 2-place bumper penalty, promoting Jacob from 2nd place to the win. Team Nitro Kart driver, Hayden Jones, was running in the top 3 until contact with another driver on lap 13 led to a DNF, and classified in 9th place.
Sunday went considerably better for Hayden Jones, but not until the Final. Jones qualified in 6th, but was a DNF in the Pre-Final, putting him at the back of the grid for the Final. In the Final, Hayden drove from last to 2nd place at the checkered flag, but by only 18-thousandths of a second to Garrett Adams. The winner was then handed a 2-position bumper penalty, giving Jones the win, his first in a national event in only his second year of outdoor kart racing. Jacob Graham came home in 7th place, clinching the inaugural USPKS KA100 Junior Championship.
Team Nitro Kart driver Will Cox was fast all weekend, as evidenced by his close 2nd place in the Pre-Final on Sunday, but he just couldn't catch a break as he ran into trouble in both Finals, but look for him to be on the podium soon.
NITRO-KART/FULLERTON
Team Nitro Kart-supported, Fullerton USA drivers enjoyed another great race weekend with Darin Marcus taking the Final win in X30 Masters on Sunday, and John Robicheaux taking 5th in that class on Saturday. Austin Garrison was 3rd in X30 Pro on Saturday and 2nd on Sunday and Mike McAndrews flip-flopped that with a 2nd place in the KA100 Senior Final on Saturday and a 3rd on Sunday.
GEO CUP
In addition to the two driver's championships, Nitro-Kart/Fullerton won the 2018 USPKS Geo Cup Team championship as well. Nitro Kart owner and Team Nitro Kart boss, Nick Tucker was understandably pleased with the results of the weekend and the entire USPKS season. "I am very proud of what all of our drivers have accomplished so far this season and I would like to thank all of our great tuners and coaches for what they do to give the drivers these opportunities. I'd also like to thank Lance McGrew and Rich Gutierrez at Fullerton USA for being such great partners at the races. It's pretty special to win the team championship with them," said Tucker.
UP NEXT
Team Nitro Kart will head right back to New Castle Motorsports Park for their next event, the SKUSA SummerNationals, for the final two rounds of the 2018 SKUSA Pro Tour on August 10-12.
ABOUT NITRO KART
Nitro Kart is based out of Mooresville, NC in the hub of American motorsports. The company was founded by "Nitro" Nick Tucker with a sole focus on youth karting and specifically the cadet ranks, but has now expanded to serve kart racers of all ages. Nick has applied his years of experience from karting all the way up through NASCAR racing to develop the absolute best Cadet and Kid Kart chassis on the market with the support to back it up.
Nitro Kart and their drivers consistently score prestigious victories in major events around the country, hence the slogan "Race One or Chase One."
For more information on Nitro Kart, contact Nick Tucker at (704) 818-7868 or kartworxracing@gmail.com`