SoCal Oval Karters Ready for SoCal Fair Motorcycle Speedway
Series running under the lights this Saturday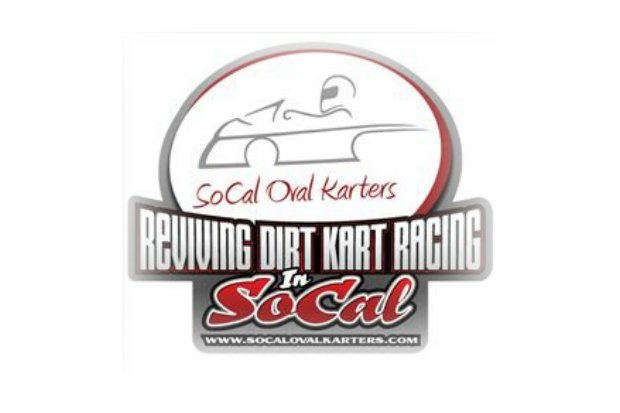 For the first time in its short history, racing will be under the lights at SoCal Fair Motorcycle Speedway on the SoCal Fair and Event Center this Saturday night, August 4th. Supplying the racing action on the track will be the SoCal Oval Karters and the Norco Mower Racing Organization. The first race will be at 6:00 P.M. Admission will be free for fans in the grandstands. Pit passes are $10.00.
Two weeks ago, the SCOK and NMRO were at the track for its fourth ever race. The week before members of both organizations did extensive work on the facility including cutting in a new race surface which supplied much-improved racing with multiple lines. Racers and fans can expect to see much of the same this Saturday night.
As has been the story all season long, Hesperia's Thomas Southern heads the points in both the Yamaha of America KT100 and the Colt Group Open Classes going into Saturday's show. He won the first four KT100 races of the year and leads Las Vegas' Art Klein by nine-points. Third spot and 27-points behind the leader is San Diego's Ronnie Benton.
While Southern's early domination in the KT100's has been very impressive, his mastery in the Open class is even more eye-catching. Through the first six races of the campaign, he is undefeated. He won four of the six races in his 500cc Jawa and two others with his KT100 kart. He thus has a commanding 29-point advantage over Lake Forest's 'Hubcap' Mike Collins going into Saturday's race. Third place Scott Bohle of Fountain Valley is two points behind Collins.
In the Calsol Incorporated Senior Clones, San Diego's Jeffrey Butler and Trevor Hoffman of Cathedral City have each won three main events this season. Butler leads Hoffman by 16 points in the championship standings. However, Butler is moving back to his native North Carolina. That should eventually result in Hoffman taking the lead and Wildomar's Mike Demelo taking over second.
On the power of three wins on the year, 2016 Burris Racing F200 champion Steve Juillerat of Whittier has a slim four-point lead over Banning's Scott Gaynor at the season's halfway point. Defending class champion Norm Reynolds of San Marcos was in the thick of the hunt as well, but he missed the race two weeks ago and now trails Juillerat by 21 points.
Second generation racer Drake Cardey of Riverside won the first three Fair Oaks Ranch Junior Clone main events of the season and Shane Holt of Huntington Beach has won the last two. Thus, Cardey has a one-point lead in the standings. Lauren Bishop is currently chasing the lead duo in third.
As of yet, the new track does not have concession services. Fans planning on attending Saturday are welcome to bring coolers with their own food and beverages.
The SoCal Oval Karters would like to thank 2018 series sponsors – Yamaha of America, Burris Racing, Caltrol Incorporated, The Colt Group, Fair Oaks Ranch and Ancon Marine – for supporting the 2018 championship season. If you or your company would like to join the SCOK as a sponsor, please call Matt Jones at (714) 614-8891 or E-mail him at mailto:mattjonesracing@yahoo.com
2018 SoCal Oval Karters Schedule
August 4 – SoCal Fair Motorcycle Speedway – Perris
September 8 – SoCal Fair Motorcycle Speedway – Perris
September 22 – SoCal Fair Motorcycle Speedway – Perris
October 13 – Wheel2Wheel Raceway – Victorville
November 3 – Perris Auto Speedway Road Course – Perris
November 10 – SoCal Fair Motorcycle Speedway – Perris
To keep up with the So Cal Oval Karters on Facebook, please use the following link: https://www.facebook.com/search/str/so+cal+oval+karters/keywords_search
The So Cal Oval Karters website is available at http://socalovalkarters.com/