Driver Diary: Colin Queen – CIK-FIA Karting Academy Trophy – Lonato, Italy
Weekend full of achievements for California karter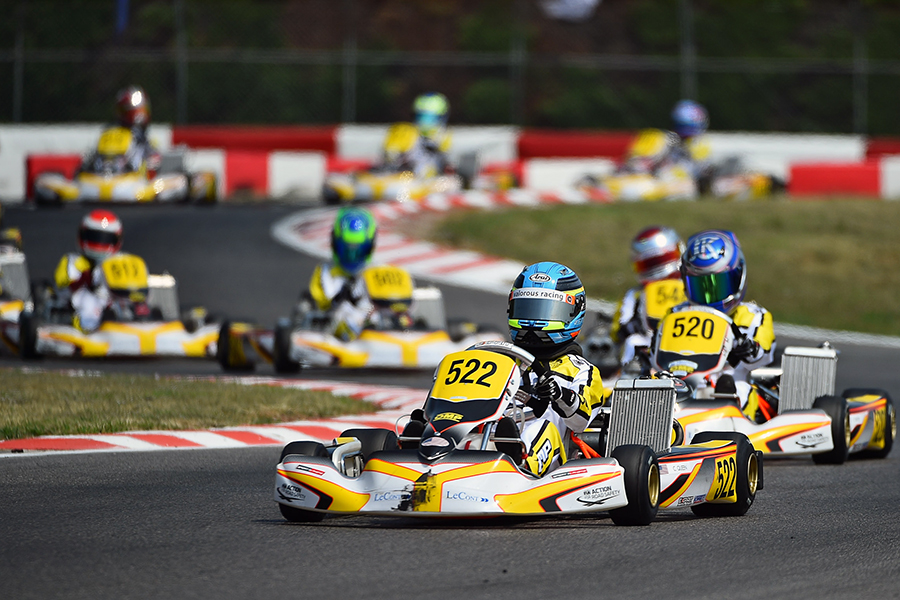 Queen finished the second event of the CIK-FIA Academy Trophy in 23rd (Photo: sportinphoto)
2018 marks the seventh season of karting for California native Colin Queen. The 13-year-old is into his second season at the Junior ranks, following a successful career at the Cadet level at Superkarts! USA, United States Pro Kart Series and Los Angeles Karting Championship. Queen was one of two drivers selected by the World Karting Association to represent the United States at the CIK-FIA Karting Academy Trophy program for 2018. Colin will represent the USA at three world championship events in France, Italy and Belgium.
Queen is a Junior Ambassador for the Children's Hospital Los Angeles (CHLA) where he has been a patient since the day he was born. Colin and his twin sister, Brooke, were born 8 1/2 weeks early. Colin weighed barely 3 pounds, and was diagnosed with hypoplastic left heart syndrome (HLHS), a life-threatening condition in which the heart's left side is severely underdeveloped. Queen has had three open-heart surgeries along with a number of others due to the HLHS. Currently, he is the only person in the world racing in motorsports with his condition.
Colin is providing eKartingNews.com with a look into his travels and weekends competing at the CIK-FIA Karting Academy Trophy. His first entry of the Driver Diary was from the opening event at the Circuit International de Salbris in central France. Below is the second event, held at the South Garda Karting facility in Lonato, Italy.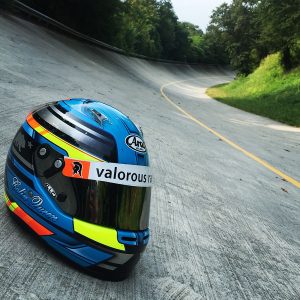 Tuesday, July 10: My dad and I arrived in Milan after an exhausting 6500 mile / 18 hour trip from Los Angeles, CA. It was 9am when we got the rental car and started our adventure. First was taking in one of Italy's most famous locations for motorsports. One hour west of the airport was the legendary Monza Eni Circuit and its famous monstrous high banked turns. It was impressive! I've seen old photos of the circuit but being there in person and trying to climb the banking really gave me perspective. Its hard to believe that brave men back in the day flew around this track in just thin overalls, goggles and jockey helmets…..respect! Jet-lag was kicking in so we then drove two hours to Desenzano and checked into our hotel and rested up from the long flights.
Wednesday, July 11: This morning we ate a tasty Italian breakfast in our hotel. The weather was not cooperating as it rained heavily the night before. Going to Castelletto to get in some practice was not going to happen, so we asked the hotel manager for sightseeing suggestions. She mentioned going to Mantua, a small town southeast of Garda lake about 40 minutes away. The town is known for its gorgeous palace with three artificial lakes, gardens, and huge castle overlooking the town (moat and priceless artifacts included). Once we got there, it started to pour rain. We walked around the historic sites and saw artifacts dating back to the thirteenth century. When weather hadn't shown any sign of clearing, we made our way to Verona. It is an absolutely beautiful town. We toured the city by foot and checked out the old Arena, Juliet's tomb (from Shakespeare's Romeo and Juliet), markets and architecture. After, we drove back to our hotel, watched some TV, and grabbed some food at Linus Revolution, a popular pizza place for all of the karting teams, which was just down the street from our hotel.
Thursday, July 12: Today, I had an educational drivers briefing and the collection of the kart and tires. F1 driver Charles Leclerc was there for the race. He was funny, informative and well spoken. I even got a chance to chat with him about his experience at the Academy Trophy and my kart racing in California (he likes California). During the presentation, we learned about doping, which is when a driver or other athlete takes steroids or other drugs to maximize their performance and how it could affect you in sports and life. If you get caught doping (cheating), you will be banned from all sport competition for 4 years. After two hours of presentations, we were free to go and help set up the kart and tent. My WSK mechanic, Dominic, was with me for this round. We got everything set up and ate lunch with some other drivers. Still exhausted from the jet lag, we went back to the hotel and crashed.
Friday, July 13: Today consisted of three practice sessions and qualifying. The three practice sessions were okay, nothing special. I did pick up the track quickly and was able to dial in the kart by the third session. Next up was qualifying, my nemesis to date. The European qualifying format is different and tricky, as I mentioned in my prior blog. In the weeks leading up to this race, I practiced qualifying with National Champion and friend Jake Craig at my local track, CalSpeed. We focused on one warm-up lap and two flyers to get the most out of the LeCont tires and maximize the time typically used by the very experienced European drivers. It paid off! Dominic held me back on the grid for 3 minutes into the 9 minute session before releasing me. I putted around the track for a lap while warming the tires. I waited for the driver I wanted to follow and then threw down laps. With 1 minute to go, I was in first place! I was extremely focused and it felt like time slowed down. As soon as the group drafting together behind me crossed the line when time was up, I was pushed back to 5th, missing 1st by hundredths. Qualifying went very well as I ended up 5th in my group and 10th overall. We then exchanged motors with other karts per the rules of the Academy Trophy as we did in Salbris. All in all, it was a new personal qualifying record in the Academy Trophy. I was happy with my efforts and Dominic was too. After we finished up at the track for the day, I drove with my Swedish friend and teammate from Ward Racing, Norton Andreasson, back to his hotel. We swam in the pool there and had great dinner. All in all, it was a great day!
Saturday, July 14: After getting a very good night's sleep, I was prepared for my two 9-lap heats today. Walking out of the hotel, I felt like I was in Florida. The heat and humidity increased from the day before. The first heat wasn't great. I got a great start and made up two positions, but I made a mistake battling the kart in front of me three laps in and was immediately freight trained by four karts. I ended up ninth and learned a valuable lesson. The second heat was much better. I had a decent start but lost a few positions to the outside lane on the straight away. I battled my way through the traffic to the fourth position with third place a kart length ahead when the checkered flag fell. I was stoked with my first top-five finish in Europe!
The grip on the track picked up a lot from Friday and the heat was draining. My dad kept pushing fluids and cold cloths to me throughout the day. The heat forecast for Sunday was to be worse than today.
Sunday, July 15: Today was the big day with one more 9-lap heat and the 22-lap final. The forecast was spot on, as it was very hot and humid. In the final heat, I ended up eighth, leaving me with 23 points placing me P11 on the grid for the Final. Pounding water and wearing a cooling cloth before the Final helped, but it was not enough for me or other drivers to beat the heat. We waited for 15 to 20 minutes in the blazing sun and on the track to conclude the driver announcements and receive our medal for making the Final. After a long wait, we jumped into our karts and were pushed off. I can feel my sweat from the heat and humidity running down my chest and face on the pace lap. It was hot and we had 20 plus laps to go.
The green flag drops and my focus immediately turned to the opportunities in front of me. I made up two positions on the first lap. On the fifth lap though, I broke on the outside rumble strip of turn 3 and it yanked the kart to the left forcing me a little too wide and out of the third 90 degree corner. I hit the new curbing and flew through the air landing at a 45 degree angle to the track, not my smoothest landing. I think I bent the chassis because it became very difficult to steer in the right hand turns for the rest of the race. I carried on, but started to really feel tired midway through the 22-lap Final. The steering was very heavy and the grip didn't help. I really could have used 5 more pounds of muscle right now. I kept losing positions and by the time there were three laps to go, I was barely hanging onto the steering wheel. I was exhausted and could barely breathe on the last lap! I finished 23rd, obviously not a good run, but I never gave up and continued to fight for every position. This was by far the most physically difficult final I have ever run in my life. After the race ended, I decided to meet up with Norton and other Ward drivers and mechanics at a pub to watch the World Cup match between Croatia vs. France. We all ate some food, and drank Cokes while our Dads and mechanics consumed some beer. The game was entertaining to watch, but the jokes exchanged amongst us drivers were even better. After the match ended, My dad and I hit the hay early in order to catch our flight home the next morning.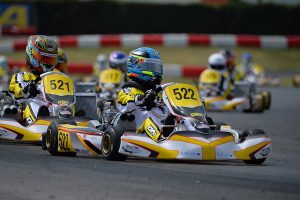 Reflecting on the weekend, I can say I am very pleased with my performance. Qualifying was a personal best with fifth in my group and three top-10 finishes was a huge achievement. I learn more every time I race in Europe and know it will benefit me in the future. Big thank you to my family for their support, especially my Dad who has been there every step of the way. Thank you to my mechanic, Dominic, for his guidance and awesome kart set-up throughout the race weekend. CIK-FIA Academy Trophy is a great series to run, and I appreciate the WKA for selecting me to represent my country. It's an amazing experience! Also, thank you EKN for letting me have this opportunity to share my story with others. Next stop is Round 3 of the CIK FIA Academy Trophy in Genk, Belgium on the weekend of September 9.
For more pictures and stories from my travels, please follow my social media pages: Facebook @ Colin Queen Racing and Instagram @ colinqueen111