Hard Fought Win for Jay Hanson in Emerald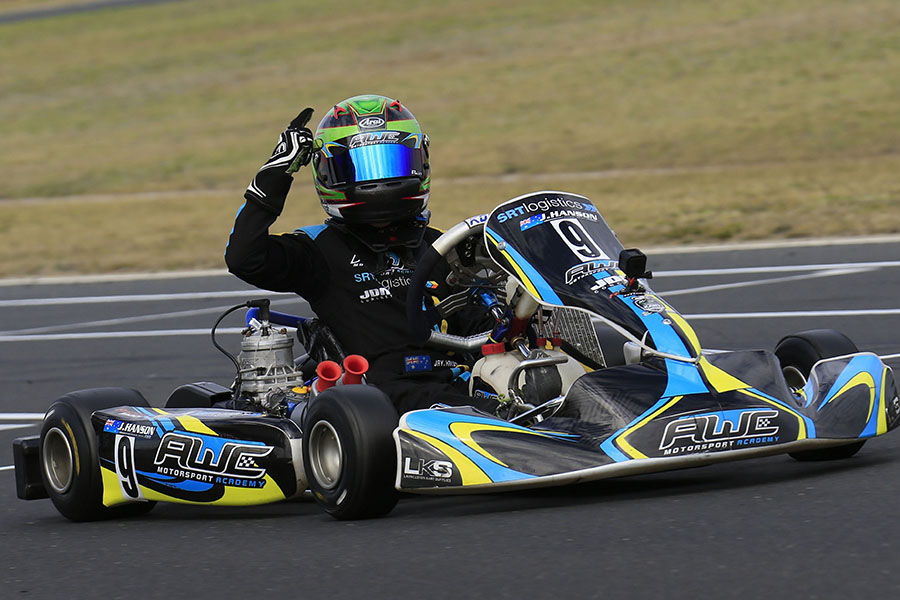 AWC Motorsport Academy driver Jay Hanson crossing the line for victory in the KA2 Class (Photo: Coopers Photography)
Jay Hanson has taken a hard fought maiden victory in KA2 at Round Four of the SP Tools Australian Kart Championship, presented by Castrol EDGE in Emerald in Central Queensland.
AWC Motorsport Academy's Hanson, who graduated to the class this year has not graced the podium in the three rounds so far, but he made amends for that today with his emphatic victory. The race went to the final lap when Championship Leader, Kai Allen went for the lead on Hanson – which
opened the door for a charging Jaiden Pope to battle for second position.
Tom Williamson Motorsport's Pope – who at one stage of the race was running 10th – got through on Allen, however it was a stretch too far to get to the race leader.
In a good day for the Tasmanian-based AWC team, their KA1 charger Lachie Dalton kept himself in contention for the Championship with a second placed finish.
He was no match for Championship leader, Scott Sorensen – who is well on the way to another KA1 Title after a weekend where he wasn't headed – he also added to his all time wins with his victory this afternoon. Joshua Denton ended the final in third placing after a race long battle with Dalton that also brought Ladies Trophy leader, Taylah Agius into the mix late in the race.
Sorensen and Pierce Lehane look as though they are going to have to wait until Todd Road to see if one of them can individually become the driver with the most wins in AKC/CIK history as he took victory aboard his CRG in an enthralling X30 final – his second in succession.
Lehane took the win over Tony Kart veteran, Cian Fothergill – who made a welcome return to the podium and Jace Matthews – who was elevated to third place after a post-race infringement.
Championship leader, Cody Gillis kept the points pressure on finishing in fifth placing.Brendan Nelson secured an emotional win in TaG 125 – his second of the season. After a mixed weekend, Nelson showed all of his experience to get through and take the win over last round winner Cody Brewczynski and Jordan Nicolaou
In KZ2, it has been a weekend that saw a change in the Championship lead. TWM's Energy Corse driver, Joshua Fife dominated taking victory by 4.9 seconds to move to the top of the standings. Patrizicorse Ricciardo Kart driver, Dylan Drysdale gained his first KZ2 Podium after a stirring drive from deep in the top 10. He chipped forward eventually getting by Queenslanders Jason Faint and Christopher Hays to let them have their own battle for the final step of the podium.
BirelART driver Hays threw everything at Faint, but the SodiKart driver from Gladstone in Queensland held onto the third position in the run to the line.
Aaron Cameron, Championship leader coming into the weekend, didn't finish the heat on Sunday morning after a multi-kart collision heading into turn one broke the front end on his kart. He fought valiantly to finish the final in fifth placing.
KA3 Senior produced one of the races of the day with a tactical battle between Shayne Piper Race Engines youngster, Benito Montalbano and five time Australian Champion, James Sera. Sera shadowed the youngster for the majority of the race and went for a move on the final lap. However the counter from Montalbano was sublime and Sera had no answer – dipping his hat to the youngster at the end of the race.
Tommy Harradine took out third spot after a race long multi-kart battle, while the Title fight will once again come down to the final round after Matt McLean – who led the Championship coming into the weekend dropped a number of points throughout the course of the weekend, however recored in the final for a hard fought fifth placing.
Rhys Smith continued his winning ways in KA4 Junior, the Scuderia PCR Australia driver securing his third round win of the season.
He got home narrowly in front of Nicholas Sacco and Kai Allen after an, at times, eight kart battle for the lead.
The locals had plenty to cheer about when Carter Mobbs came home first in Cadet 12. The Shamick Racing driver was embroiled in a fight that included last round winner Jimmy Piszcyk and Harry Arnett. On the final laps Piszcyk and Arnett touched with Arnett crossing the line first and Piszcyk sixth. Arnett was awarded a post race penalty handing the win to Mobbs from Jesse Lacey and Max Deguara – whose good form continued.
South Australian Kosmic driver, Rock Han took the win in Cadet 9. An outstanding five kart battle involving Han, Jaxson and Jenson Burns, Championship leader Justin Francis and Peter Bouzinelos ended up seeing the top four runners collide mid way through the race thus spread eagling the field for the closing stages.
Although he crossed the line first, Max Walton was handed a post race penalty for a front fairing infringement, which dropped him to third handing the provisional win to Han over Jaxson Burns.
Overall, the event was another great success for the town of Emerald with over 2,000 spectators turning out across the two days of racing.
Central Highlands Regional Council Mayor, Kerry Hayes joined the podium celebrations this afternoon and praised the SP Tools Australian Kart Championship for what it brought to the region in terms of profile, visitation and delivering professional, high quality events.
The Championship now moves to its thrilling conclusion over the weekend of August 31-September 2 at Port Melbourne's Todd Road facility with the gala presentation night to be held on September 2 at Marvel Stadium (formerly Etihad Stadium).
2018 SP TOOLS Australian Kart Championship presented by Castrol EDGE
RESULTS – ROUND 4
Cadet 9
1. Rock Han
2. Jaxson Burns
3. Max Walton
Cadet 12
1. Carter Mobbs
2. Jesse Lacey
3. Max Deguara
KA4 Junior
1. Rhys Smith
2. Nicholas Sacco
3. Kai Allen
KA3 Senior
1. Benito Montalbano
2. James Sera
3. Tommy Harradine
TaG 125
1. Brendan Nelson
2. Cody Brewczynski
3. Jordan Nicolaou
X30
1. Pierce Lehane
2. Cian Fothergill
3. Jace Matthews
KA2
1. Jay Hanson
2. Jaiden Pope
3. Kai Allen
KA1
1. Scott Sorensen
2. Lachie Dalton
3. Joshua Denton
KZ2
1. Joshua Fife
2. Dylan Drysdale
3. Jason Faint
For the full results please click here.