Biggest Protagonists of Italian ACI Karting Championship to the Fore in Adria's Fifth Round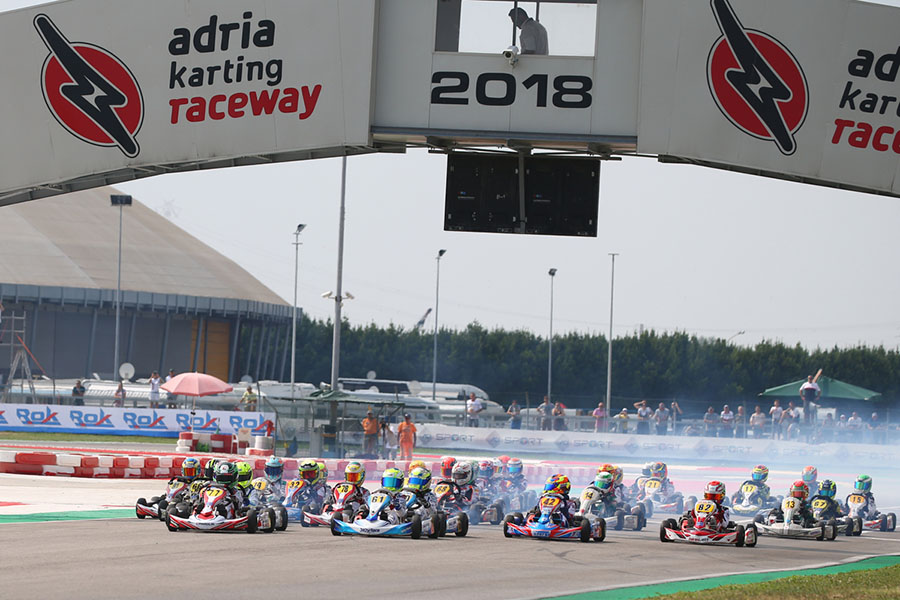 Victories to Stenshorne and Oliviero in 60 Mini, Morgatto and Ferrari in Rok Junior , Delli Guanti and Comanducci in Rok Senior, double win for Villa in X30 Junior, Coluccio and Carenini win X30 Senior, as Serafini secured a double win in Easykart, while Di Silvestre and Brigatti won Naskart.
The fifth round of the Italian ACI Karting Championship at the Adria Karting Raceway had again a good number of drivers on track. About 180 drivers made it to the track in 60 Mini and in the Junior and Senior categories of the Rok Trophies, Iame X30, Easykart 125 Master and Naskart Trophy.
A total of 81 drivers entered 60 Mini in the weekend of Adria on July 29th for an important round for the championship that has been made quite difficult by the hot weather. The first of the two finals lived on the good duel involving classification leader from Norway Martinius Stenshorne (Parolin-Tm) and his fiercest rival Andrea Kimi Antonelli (Energy-Tm). The two exchanged on top several times, but Stenshorne pipped the Italian by 0.048s. The third step of the podium went to the Belgian Ean Eyckmans (Parolin-Tm) who battled with several rivals, among which team mate Coskun Irfan. Race-2 started with the top 8 inverted and Flavio Oliviero (Energy-Tm) claimed the win in the sprint to the line, leading Irfan, the Bulgarian Nikola Tsolov (BirelArt-Tm) and his team mate Andrea Filaferro, who just missed out on taking the podium. Stenshorne was seventh but incremented his classification lead as Antonelli had to retire after a contact, as did Eyckmans.
The Rok Trophy races Junior and Senior were quite nice. Race-1 victory in Junior Rok went to the Brazilian Matheus Alvarenga Morgatto (Parolin-Vortex), who led Paolo Ferrari (Parolin-Vortex) and the Italo-American Ugo Ugochukwu (Tony Kart-Vortex). Classification leader Federico Cecchi (Tony Kart-Vortex) was fourth at the end of a good comeback race. Ferrari completed his good performance taking the win in Race-2 getting the most of a penalty handed to Morgatto, who had crossed the finish line as the first. The second place went to the American Connor Zilisch (Tony Kart-Vortex) and the Ukrainian Vyacheslav Putyatin (Parolin-Vortex) was third. Morgatto was ninth leading Cecchi.
The absolute protagonist of Race-1 in Senior Rok was Pietro Delli Guanti (Exprit-Vortex), who lost some positions due to an incident in lap one when leading the race. He managed anyway to bounce back and led Francesco Sartori (Tony Kart-Vortex) by 4 seconds and the Pole Mateusz Kaprzyk (Kosmic-Vortex). Delli Guanti went off Race-2 early on due to an incident, while Cristian Comanducci (Tony Kart-Vortex) had the upper hand on his rivals, while the Pole Maciej Szyszko (Kosmic-Vortex) was second and the Swiss Michael Muller (Energy-Vortex) third.
Despite the top eight grid inversion, the podium of X30 Junior did not change, with Edoardo Ludovico Villa (TB Kart-Iame) taking the win from Mattia Ingolfo (KR-Iame) to Francesco Pulito (Top Kart-Iame). Pio Francesco Sgobba (KR-Iame) was also among the quickest, taking P4 and leading Federico Albanese (Tony Kart-Iame), Lorenzo Patrese (KR-Iame) and Mattia Simonini (Maranello-Iame). In race-2 the fourth position went to Albanese, while Patrese was fifth and Luca Bosco (Tony Kart-Iame) sixth after a 17 place comeback.
Among the two main contenders of X30 Senior Luigi Coluccio (BirelArt-Iame) and Francesco Pagano (KR-Iame), Coluccio took the win, while Pagano was third following also Lorenzo Ferrari (Parolin-Iame). Race-2 victory went to Danny Carenini (Tony Kart-Iame), while Coluccio got on the podium in P2, and Ferrari was third. Pagano was seventh this time around.
Easykart 125 Master Race-1 and Race-2 had the same podium, with Francesco Serafini on top leading Rosolino Caralla and Alfonso D'Eugenio, all on BirelArt-Bmb.
In the Naskart trophy race-1 victory went to Moreno Di Silvestre, while Alessandro Brigatti won race-2. Di Silvestre proceeded Paolo Castagnetti and Alessandro Brigatti in race-1, while race-2 podium was rounded off by Di Silvestre and Lapo Nencetti.
Complete results are available at www.acisportitalia.it. TV Specials will be aired within the ACI Sport Magazine on RAI Sport, on several national and about 50 local networks covering the whole Italian territory. A special commentary page with classifications and pictures will be published by Gazzetta dellp Sport on Friday August 3rd.