Nitro Kart Puts New and Old Faces On the Podium at WKA Event in Norway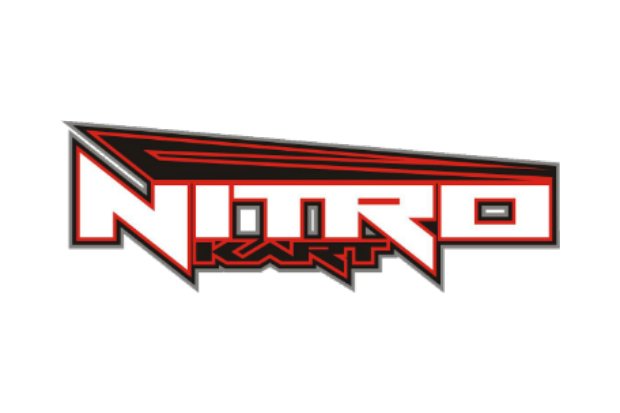 Team Nitro Kart rolled into the next to last race weekend of the 2018 WKA Manufacturers Cup Series at Concept Haulers Motor Speedway leading the points standings in both Mini Swift and Micro Swift, with ace pilots Brent Crews and Ben Maier. Both drivers were able to score more wins, with Ben doing the double with both Final victories. Several other Nitro Kart drivers had strong weekends as well, with some new faces showing up on the podium.
MINI SWIFT SPORTSMAN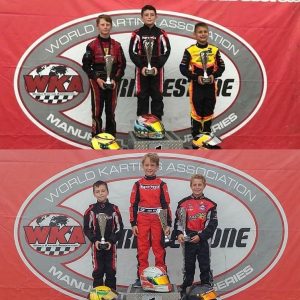 Nitro Kart Drivers; Brent Crews, Thomas Annunziata, James Overbeck
Team Nitro Kart's Brent Crews sometimes just dominates a race day and other times he sneaks up on you. The latter was the case on Day 1 at Concept Haulers, where Brent was 2nd in qualifying and then 2nd and 6th in the heat races. In the Final Brent before drove up to 2nd place behind regular rival, Jeremy Fletcher and stalked him until the last lap when he slipped by in Turn 1 to take the lead which he held until the finish. Nitro Kart's James Overbeck has been right on the pace lately, and just missed the podium by 3-tenths of a second in 5th place, with fellow Nitro Kart pilot, Thomas Annunziata, who won Heat 1, coming home in 7th place.
On Sunday, it ended up being another fight between Brent Crews and Jeremy Fletcher for the Final win, with Danny Dyszelski in the mix as well. Crews and Fletcher eventually left the pack behind to race for the win, but the pair made contact on the last lap, allowing Annie Rhule to get by for the victory. Fletcher was able to recover to finish 2nd, while Crews got shuffled back to 5th behind fellow Nitro Kart drivers Thomas Annunziata in 3rd and James Overbeck in 4th.
MICRO SWIFT
Nitro Kart Drivers; Ben Maier, Cash Wyke, Miles Murray, Aryton Grim, Hoyt Mohr
Team Nitro Kart was in full force in the Micro Swift with 5 of the 8 drivers on the black-framed missiles. Championship leader, "Blazin' Ben" Maier, had surprisingly missed out on a win at the previous WKA round at Pitt Race, and he was looking to get back on the top step of the podium at Concept Haulers, which he did with a sweep of both Finals, but on Saturday at least, it wasn't easy.
On Day1, the star of the heat races was CRP Racing/Nitro Kart driver Aryton Grim, who had qualified 5th, but impressively won both hear races. Ben Maier had taken pole position in qualifying but got shuffled to the back early in Heat 1 and came back to finish 4th and then broke a chain while leading Heat 2, giving him some work to do in the Final. Ben started 6th in the Final but was able to get to the lead by lap 5 and go on to take the win by just over 4 seconds over Aryton Grim, who earned first National podium. Nitro Kart pilots Miles Murray and Hoyt Mohr, came home in 4th and 5th, with Mohr scoring fastest lap of the race. Team Nitro Kart's Cash Wyke normally runs up front but had a rough day to cross the line in 8th.
On Sunday, Ben Maier dispensed with all of the drama by taking pole again, but this time he drove away to win the Pre-Final by almost 7 seconds and the Final by almost 5 to take his 6th win of the season and extend his championship lead. Nitro Kart drivers Miles Murray and Aryton Grim made it a Nitro Kart podium sweep with Miles coming out on top in the scrap for 2nd place, for his first WKA podium, with Aryton getting his second podium of the weekend in 3rd place. Hoyt Mohr brought his Nitro Kart home in 5th place and Cash Wyke, who had qualified 2nd, had another day to forget and was again 8th at the finish.
ALSO OF NOTE;
Nitro Kart debuted their new Kid Kart in the hands of series points leader Chase Groh, and he was able to score a podium straight out of the gate, with a 3rd place in the Saturday Final. In Yamaha Sportsman, Team Nitro Kart's James Overbeck was able to grab a pair of top-5's for the weekend with a 4th in Saturday's Final, backed up by a 5th on Sunday. Team Nitro Kart-supported, Fullerton USA driver, Austin Garrison continued his domination of the IAME Senior class, by sweeping both Final events for his 3rd and 4th wins of the season to extend his already impressive championship points lead.
UP NEXT
Team Nitro Kart's next event will be the SKUSA SummerNationals at New Castle Motorsports Park, for the final two rounds of the 2018 SKUSA Pro Tour on August 10-12.
ABOUT NITRO KART
Nitro Kart is based out of Mooresville, NC in the hub of American motorsports. The company was founded by "Nitro" Nick Tucker with a sole focus on youth karting and specifically the cadet ranks, but has now expanded to serve kart racers of all ages. Nick has applied his years of experience from karting all the way up through NASCAR racing to develop the absolute best cadet chassis on the market with the support to back it up. Nitro Kart and their drivers consistently score prestigious victories in major events around the country, hence the slogan "Race One or Chase One." For more information on Nitro Kart, contact Nick Tucker at (704) 818-7868 or kartworxracing@gmail.com