Behind the Laptop: Less Is More
Too many series lead to declining numbers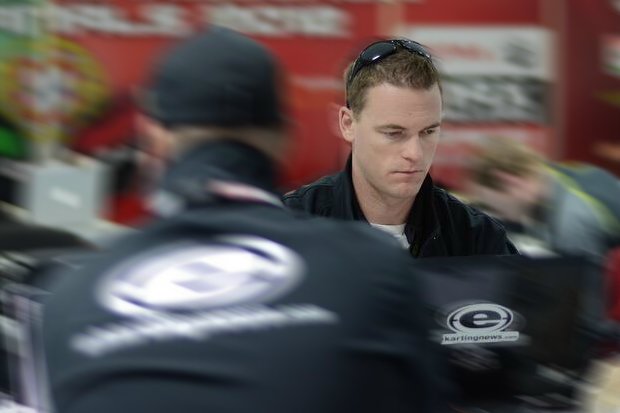 I am not sure where I heard this statement, but as I spend more time around the karting industry, I most definitely agree that 'Less is More'. It seems that, in general, our lives have sped up three to four times compared to what things used to be. Social media always has us busy, be it between sessions on the track, taking a break from work or just as a way to look at the fun other people are having. As a dad, my kids are keeping me busy with after-school activities and sports, especially now as they act as if they are so bored during the summer break with nothing to do. In a way, I can't wait for school to begin, which I'm sure is the case for most parents! Life seems to be hectic at times, so you have to take the idea of 'Less is More' in terms of finding a way to reduce the stress. Be it less working hours, less time on your phone, and for me, less food on my plate.
We are at the halfway point of July, and it seems like there has been a karting event nearly every weekend, which I think is equating to 'More is Less' in terms of entry numbers at these current and upcoming events. One thing that has not slowed down or reduced is the number of karting events available at the national and regional level. Of course, the summer season is the time to be racing – at least for the northern states. Some of the southern programs cut back during the warm months to keep racers out of the triple digit temps or heat indexes as much as possible, but up north, it's go-time.
Currently, I am looking at our EKN Trackside Live Presented by Cooper Tires event schedule, which has me gone every other weekend until October. Beginning in July, I travel to WKA, USPKS, SKUSA, Rock Island GP, WKA, SKUSA, and WKA once more before gearing up for the SuperNationals 22. Mind you, this is my EKN schedule. I love it, aside from the fact of leaving my family. Working at the race track and providing the best coverage possible with the live audio, photos and more is what pushes me each day in my career. All of the events are unique and exciting, however, when you look at it as a racer, it's a costly schedule.
Let's examine the eastern half of the schedule in 2018 for national and regional events. Looking at the schedule from January to December, SKUSA has a total of four events (two Winter Series, WinterNats, SummerNats), USPKS has three events, F-Series Gearup has six, Sunshine State Karting Challenge has three, Rok Cup USA has five, Route 66 has six, Rotax had the lone event, while WKA has six races.
That is a total of 34 weekends……on this side of the Mississippi River – not including the SpringNationals, SuperNationals, Rok the Rio and the other regional programs going on in the western half of the country.
That leaves only 18 weekends open, and many of those are during the winter months for those in the northern half of North America. This leaves little to zero weekends off for racers to enjoy a couple days at the lake, or to allow their pocketbook to recover from all the racing that's going on. Not included in this total are the many 4-cycle programs going on in different regions of the country, road racing events, the schedule for Canada racers, and, of course, our grassroots club level competition. For clubs that have 10 or more races on the season, it limits the number of races that their members can attend for their two, three or four big races of the year.
Many of you know that I am in my third year as a Trustee for the World Karting Association. So, I want to focus on the WKA schedule, which was just released for 2019. First, I want to review my thoughts on the 2018 season. We entered the year with six events on the docket, up one from the past few years. Going in, I had a feeling that it would be hard to carry 100 entries for all six events. I wasn't in favor of the schedule when it was presented and released, and I'm still not a fan. The evidence showed in the numbers at Pittsburgh and Norway. The May weekend in Pittsburgh just reached 100, thanks to a number of grassroots racers who were in attendance and, for many, it was their first big race of 2018. Norway was the opposite with very little attendance from regional racers due the loaded schedule for the month of July, so the Man Cup race ended up with a total of 75 entries.
The New Castle weekend in September may be a hit-or-miss depending on what parents want to do with their kids being back in school, in addition to club racers eyeing where their budget stands for the year at that point in the season. I don't think I've seen a low-attended New Castle event, however, this could be it. The October weekend at GoPro should cover the 100-entry mark thanks to the many local racers in North Carolina, but we shall see. In total, I'm going to guess that 10% of the racers who competed in the WKA Manufacturers Cup Series actually participated at all six events. It's a low number, and without breaking down the stats, I would say the trend continues to decline for that percentage.
This week, WKA released the schedule for 2019 with a new structure aimed at not forcing racers to attend all race weekends, yet the schedule still features six events. The WKA is allowed racers to drop two full weekends to count the best four overall events for the championship, which will afford racers the opportunity to select the four weekends they wish to attend for their championship chase. However, this still permits those who have the funds and/or the motivation to attend all six the right to do so, using their best four weekends in the title calculations. The format includes a 20-point bonus for Daytona and New Castle, as most racers plan to hit those facilities each year. The GoPro race in March is the third event that the majority of racers will attend in 2019, leaving the other three races as the 'select' events. Racers have Badger Kart Club in Wisconsin, Pittsburgh, and Norway to choose from for a fourth event.
The positive I take from this is that the format is not going to force racers to go to all three 'select' events, but attend only the ones where they feel that they can gain the best results, or are the most economical for their schedule and budget.
The negative is this…these races have the ability to be less than or equal to in terms of total entries with what we saw at Norway.
Any time an event of the Man Cup's caliber has less than 100 entries, it is likely break even in terms of revenue/expenses or a loss of profit for the promoter. It's not the ideal situation you want heading into an event, hoping you gain enough numbers to be in the positive. The purpose for hosting events is to bring the best racers together for an exciting weekend, while providing a safe, fair and fun environment. It's not just to have a race for the sake of having a race. I hope I'm wrong and the 2019 WKA schedule is a success, but my thought is that the program should have decreased the number to four events….as I say….Less is More.
What does this mean for 2019? We will duplicate a busy 12-month season once again, just as we have here in 2018. My guess is that no other program in the east will reduce their schedule. What this does is force racers to take in all the schedules from all the programs, and coordinate a racing program that works best for them. Most of the time, that means it doesn't correlate to a specific championship, but rather hitting the best events or those closer to home.
The pool of racers at the national and regional level is not increasing. Thankfully, we are starting to see more racers at the grassroots level of the sport, due to the Briggs program and the growth of competition at home tracks. Eventually, we could see an increase there, which then allows for more events to happen, however, 34 race weekends is still too much. It really is the cost of travel that is adding to the expenses of racing at the regional and national level. Hotels, food, and gas add up quickly and if you can reduce that portion of the budget for a racer, it allows them to compete in more events.
Maybe the answer is having more two-day events rather than three-day schedules?
The same is going on in southern California. You have the California ProKart Challenge, Los Angeles Karting Championship, Tri-C Karters and other programs all vying racers. Unfortunately, it's many of the same racers doing two or three programs a month. The year starts out with big numbers across the board, and then budgets shrink and this keeps racers from attending certain series, or the grueling schedule just wears racers down and they stop karting completely. There are still tracks around the SoCal area that have little to no grassroots program in place, which limits that amount of growth that we could really see in those regional programs.
Traveling regional and national programs should have no more than 4-5 events per season. Looking at the 4-Cycle regional programs, Cup Karts North America is one example that has seen a decrease in numbers after increasing the events. I really feel a program such as this should be only four events in total, not the eight that they have had each year. When they expanded in 2017, it created more events and, in turn, the total entries reduced as racers elected which events they attended. I believe if other travel programs around the country kept their total number of events to five or less, they would see participation numbers increase. Why? The travel budget reduces each time you have less events.
My statement of 'Less is More' is aimed at the fact that if you have a limited schedule, and you don't race too much, the racers strive to attend those events. They can't wait to be there, and want to be there. If you have a flooded schedule, they may just not have the drive or the passion to be part of all the events that you host. My hope moving forward is that race promoters try to work at this, and coordinate with each other. It seems to be the same hope year after year, and for the most part, we do see it work. While it may not be done in official or publicly-stated capacity, I do believe that race promoters see and hear what others are doing and try not to be near or on top of one another on the calendar.
Because remember…Less Is More.