AKRA Mid-Ohio National One For The Record Book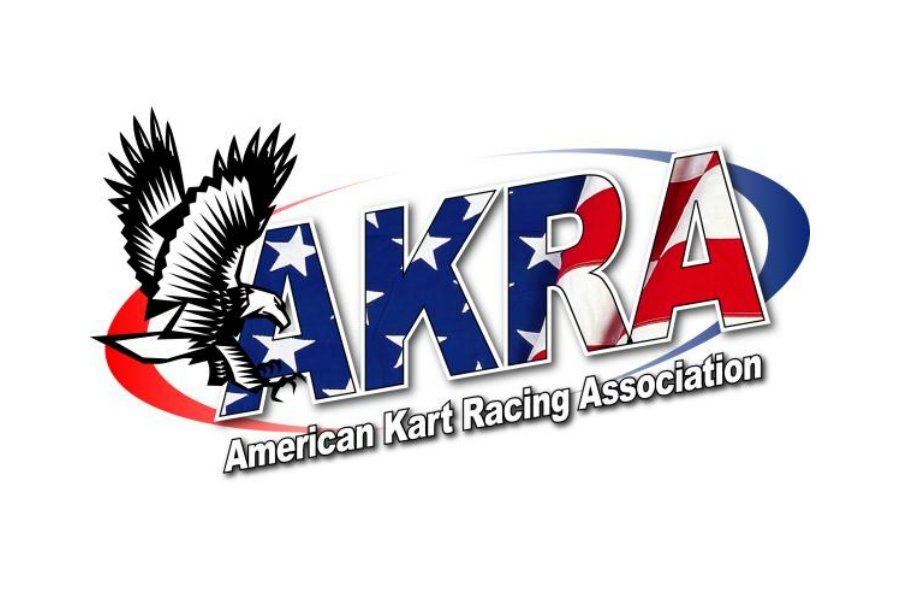 A record 610 entries attended this year's annual American Kart Racing Association  (AKRA) National Road Racing Series hosted by Mid Ohio Speedway in Lexington, OH June 15-17.  "This race is the largest Road Course race of the 2018 season, " said AKRA President Bill McCutcheon who added,  "We had 156 take advantage on Friday practice and 454 entries Saturday and Sunday."
Along with being the year's largest Road Racing Series event and weekend Jason Pribyl Adam Myers and Ben Eberhart hat tricked on the historic 2.4-mile road course. The first kart race held at the Lexington, OH track was in the spring of 1964.
Pribyl, a 13-year-old Glenview, IL native who pilots a TS Racing chassis powered by 4-Cycle Central motor, earned his first two Finals that Saturday starting with 4-Cycle Junior Sprint Final 1.  Sunday he completed his sweep of that class winning Final 2.
Along with his two 4-Cycle Junior Sprint wins Pribyl also won Junior Sprint Final 1 taking the final flag with a full lap advantage over Max Nickl who was later disqualified for being light at the scale advancing official third place finisher Matthew Gibson to second in the official scoring.
Sunday Nickl turned the tables on Pribyl in Junior Sprint 1's Final where Nickl was comfortably 1.080 seconds ahead of him at the stripe.
Saturday evening a banquet recognizing racers' 2017 achievements was held on the tower's fourth floor.  During the banquet Pribyl was recognized with two first place AKRA Plates, one for 4-Cycle Junior, the other for Junior Sprint.
Myers, of Buffalo, NY, earned both days Controlled Open Sprint Finals. Saturday luck got him the win and Sunday it was hard work. Johnny Scavuzzo was first across the stripe in Controlled Final 1 followed by Myers who was 21.230 seconds late. However, Scavuzzo was disqualified during post race technical inspections forcing Sacvuzzo to surrender the win to Myers.
"On the first race today I just went out and ran consistent.  I started sixth and made it to second and somehow ended up winning," Myers concluded crediting his chassis manufacturer CKI and Buck Keen for the motor.
John Ritchie advanced to second in the official finish. Steve Scavuzzo was caught by the same technical snafu as his brother. Completing the official top five were Patricia Hechler, Richard Scavuzzo and Timothy Koen.  Koen soloed Sunday's Formula 100 Final 2
Later that day Myers capped a 14-lap Open Sprint Final 1 battle 4.127 seconds ahead of Jerry Revely. Regan Vehring, Brian Thalgott and Ben Morris.
"On Open Sprint I started in the back and everybody got a jump on me," Myers described.  "I just ran consistent and made it to the finish line.
Sunday Myers backed up his first win in Controlled with a second win. "This one I started first position.  I had a little bit of a slow start.  I worked my way back through traffic.  Got to the top 3 about mid-race and then slowly worked my way back up to the lead and ran in the lead for awhile and then Otto came up to me and gave me a heck of a race for the finish."
Todd Hayden crossed 25.311 seconds later in second, Gary Mikusch finished third down by just 26.016 seconds.  Koen and Michael Radowskie crossed fourth and fifth.
Triple winner Ben Eberhart was king of the Vintage classes. He won two that Saturday and added another Sunday.  His first win came in Vintage Piston Port USA where he had a comfortable full lap lead over second place Dave Corwin and third place Fred Stoll.  Dave and Herb Dickel were fourth and fifth.
Later that day Eberhart scored a second win this one in Vintage Twin Engine where he was 11-laps over Greg Wright and 15-laps over Bob Cole.  Also in Saturday's 4th race were five Vintage Unlimited competitors led across the stripe by Martin Powers who was a lap a head of John Copeland and Dick Charest Five laps later Louis Magiera.
Sunday Eberhart strolled across Vintage Piston Port USA Final 2's stripe followed one lap down by Stoll, Dave Cornwin and Collin Johnson who was 15-laps down when the checkers waved.
Eleven racers were double winners.  Brian Wilhelm kicked things off each day with Formula 125 Final wins. Saturday he finished 4-laps ahead of second place Allen Hollinger.  Harry West was third across the stripe, but failed to show at the scale which moved Fran Mazzucotell up to third.
Piloting a CKI chassis powered by TS Racing Randy Fulks, of Springfield, Ill ruled both Yamaha Pipe finals.  Saturday Fulks and Sean Oshea battled down to a 19.899 seconds difference.  Brian Ellis was third across the stripe followed by James Hurst, and Nick Cole completed the top five of 16-entries.  Sunday Fulks rocketed away from the 23-racer field from the start and never looked back.  When Fulks took the checkered flag Scott Grenier followed a lap down.  Also one lap down in the top five were Ellis, Cole and Michael McLaughlin.  Fulks reached a top speed of 88.194 mph and turned a 1:37.083 minute lap on the 2.4-mile asphalt road course.
Fulks' brother Rick was first under Formula 100 Final 1's checkered flag. Johnny Scavuzzo who was just 10.462 seconds too late.
"I started third, and I took the lead early on, by the end of the first lap," Fulks reported. "It was a good race. There were four of us in contention for the win John Ritchie, Steve and Johnny Scavuzzo and myself. We just battled back-and-forth while and the other guys fell out by attrition.  We just ended up getting things dialed in as the race went on and I turned the fastest lap times (1:38.739) and won the race. The CKI chassis was super great on Vega Tires.  The Vega tires let me race any part of the track I wanted to go and the power came from the RS Racing motor."
John Brown, of Fort Worth, TX, hauled 1,136 miles to Mid-Ohio.  "For two wins he beamed, "it was all worth it!"  Brown bagged both wins on Sunday starting with Race 2's TaG Senior Heavy Sprint Final 2.  Brown and Jamey Brown battled from the beginning to the end where John edged out Jamey by just 2.563 seconds.
Adam Coe crossed third, but he chose to skip the scales and was disqualified. That advanced Bob Cole to third, Larry Cole to fourth and Dave Ahrens to fifth.
Later that day he paraded a field of 15 TaG Senior Sprint Final 2 across the stripe with Robert Wimmer trailing by 37.127 seconds.  One lap down in the top five were; Quincy Smith, Saturday's winner George Argiris and Russ Kemple.
"I started kind of mid-pack.  I got a really slow start," Brown said after Sunday's second win.  "Jamey Brown checked out from us by 4 seconds. I was able to hookup with another kart. He was pretty fast.  We were able to draft up to him and caught up to him. Then the three of us kind of ran together. I just got lucky, I caught up to some lapped traffic when I was leading and gapped them the last couple of laps and they didn't have enough to catch me. The Arrow kart handled great as a matter of fact the kart behind me was an Arrow kart."
Saturday Argiris was one lap ahead of his pursuers when TaG Masters Sprint Final 1's checkers waved.  Crossing a distant second was Quincy Smith. Chris Capaldi crossed third. Lee Curtis and Brad Parker capped the top five.
Fox Valley Karting powered Invader Kart pilot Cory Patterson, of Lafayette, IN, won both days Yamaha Sprint Finals. Dennis Cole and trailed him under the checkers each time. Saturday's difference was 7.336 seconds. Sunday's was 31.924 seconds.
"I started on the pole out of pit lane. I dropped back to third off the start, I had a little bit of a slow start," Patterson said of his second win. "But I never lost contact with second and first. As the race went on we had a three-racer pack going on and we kind of ran away from the others. I got by second a little before halfway point, and set my sights on first.  I caught up to him and we battled back-and-forth beyond halfway.  It was really close between us. He had great straightaway speed and was getting by me there and I was getting him in traffic and then I pulled on him and didn't see him again until the red flag came out.  We really pulled some kart lengths on them until then. The Invader Kart was perfect. I want to thank Jon Copland of Fox Valley Kart for all or the help and support and his engines. I also want to thank my grandparents Ken and Jan for all their help during my racing career and Dan Stowell he's been a big help to us and I defiantly have to thank my wife for letting me come here this weekend."
Benjamin Holder soloed the TaG Junior 1 and 2 offerings.  Saturday Holder pumped out a 1:53.071 seconds fastest lap time and he cover the 16-laps distance in 32:35.616 minutes.  Sunday he picked up the pace this time his fastest time lap was 1:46.408.  This time he stretched out 17-laps, which he ran in 31:04.762 minutes.
Elite Karting driver Mallory D' Augustine, of Canton, Ohio, produced a pair of 100cc Limited Enduro race wins.  Piloting a TS Max kart powered by a Elite Karts/Van Gilder motor she earned both wins over Fran Mazzucotelli Saturday Mazzucotellli suffered mechanical troubles and was 19-laps behind D'Augustine when the checkers waved. Sunday Mazzucotelli was on her back bumper all race finishing just 11.175 seconds behind her.
"I started first, but in the second group.  About a dozen of us went off on the first flag and we had to barrel through the controlled guys," D' Augustine described. "We just worked lapped traffic. It was a steady and smooth ride, and a fun race. I had a great time The TS Max worked like a charm, I've been using the same chassis for 10-years. I've got Hoosier tires on that have been doing great for us.  It's been perfect, the whole package."
Piloting a DR chassis powered by an engine he built, Glen Luening grabbed both G 125 Shifter wins. Saturday He had Aaron Schmidt trailing him by just 9.883-seconds in the first final.  Sunday it was Richard Kirlan down by a full lap.
"I started on the pole in G 125.  It was a pretty good race.  I had a really bad start.  Splitting the field like that I could barely see the green flag we were so far behind.  I didn't see the green out.  Everybody passed me at the start. I was almost dead last," Kirlan said. "I passed half the guys going into turn one. I battled with second and third for about two or three laps and finally got in front of them.  I knew they were behind me.  It was along tough race.  It was hot, but it was fun. The DR was fantastic.  It's one of the best chassis out there in my opinion.  You can't beat it. There are lots of guys out there to support you. I want to thank DR Karts, S&S for building fantastic motors. I want to add a special thanks to Hoosier Tires they gave me asset of tires for winning the race on their tires and the Dart Kart Club for putting the race on."
Schmidt was third in Final 1 followed in the top five by TJ Hollingsworth and Nickl.  Sundays top five included Paul Gatto, Paul Nickl and Bob Davies.
Brian Fisher, another Texan who hauled to Mid-Ohio and Praga Kart pilot Mark Nagy led the largest Final fields of the event.  Saturday Fisher, of Royse City, TX, showed 27 125 Shifter Final 1 Racers across the stripe and Sunday Nagy, of Dayton Ohio, showed the same field across the finish line.
"We started from the pole, got a good spot in qualifying and kind of set the pace, Fisher, a Sodi Kart pilot, explained.,  "It's 90 % tires here.  This place is hard on tires with the heat and we made no mistakes and went through lapped traffic easy to make sure you finish and never look back.  Our motors, Brian Fisher Motors finished first, second and third. I also want to thank my wife and son for their help."
Nagy trailed Fisher by 9.851 seconds.  Close behind in the top five Jeremy Lightwine who was 16.308 seconds late in third, Sam Bocchino who trailed by 16.441 seconds for a fourth place finish and Steven Rougeou who was 25.392 short at the stripe.
Sunday was another great battle. This time the fight was between double winner Nagy and Aaron Snyder. Nagy nipped Snyder at the stripe by a mere 0.066 seconds for one of the event's narrowest finishes. Nose-to-tail behind Snyder were Ted Steffke, Rougeou and Glen Critchett.  They were 15.297, 15.583, and 16.047 seconds late respectively.
Later that Saturday Nagy notched his second win this time taking Stock Honda Final 1 with Rougeou 1.877 seconds behind him.  Alex Watzke, Sam Bocchino and Garret Huff
Also competing in Saturday's 4th race were Kevin Thompson and Shane Hayden who soloed Yamaha Sportsman Medium Final 1 and Junior Enduro from staggered starts.
Saturday's fifth race included Max Renner, of Sunbury, Ohio, reaching 4-Cycle Sprint 370 Final 1's stripe just 0.100 seconds ahead of Patrick Olsen.  Behind them nose-to-tail in the top five of 16-entries were Regan Vehring, Christopher Agena and Seth Johnson all less then a second off Renner's time.
"I started a few spots back," said Renner who pilots a Rogan powered Laser kart.  "I kept moving back-and-forth in the pack. Then I made a pass and then when the red flag came out I was in first.  It was a pretty tough race. Lots of passing and going four- wide in some spots.  I want to thank my dad, my mom and Jack Real for helping us."
Seth Gordon, of Bethalto, IL, showed Clone/L02 Sprint Final racers.  Second place Tommy Smith crossed 1:30.731 minute late.  Further back Michael Smith finished 4 laps down.
"I started dead last in my class," Gordon said.  "There were 4 in my class. So there were three ahead of me. I got up to third in the first lap and followed first and second for a little bit before I got by them down the back straightaway and never looked back. The Margay package worked great. It had a little grip in the corners and a lot of powered down the straightaways. It was nice."
Energy kart pilot Aaron Snyder of North Aurora, ILL aced the TaG Senior Sprint Final 1.  Cameron Robinson took the checkers for second place trailing Snyder by 17.820, but Robinson passed on the scales and was disqualified for not weighting.  That brought third place finisher Robert Wimmer to second Sean Swisz to third, Jamey Brown to fourth and Adam Coe in the official fifth finishing position.
"We started second and ran over a kart on the start," Snyder said.  "It bent our front tie-rods, so we had to work our way to the front.  It was tough to drive with that bent tie-rod.  This is my favorite track so I wanted to win. I want to thank LaCont Tires for the fronts and my dad Jim Snyder for the motors he builds."
Karting veteran Andy Kiker captured Super Kart 250 Final 1.  Dean Martin was 21.554 seconds behind Kiker. John West was nearly a minute off the pace for third.
A full lap later Ian Algie and Sidney Danals crossed the stripe.  Martin won Sunday's contest with Michael Soh 20.473 seconds later.  John West was third, Ian Algie trailed in fourth and Scott Hodges in fifth.
Brad Berelsman was 24.720 seconds ahead of Jeremy Baldi in Unlimited Final1. Falling in line behind Baldi were Jeff Metter, and Wilhelm. Solo racing in Sundays 4th race were John Copeland and Shane Hayden.
Port Sprint Final 2 and 4-cycle Sprint Final racers were also on the track during Sunday's fourth race.  Both were hard fought battles down to their close finishes.  In Piston Port Sprint Final Adam Trumbley narrowly took the checkers with a 0.733 seconds advantage.  Veteran racers Louis Magiera and Eric Stockford were close behind with finish times of 11.642 and 56.631 seconds. Stowell crossed one lap down for the top five.
In the weekend's second closest finished Regan Vehring edged out Robert Murray by just 0.086 seconds in 4-Cycle Sprint 350 Final 2.  Renner was 14.865 seconds late for third. Trailing Renner in the top five were Chad Landers and Robert O'Dell.
Keith Losch was scheduled to challenge Greg Trainor in Piston Port SSX Can Sprint Final 2 but was a no show at the grid leaving Trainor to solo the class.  Jerry Revely ruled Open Sprint ending with a two-lap advantage the remaining top five racers who were Vehring, Brian Thalgott, Ben Morris and April Danals.
Patrick Olson owned 4-Cycle Sprint 370 Final 2.  Olson fought off late race challenges from Vehring who crossed1.808 seconds late.  Murray was 9.467 seconds off the pace for second place. Christopher Agena was fourth, followed by Wimmer for the top five.
Cameron Robinson was first across the stripe in TaG Senior Sprint Final 2, but he was a no show at the scales giving the win to Ian Hornish who was 10.529 seconds behind the winner.   Sean Swisz advance to second and was followed by Lucas Maurer for the field.
In Sunday's 6th and final race Clement, MI racer Steven Rougeou's DR Kart ruled Stock Honda with a 0.336 seconds edge over Alex Watzke who was disqualified.  Bill and Sean Piles advanced to second and third.  The next two were disqualified for not weighting which moved 7th place finisher David Huff.
"I started 2nd.  I didn't get the start off like I wanted to."  Rougeou said. "Me and Mark Nagy made it to the second turn, before we had an incident together.  He and I ran one-two yesterday.   Today our contact got his rear bumper ripped off and me spinning through the grass.  I managed to keep the engine going got back on the track about 30-seconds behind everybody.  After 30 minutes of racing I reeled them down and on the last turn on the last lap I passed the second place guy and took the checker flag to win.  The DR Kart was on a rail.  The '99 chassis handled like a dream on MG Tires and the SRS Racing Engine was fine.  I want to thank John Sefioi for the engine.
The national AKRA National Road Racing Series presented by Vega Racing Tires tour has three more stops on their 2018 schedule.  Next up Canaan Motor Club in Canaan, NH where they'll compete on a 1.3-mile technically challenging road course with extensive runoff for racer safety.  Later that month the tour travels to Michigan Int'l Speedway on the 25th and 26th.  They end their season September 29-30 at Pittsburgh Int'l Race Complex.