So Cal Oval Karters and Norco Mowers at SoCal Fair Motorcycle Speedway Saturday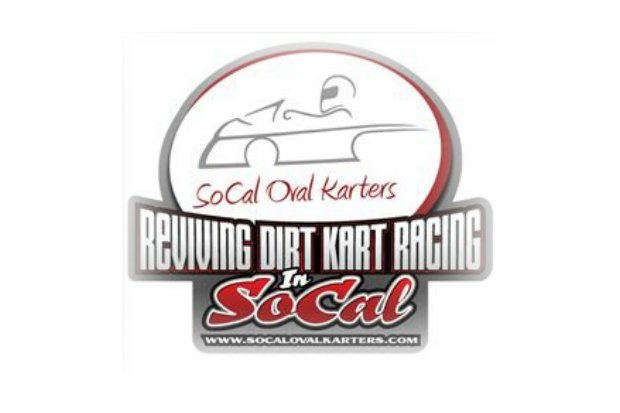 The So Cal Oval Karters will contest round six of the championship season this Saturday, July 21st, at SoCal Fair Motorcycle Speedway on the SoCal Fair and Event Center in Perris.  Joining the SCOK on its home track will be the racing mowers of the Norco Mower Racing Organization.  Gates will open at 9:00 A.M. with practice at 11:00 and the first race at noon.
Due to extensive work on the track by members of the SCOK and NMRO two weeks ago, competitors will be greeted by a new racing surface and the scorers and the starter will have some new creature comforts.  The track surface has been completely revamped since the last race four weeks ago and sunshades have been added for the scorers and starter.
"We all left our houses about 4:30 in the morning and got to the track about 6:00," SCOK head man Matt Jones told club members and fans on a video on the club's Facebook page.   "Wesley (Crabtree) from the Norco Mowers came out with his tractor and graded the track for us.  It is flat on the inside groove and then has about a 5% grade (bank) on the outside.  Hopefully, we can get a two-groove track going.  We want to thank him.  The next race is going to go good and I hope to see everyone there."
All five SCOK classes – Yamaha of America KT100's, Colt Group Open Class, Burris Racing F200's, Caltrol Incorporated Senior Clones, Fair Oaks Ranch Junior Clones and Ancon Marine Junior/Juniors – will be in action on Saturday.  Hesperia's Thomas Southern comes in as the point leader in the KT100's and the Opens.  Steve Juillerat of Whittier, seeking his second championship in three years, leads in the F200's.  San Diego's Jeffrey Butler leads in the Senior Clones and Riverside's Drake Cardey is on top of the Junior Clones.
In addition to the five classes of the SCOK, the NMRO will have two classes in action on Saturday.  Anybody who thinks these drivers are racing lawnmowers like grandpa putted around on in the backyard needs to look at the club's Facebook page.  https://www.facebook.com/norco.mowers/videos/2157547724261344/
For those who want to make a full day and night of racing, there will be auto racing Saturday night at Perris Auto Speedway, which is located a couple hundred feet from the track the karts will be racing on.  The PASSCAR Stock Car Series and IMCA Modifieds will supply the action in a show that begins at 7:00 P.M.
The SoCal Oval Karters would like to thank 2018 series sponsors Yamaha of America, Burris Racing, Caltrol Incorporated, The Colt Group, Fair Oaks Ranch and Ancon Marine for supporting the 2018 championship season.  If you or your company would like to join the SCOK as a sponsor, please call Matt Jones at (714) 614-8891 or E-mail him at mailto:mattjonesracing@yahoo.com
2018 SoCal Oval Karters Schedule
July 21    – SoCal Fair Motorcycle Speedway – Perris
August 4 – SoCal Fair Motorcycle Speedway – Perris
September 8 – SoCal Fair Motorcycle Speedway – Perris
September 22 – SoCal Fair Motorcycle Speedway – Perris
October 13 – Wheel2Wheel Raceway – Victorville
November 3 – Perris Auto Speedway Road Course – Perris
November 10 – SoCal Fair Motorcycle Speedway – Perris
To keep up with the So Cal Oval Karters on Facebook, please use the following link:  https://www.facebook.com/search/str/so+cal+oval+karters/keywords_search
The So Cal Oval Karters website is available at http://socalovalkarters.com/
The So Cal Oval Karters would like to thank the following sponsors for helping make the championship series possible.  Burris Racing, Hubcapmike.com, Perris Auto Speedway and Yamaha of America Racing Engines.  If you or your business would like to become a partner of the So Cal Oval Karters, please call or E-mail Matt Jones at (714) 614-8891 or  mailto:mattjonesracing@yahoo.com