Another S1 Win for Musgrave at Santa Maria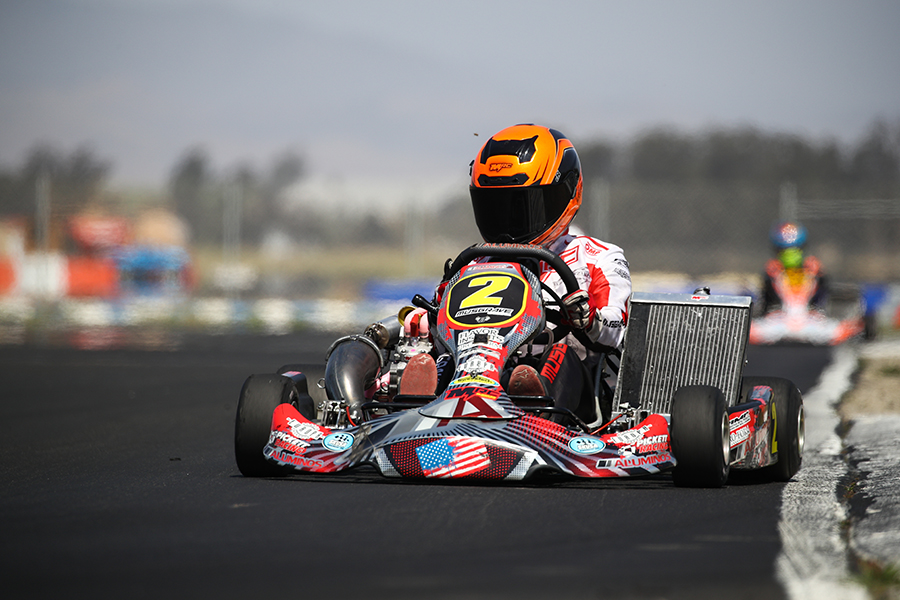 Billy Musgrave earned a fourth perfect event of 2018 in S1 (Photo: DromoPhotos.com)
Musgrave Racing Company driver Billy Musgrave would continue his SKUSA Prokart Challenge domination with another win in the Mad Old Nut S1 Pro Stock Honda class in Santa Maria.
Santa Maria Kart Track would play host to round 4 of the championship and Musgrave would again sweep the day behind the wheel of his MRC/Aluminos shifter kart. As he has in the first three rounds of the year, Musgrave would claim pole, win both heats and the main event while leading 37 out of 38 laps of competition. He would also post the fastest lap of the weekend in the main event to put a period on a nearly flawless day.
Musgrave would also experience his best outing of the season in his Mad Old Nut/Mad Croc X30 kart by claiming second in the Phil Giebler X30 Senior class. After fighting for pace in the first half of the year, Musgrave and the MRC team have started to get the Mad Old Nut/Mad Croc machine dialed in. After a strong performance at the previous round in Fontana, Musgrave would continue his form at Santa Maria with his first pole position of the season in the division. A problem in the first heat would result in a DNF but Musgrave would fight back in heat 2, charging from 24th position on the grid to 6th and ultimately come home second in the main event.
"It was another awesome day for the team," said Musgrave. "We were able to get another win with the Aluminos shifter kart and earned our first podium with the Mad old Nut/Mad Croc X30 kart. I'm especially pleased with the progress of our X30 program. We struggled early on but we've been working with the factory and they've been able to help us understand and resolve some of the problems we had been experiencing. It's a great way to kick off the second half of the season and we hope to continue our momentum at the next round."
The 2018 California ProKart Challenge will resume with round 5 of the series at the Marina Airport Kart Track in Monterey Bay on August 31 – September 1. For more information visit superkartsusa.com.` Musgrave would like to thank all of his supporters including Musgrave Racing Company, Aluminos, Mad Croc, Mad Old Nut, Chaparral Motorsports, Pro Circuit, Motocross Action Magazine, 6D Helmets, Piston Bones, Baldozier Racing, Yesnick Racing, SKUSA, LAKC, Evinco Tires and VP Fuel.