Egozi Earns Ticket to 2018 Rotax Grand Finals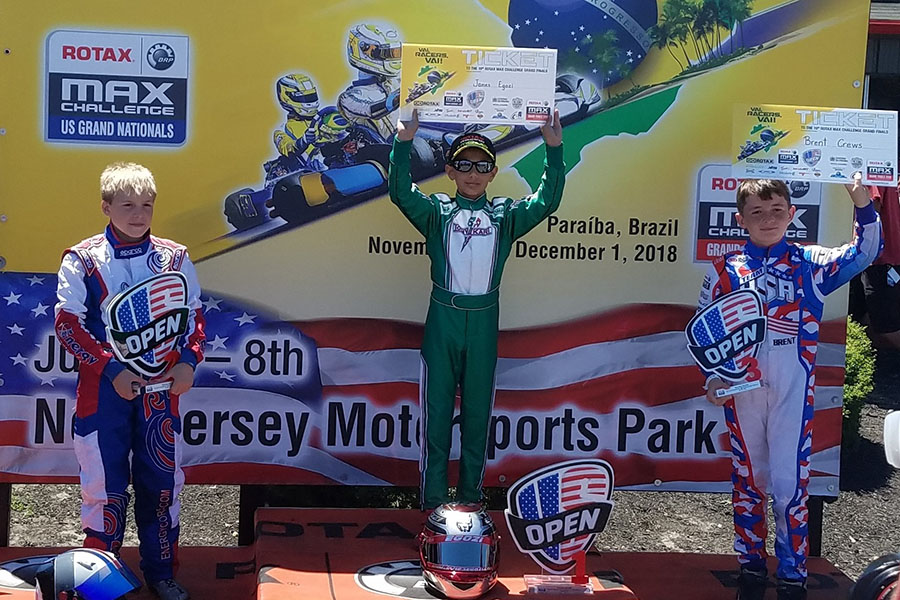 The 10-year old Mini MAX Ace, James Egozi, will be making his second trip to the Rotax Grand Finals in November after posting a remarkable performance at New Jersey Motorsports Park (NJMP) this past weekend. Egozi will add some new stamps to his passport as he is now qualified for the Rotax Grand Finals at the Circuito Internacional Paladino in Paraiba, Brazil.
Already having a strong season—Egozi claimed the 2018 Florida Winter Tour Mini ROK Championship by a hefty 78-points—the young Florida racer continued to build on his promising career by locking in his second trip to the Rotax Grand Finals following a whirlwind weekend at NJMP.
NJMP staged the Annual US Rotax Grand Nationals where the winner of each class would walk away with a ticket to the 19th Edition of premier worldwide karting competition in November.
Egozi took the Rotax Grand Finals by storm in 2016 where he competed in the Micro MAX category [as one of the youngest in the field] setting several fast-lap sessions and winning the pre-final. Now moving up the ladder, Egozi will have his first run on the international stage in the Mini MAX class, where he will compete against the best 10 -13-year-old karters from around the world.
What could have been a race ending weekend for Egozi instead turned into a demonstration of his smarts behind the wheel of his Tony Kart to fight through adversity.
A mechanical issue in qualifying had him posting times that were nearly two seconds off the pace. Egozi's quick thinking beyond his years saw him adjust his driving style to cope with the problem as he managed to post the 2nd fastest time, enough time to qualify him for the Super Pole eligible for the fastest six drivers.
Persisting mechanical failure forced Egozi out of the Super Pole session and resulted in starting from the 6th position for the 3 rounds of heats.
Starting the final race from fourth place on the grid, Egozi's knowledge of the free-flowing track brought him through the field to walk away with the win and his Grand Final Ticket.
The Rotax MAX Challenge Grand Finals (RMCGF) which will have representation from over 60 countries takes place on November 24th – December 1st.
The RMCGF will not be the only International Event for Egozi this year, as he will also be competing in the Bridgestone Cup and ROK Cup International Finals at the South Garda Circuit of Lonato in October.
www.egoziracing.com
www.instagram.com/jamesegozi