Race Report: KPX Karting Championship – Round Three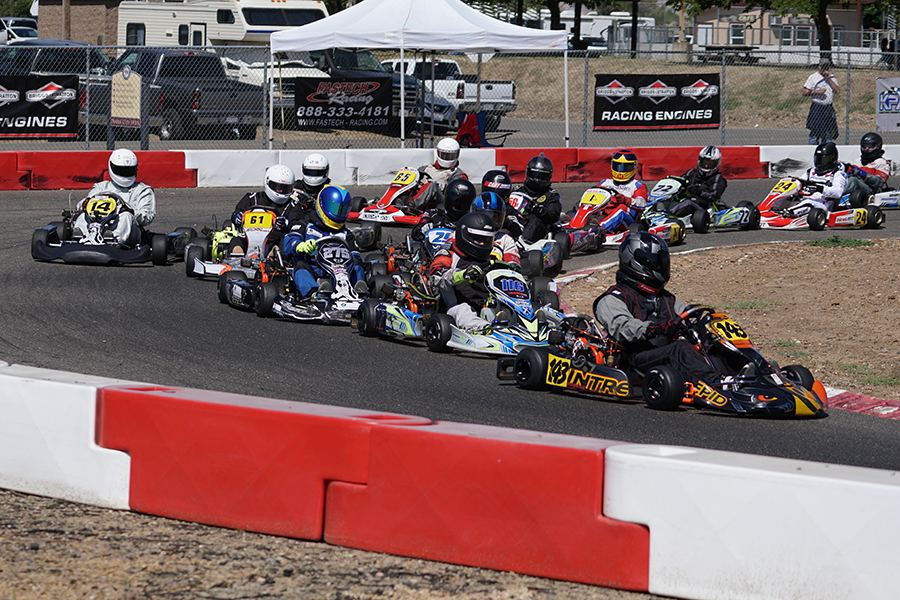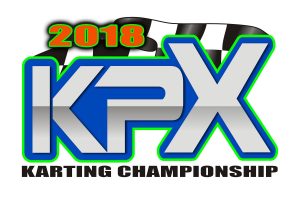 KPX holds another huge event for Round 3 of the 2018 KPX Karting Championship in Prairie City, CA at All Star Kart Club with 115 karts in seven classes on June 15-17. As usual, the 206 classes had a large attendance of 91 karts. The buzz around the paddock was the growth of the new KA100 classes consisting of nine Junior drivers and fifteen Senior drivers.
"Both motor packages complement each other well and are a perfect match for growth from the ground up throughout the sport" said KPX's Kenny Manchester. This tight track made for some close racing where some drivers prospered and others paid the price.
Junior 1 206 had a total of 17 drivers, these young drivers put on one of the best performances for their class since the series has started. Qualifying on pole was Chase Hand, who held the lead in the pre-final until lap seven where Stephen Eisert made a great pass. The race stayed close with a couple more passes back and forth where Eisert eventually pulled off the win with a last lap pass. Not much changed in the main event as Hand tucked in behind Eisert until lap 18 where he made his move, but it wasn't enough and Eisert got the lead back doing everything in his power holding off Hand to take the win. Not far behind these two was third-place Ethan Nascimento, who had a great run from his starting position of seventh. Trenten Helie got fourth followed by Parker Delong in fifth.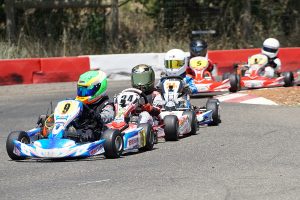 The Junior 2 206 class had a stellar field of 25 drivers. The difference in qualifying was decided by less than a tenth. Dylan Wilkins got beat out by Cain Fredricks for pole position. Fredricks dominated the pre-final leading all laps and taking the win by one second over Boden Barnwell. As everyone battled mid pack back the leaders slowly pulled away in the main event. Fredricks just was too smooth at this track for anyone to challenge him, going on to take the win. Barnwell held on to his second place finish with Anthony Toscano back in third but a penalty moved Toscano back a position to fourth allowing for Matthew Fecko to get on the steps in third.
Senior 206 showed up strong as usual with 28 drivers. David Vasquez ousted his teammate Alieja White by five hundredths to get the top starting spot. The RLV teammates drove away with a five second lead over the rest of the field in the pre-final with Vasquez first and White second. White unfortunately lost a chain in the main event, ending her day. Vasquez continued on the victory with Tyler Agan finishing second and Grant LeClaire in third, just beating out Kenny Manchester in fourth with Jason Pettit right behind in fifth.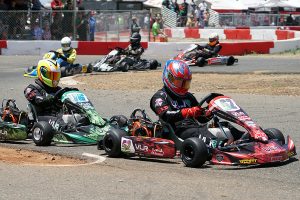 With a small but competitive field of six Heavy 206 drivers, Tyler Agan grabbed the pole position. Brandon Apodaca and Agan put on the best show of the day in the pre-final as they went back and forth with really close passing, where Agan came out on top. Agan got even better in the main event, taking a demanding lead toward the victory. Apodaca finished second with Kyle Abbas in third.
Sixteen Masters 206 drivers came to Prairie City to give it their all in this 40 years and over class. Newcomer Pat Beckley put it on pole beating out the competition by over a tenth. There was a three-way race for the win in the pre-final. Beckley held off the pressure from Jack Arluck and Steve Piggott to take the win. Arluck looked for a little more speed in the main event but just didn't have enough to make a pass stick to beat out Beckley. Beckley got the victory for the day with Arluck in a close second place, gapping third place Jeff Wamre and fourth place finisher Brian Baker by about seven seconds.
Junior KA100 has shown a steady growth of about one additional racer per race. Aiden Kempf is on fire and took pole position by less than a tenth over Garrette Randolph. Kempf led the group around tight track for the 16-lap pre-final ending in a win by two seconds over Cole Gamma, and Garrette Randolph. Gamma was fast in the main event running the fastest lap time but it wasn't enough as a technical problem dropped him out of the race on lap 19. With Gamma out, Kempf just needed to stay consistent to win as he always seems to do. Randolph finished in second with Owen Rule making a run up from starting sixth to end up in third.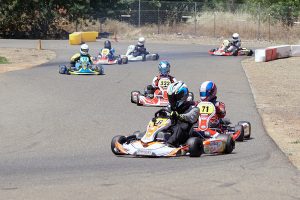 Senior KA100 is showing tremendous growth as this race weekend pulled some heavy hitters out of the woodworks with 15 drivers. Alex Keyes showed everyone the fast way around Prairie City, receiving the pole award. The top three guys fought for little progress in the pre-final as they were all very fast, the battle was from fourth to sixth. Austin Elliott ended up in fourth coming from his starting spot of P6. Andrew Kemp battled to hold his fifth position early in the race to finally creating a gap comfortable enough to go after Elliot but couldn't get it done and finished in fifth. Jay Juleson got the short end of the stick dropping two positions within the first four laps finishing in sixth. None of these guys could catch P3 Zack Rivera. Even farther ahead was second place driver Harrison Mills. Still showing the fast times, Keyes won the pre-final. The main event saw a new face to the race as Sonny Cervelli raced up from tenth to finish in fourth not having enough time to catch third place Elliott, ahead by a second. The 22-lap main event gave Mills and Keyes enough time to pull over a ten-second lead. Mills didn't have enough to get past Keyes, who showed his experience and track time at Prairie City was too much to be beaten for the victory.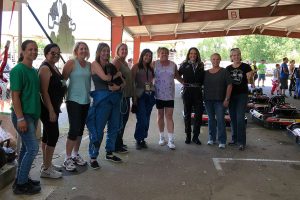 The race of the day was the "Moms Race". This race took place during the lunch break with 11 lucky race moms. The fences filled up as people were betting which mom would win, and everyone was cheering on someone. Natalie Hand was a natural and instantly pulled a massive lead to win the race. The real race was behind her. Second and third battled until the end. Tiffany Fox ended up finishing second with Chyehar Tyler in third. Many of the other moms battled hard throughout the field with a couple minor crashes that just couldn't be avoided due to the absolute hard racing they were putting on. Many proud children helped their moms get ready for the race and were at the scales waiting for them when they exited the track. This was a wonderful experience to witness. The winner got a $150 gift basket with all kinds of goodies with the full podium receiving "Moms Race" medallions.
The next round of the KPX Karting Championship will be July 21-22. This month can be a hot one but with that in mind KPX has planned this event to be in Marina, CA where racers will enjoy great weather near the Pacific Ocean.