The Art of Racecraft: Shawn Bayliff
Owner of Trinity Karting Group and veteran motorsports racer fears the problem is moving up the ladder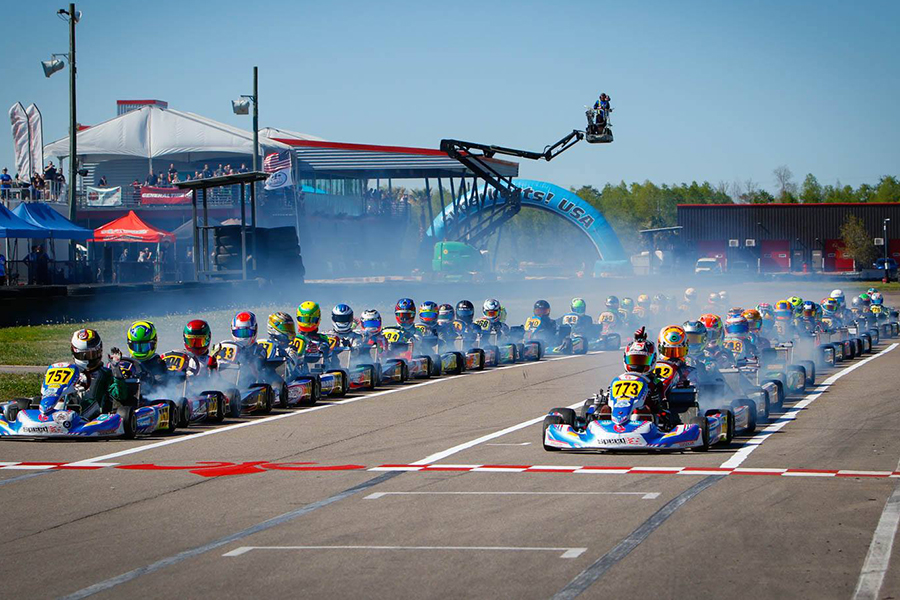 (Photo: On Track Promotions - otp.ca)
The hottest topic of discussion in the sport right now is centered on a negative culture shift in driving standards, most predominantly seen in national level competition. Over the next few months, EKN will be presenting an article series that features the thoughts and beliefs of some of the most respected drivers and industry veterans in the sport. It is our hope that drivers, tuners, coaches and parents will all take the time to read these submissions, and discuss their merits, so that we can reverse the slow decay of racecraft that we're seeing in our incredible sport.
With that, we present our series called 'The Art of Racecraft'. The next veteran of the sport to pen his thoughts on the subject is Shawn Bayliff. The Ohio native began karting in 1979, driving one time as a factory Margay / Bridgestone pilot. Leaving karts, Bayliff raced Midget and Sprint Cars before moving over to Formula Atlantic and the Indy Racing League. That success led to racing in IMSA. Now, Bayliff is part of the management at the Motorsports Country Club of Cincinnati and the Trinity Karting Group. For reference, check out the columns from Jim Russell Jr., TJ Koyen and Jamie Sieracki that followed the Morning Coffee intro from Rob Howden.
When I agreed to write this article for EKN, I had several things to discuss, however, having to follow the great articles written by my fellow peers in the karting business is proving to be more difficult since they stole all my thoughts.  These articles have been fantastic and spot on.  So, I am going to come at it from a little different angle and try to help us understand from the driver's point of view why racecraft has apparently disappeared and how to better coach the racecraft we are harping on.  As I am putting my thoughts down on paper and watching a few of the Formula One races and IndyCar events, I am seeing a problem that is carrying on into the higher levels as well so hopefully these articles will do some good and turn the trend around.
As you move up the racing ladder from Kid Karts to the Cadet/Sportsman classes, into Junior/Senior classes and then if you are fortunate enough, or rather, "funded" enough to move into the automotive ranks, your ability to make a pass without having to do a "bankshot" pass, as I call it, should decrease as you gain experience.  But, with every step the pressure to perform increases, which can cause smart decision-making to decrease and therefore our "perception of race craft" is altered, when in reality the racecraft might be there and what we are witnessing is poor decision-making skills due to lack of experience.
As my former boss, Price Cobb (CBR-Racing at the time), always said "Perception is Reality".  I am not 100% certain we have lost the art of racecraft but maybe we have just increased the pressure on drivers to perform because they are wanting to move on before they have paid their dues.  Whether it's moving from club racing to nationals or from nationals to cars, drivers are moving on too soon and not giving themselves enough time to gain the experience needed to really hone their skills.
I watched a beautiful display of racecraft from Jake Craig in X30 Senior at the SKUSA WinterNationals on Sunday. After getting knocked out in the Prefinal (obviously, after someone's poor decision making), drive from the back of a 50-kart field to a top-10 finishing position with not a tire mark on his sidepods, so I know racecraft exists.  However, the same day, the lack of racecraft was on full display in the X30 Junior class, with multiple start crashes, red flags and then ultimately a single file restart to get the race underway, not to mention the poor display of bump and runs and "bankshot" passes throughout the race.
The difference between the two? Experience!
The toughest question on this is how do we change this dilemma we are facing with racecraft?  Pushback Bumpers (PBB)?  Remove the bodywork?  Tougher penalties?  Camera Systems?  Policing?
I personally believe this is a very hard thing for the sanctioning bodies to accomplish. there are physically too many karts at a Superkarts! USA Pro Tour event and not enough eyes to truly police through the entire field.  However, it sounds like from the reports I've received that SKUSA implementing the PBB was a success and the enforcement went well, so that is a start. Also, USPKS has had them in place for a year with success and the racing was clean at Ocala for their first event.
But in my opinion, it starts with coaching the proper pass, knowing when to give up a corner and how to live to fight another day.  There are times to let the overtaking kart make a clean pass and go back to work on the driver that just passed you, as was mentioned in previous articles.  It also starts with the parents, tuners and coaches, especially in the Sportsman/Cadet classes.  These are kids, they are going to make bad decisions, they are learning!  Most of the drama surrounding the on-track incidents are escalated by "hot-head" parents and could be far less dramatic and way more constructive.  Karting needs to be fun and if the ultimate desire is to move up the ladder, then learning the correct way to setup and pass will minimize your crash damage.  More importantly, you will gain the respect of your fellow competitors, impress any possible car owners in the paddock and have new friends in the mechanics that must work long hours to fix your "bad decisions".
I am not sure who coined the phrase "to finish first you must first finish", but whoever it was I give them props because I use that one a lot and I follow it up with "you can't win the race in the first corner but you sure can lose it there".
Now, I can't deny, if you find yourself in a tough starting spot you can certainly make up several positions on the first lap but that begins way before you are ever put in that position.  Drivers should know the tendencies of their competitors, that again was mentioned in one of the previous articles as to why racecraft has declined.  These events give an ample amount of time to learn who races hard and who will give up a spot, study them, and know what they will do.  More importantly, learn the track and find the best spots to make what we call a high percentage pass, one that will yield a clean pass.  I like to sit down with a driver and mark out the track map on high, medium and low percentage passing zones as well as passing zones that are absolutely off the table, unless of course there is a slow-moving kart.  Some passes can be a high percentage pass but will put you in a bad position for the next corner.
One thing I see most often is a driver that has just been passed getting the "red mist", thinking their day is done. They go down to the next corner and try to dive-bomb pass the kart back with a desperate attempt to re-gain their position and end the day for both of them.   I am not a big fan of blocking, so as a coach this is a little irritating.
There are two things to learn in the situation above for the driver being passed; A.) you are likely slower than the kart that is passing you so give it up, try to learn something and finish or B.)  If you screwed up to let the pass happen, just be calm and knuckle down, don't overdrive and make the pass back clean and finish.
I am not sure how other tents work but some of the decline is purely the lack of coaching racecraft.  Tuners seem to only focus on going for that fast lap to make themselves look good and do not pay any attention to how to pass, often encouraging the bump and run or "bankshot" pass.  They can go home saying my driver was fast, but we got wrecked.  That needs to stop!  Maybe there should be penalties for teams that have multiple offenders?  And that leads me to my final few thoughts.
Usual suspects!  As I watch the races and talk with other teams and parents, I have noticed a pattern with certain drivers that always seem to have the same story at the weeks end…"we got wrecked out by so and so" or "that kid always takes us out".  I look at race reports or listen to EKN Live and the same names often are announced sitting on the sidelines waiting for the ride of shame at the end of the race.
If you find yourself often out of the race or constantly in an altercation that results in a crash or getting shuffled off the track to render your weekend impossible, maybe you should take a step back and look in the mirror and ask yourself; is it really everyone else? Or maybe, do I need to work on my racecraft?
Trust me, I am approaching 40 years in the racing business primarily as a driver and I think there are only a handful of times that I was intentionally taken out by someone with a vendetta against me.  I grew up in karting with no bodywork and a heck of a lot of respect for the proper pass, otherwise you ended up on your head and of those times a couple where mechanical issues but usually it was my fault or both, it takes two to tango!  Our newest TKG motto is: "winners take responsibility, losers blame others and make excuses."  Once you realize this your racing results will improve dramatically and so will the perception of racecraft, along with making it easier for the sanctioning bodies to have clean events.
Sanctioning bodies have a tough road ahead until drivers understand that it starts with them.  DNF's and a reputation of being a driver that crashes is no good for your career.  Teams at the next level are asking, trust me I get calls all the time about drivers in karting and I tell the truth.  Remember, "to finish first you must first finish" and parents in the Sportsman/Cadet ranks; calm down the drama, you have a few years before your kids can get to the next level, they are still learning and yelling at someone else's kid or your own only shows them your true character.  One last thing, I suggest is pick up Terrence Doves book, "Learn How to Master the Art of Kart Driving". I ask all my new drivers and parents to read it.  It's a great way to start improving your racecraft by learning how go fast and race clean.
God-speed and I hope to see our "perception of racecraft" start to improve!