Rosberg Racing: Excellent Performance for Barnard at Lonato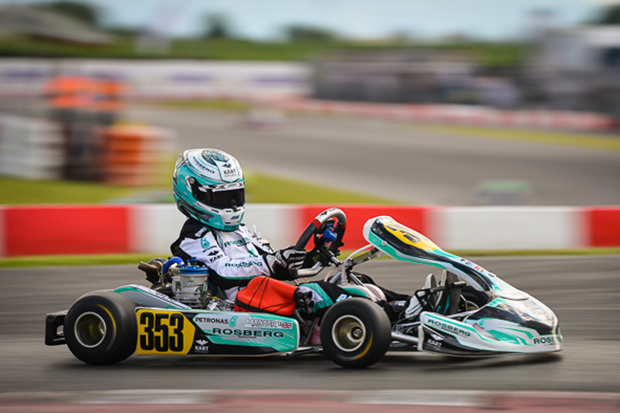 Under the colours of Rosberg Racing, the young British driver Taylor Barnard has achieved outstanding performances in OK-Junior at the WSK Open Cup at the Lonato circuit. At the wheel of his KR / Parilla from the official Kart Republic Motorsport team from Dino Chiesa, for a long time he played the leading role in this new and highly contested international event.
Taylor Barnard started this weekend of racing at Lonato very strongly, taking pole position in Qualifying ahead of 66 experienced rivals. Very competitive in the Qualifying Heats, he kept the lead of the category with full composure thanks to his three victories. Less successful in Prefinal A, Taylor was held up in his return to the lead by a recalcitrant driver and was to remain 4th until the finish. He found himself in a delicate situation on the outside line of the starting grid of the Final. To complicate matters, the leader of the line made a bad start and delayed everyone following. An additional formation lap would have been appreciated …
Taylor was 14th on the first lap. Thanks to his particularly effective KR / Parilla kart, the young British hopeful was able to embark on a spectacular recovery. He posted the fastest lap of the race and returned to 7th position on the finish line while keeping the lap record of the event throughout the weekend.
"I'm very happy with Taylor's progress," said Dino Chiesa. "For a young driver who does not have much experience in international competition, he is doing very well. At Lonato, he showed he was able to get the better of his rivals. His potential is confirmed at every race and he shows that he has a place in the Rosberg Racing Petronas team."