New Names Take Checkered Flag at the WSK Open Cup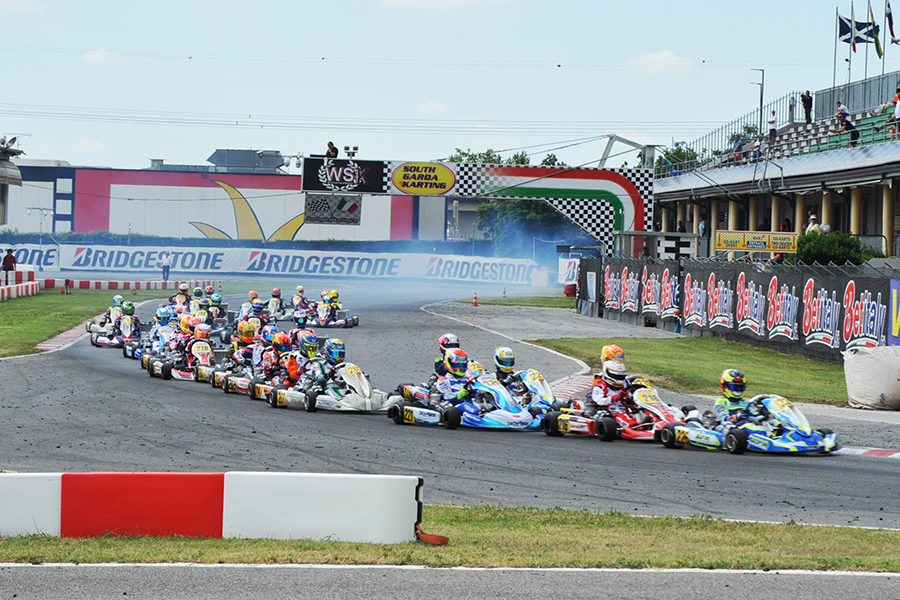 The Final day saw deserving winners take victory at the WSK Open Cup, the single race event that saw new drivers add the win to their resume. The next race on the WSK calendar is the first of the three rounds of the WSK Final Cup also to be held at Lonato on October 21.
Riccardo Longhi wins KZ2
After winning Prefinal B, the Italian driver Riccardo Longhi (Birel ART-TM/Bridgestone) gave his all in the final leading virtually the entire race. His main challenger, the fellow countryman Marco Ardigo (Tony Kart-Vortex) whose time in the lead was brief, surrendering it to Longhi on the second lap. Longhi had Ardigo behind him for the entire race followed by the Frenchman Anthony Abbasse (Sodi/TM). At the finish line it was Longhi first followed by Ardigo with the Dutchman Marijn Kremers (Birel ART-TM) in third.
Luigi Coluccio's first WSK victory in OK.
He has long demonstrated his competitiveness, and now he has his first OK win in WSK competitions. The driver from Italy (Birel ART-TM-Bridgestone) came out with all guns firing, winning his prefinal and starting from pole position in the final before slowly pulling away from the rest of the field. Among them, the Italian, Mattia Michelotto (KR/Parilla) was in second place but a long way back before being passed by the Dutchman Kas Haverkort (CRG/TM) who settled in behind Coluccio in second. Michelotto losing third to the Spainard David Vidales (TonyKart/Vortex).
Kiril Smal is the king in OK Junior.
In the OK Junior final, the podium was decided on the final laps; a contender throughout at lead of the pack, the Russian Kiril Smal (Tony Kart-Vortex) who raced away to the win was shadowed by the Dutch Thomas Ten Brinke (FA-Vortex). Behind him the battle was developing for third place between the Brit Kai Askey (FA-Vortex) saw his chances go up in smoke after contact with other drivers on the final laps. Thus, leaving the Russian Nikita Bedrin (Tony Kart-Vortex) to finish third.
Martinius Stenshorne remains on top in 60 Mini.
The 60 Mini Final saw the Italian Andrea Kimi Antonelli (Energy-TM-Vega) lead away from pole position before being passed by the Swede Joel Bergstrom (IPKarting-TM) who in turn fought with the Norwegian driver Martinius Stenshorne (Parolin-TM) for the win. The podium was decided on the final lap with Bergstrom losing out to the Italian Brando Badoer (Parolin-TM) in second with Alex Powell (Energy-TM) of Jamaica in third.
United States Drivers
KZ2: Brad Benavides – 17th
OK: Jace Denmark-Gessel – 26th
OKJ: Connor Zilisch – 24th
OKJ: Enzo Scionti – 27th
OKJ: Santiago Trisini – 32nd
OKJ: Colin Queen – DNQ
OKJ: Luke Lange – DNQ
OKJ: Nikhil Bohra – DNQ
Mini: Akshay Bohra – 8th
Mini: Mateo Rubio-Luengo – 26th
Mini: Paul Bocuse – DNQ