Driver Diary: Morgan Healey – 10th Annual Vintage Thunder
Current generation driver/race official gets taste of the past during weekend at New Castle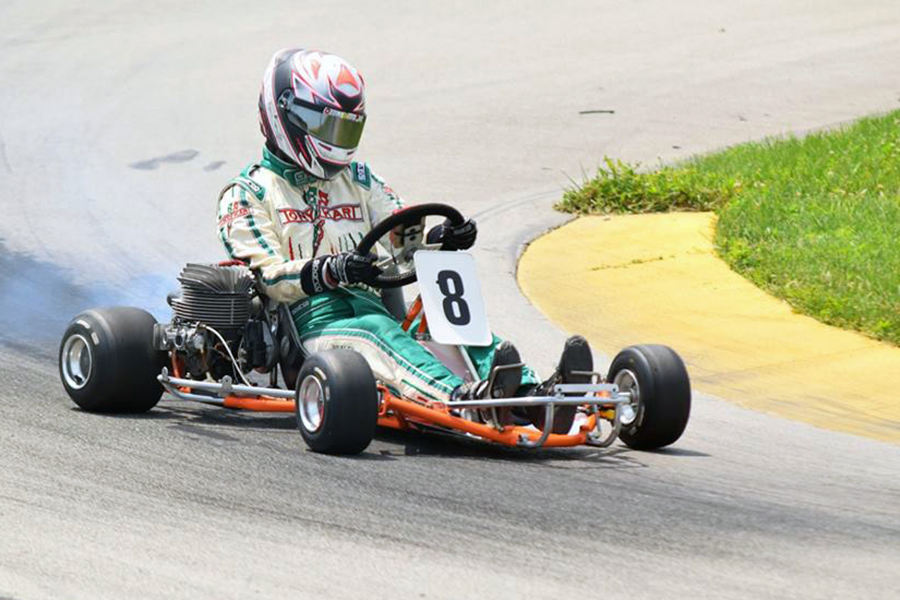 Morgan Healey piloting the Margay-K77 package around New Castle Motorsports Park
One of the more popular forms of karting today is vintage racing. Similar to what you see with some of the historic motorsports cars that hit circuits like Laguna Seca, Road America and even the Indianapolis Motor Speedway, karts of the past are getting rejuvenated all over the country and around the world. Racing karts from the 60s, 70s and 80s is becoming more popular with those who raced during that time, and also for some who are looking for the most pure venue of karting. Each year for the past decade, a group of racers come together on Father's Day weekend at the New Castle Motorsports Park to celebrate the sport they love, show off their latest restoration, and to compete against one another. Taking part for the first time ever was driver/race official Morgan Healey. The Florida native took the opportunity to compete at the event, driving karts and engine much older than her. Here is her take on the weekend and a bit of a perspective on her history lesson.
I, like most kids that had to sit through at least one history class while in school often asked, "Why do we need to learn about what happened in the past?". More often than not the answer was, well because history repeats itself. A concept that I never really understood or hoped for until now. Having spent this past weekend at New Castle Motorsports Park for Jeff Brown's 10th Annual Vintage Thunder, I can honestly say that I have never wanted history to repeat itself as much as I do now.
Being in the company of karting greats such as Lake Speed and Lynn Haddock, I was telling myself not to get caught up in the history and the pedigree of what was around me. However, the more that I got to thinking, WHY NOT get caught up in what was around me and take it all in and learn from it all. I know that I drive Lynn more crazy than he already is with my never ending "How?" and "Why?" questions but seeing him so in his element it would have been hard not to question everything. It's no secret that I have an undeniable passion for karting and being immersed in where it started, and seeing how concepts have evolved, both good and bad, I can honestly say that I hope karting can learn from its past and continue to grow in a positive direction.
I competed alongside Mr. Haddock in two categories with two different karts. The first class was the 1980-1987 Sidewinder class – sidewinder meaning the engine was on the side of the driver rather than behind the driver as many vintage karts are. The chassis was a 1983 Margay SR16 powered by a 1964 Komet K77. In total, there were 12 entries in that class. The second class was the Sportsman Sidewinder division. There I drove a 1993 Lynx with a Mac91 (McCullough engine) with a box style muffler and dry clutch. There were 14 entries total.
The format for the event, which ran from Thursday to Saturday, was made up of three heat races, six laps each. Lineup for the first was determined by registration order. Second was inverted of that and the third was points from the first two. Overall weekend winners were determined from points of all three heats. I believe I was 2nd in the 80-87 class and 3rd in Sportsman. I left for the airport before podiums. It was super low key, no scales, no tech etc.
The hot topic of conversation in modern day karting is how to clean up the on track driver performance. Until I raced at the USPKS event in Ocala back in April, I did not really have an opinion on pushback bumpers as I had never utilized it. Following that event, I am a mild supporter of the concept as I found myself saying while on track "Don't put your nose where it doesn't belong". I say I am a mild supporter because with every change there are certainly its flaws, and the pushback bumper is no exception. I hope its a temporary band-aid, not a permanent solution.
In the midst of those conversations, I have seen and heard it brought up to eliminate body work on go karts all together and go back to the old days where contact was just plainly and simply unacceptable if either driver planned on finishing the race. Up until this point, I had only seen pictures of karts from the 70's and 80's and thought the concept of completely eliminating body work was a bit extreme. Following what I saw and experienced this past weekend, this course of action would by all means fix the standard of driving overnight. At the expense of a collar bone or two, or ten, drivers would learn that contact resulting in the opportunity for a pass was not your pass to begin with. Even drafting with and pushing another driver down the straightaway caused for careful execution with the hopes of neither of you ending up in the weeds.
Do I think karting will go back in time to when the only plastic on a kart was a number panel? No. Do I think that a solution needs to be found that forces drivers to plan, calculate and carefully execute passes? Yes. Do I know what that solution is or even try to act like I do? Absolutely not.
I say that one of my favorite things to do at the track nowadays is to watch the kids playing football or as much as I hate to admit it, riding their scooters at the end of the day with one other. Seeing the kids laugh and smile after having just spent the day with one another on track makes my heart happy and realize that the kids just want to be kids. Although there was more beer being drunk than football being played at the vintage event, it was more than clear that these guys were there simply for the passion of the karting. I certainly lowered the average age and was one of a very few drivers with a full head of hair but it was more than clear that they were still the young driver at heart that they were years ago. I can't speak for what karting was truly like back in the day as I only was witness to a glimpse of it but I can hope that the passion they had that drove the sport forward can be instilled in the industry leaders today to help the sport grow in a positive direction. If only history can repeat itself…