Team Nitro Kart Scorches the Cadet Classes at USPKS Carolina Grand Prix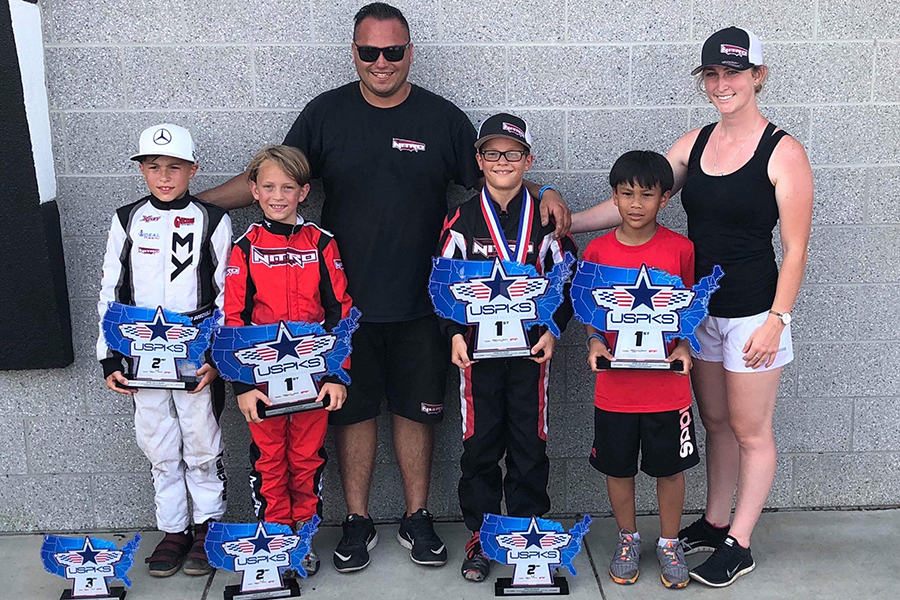 (Photo: Jim Brickley)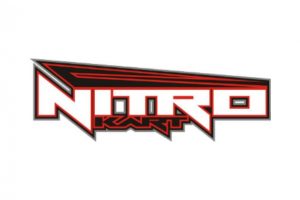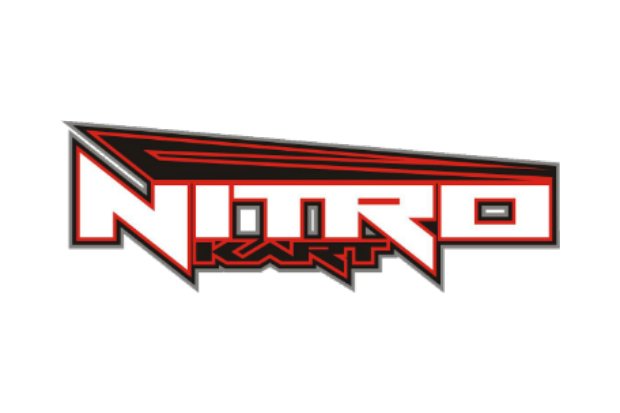 Rounds 3 & 4 of the 2018 United States Pro Kart Series, presented by MG Tires and Nitro Kart, were real scorchers, with sunny skies, temperatures in the 90's and very high humidity throughout the weekend. Team Nitro Kart kept their cool well enough to dominate the cadet classes, taking 3 out 4 wins and 7 out of 12 podium positions in the Micro Swift and Mini Swift classes, with some nice surprises along the way. With just Rounds 5 & 6 left in the 2018 USPKS series, at New Castle Motorsports Park in late July, the on-track competition at GoPro was just as hot as the weather.
IAME MICRO SWIFT
SATURDAY
Team Nitro Kart's Micro Swift dynamic duo, Ben Maier and Gavan Boschele, controlled the day in Micro Swift, with Gavan winning Heat 1 over Ben, and Maier returning the favor with the Heat 2 victory. Boschele would start the Final from the pole and the two would pull away from the field, with Gavan leading early. Ben then took the point for a few laps until Gavan reclaimed the lead and would hold it until Blazin' Ben took it back on the final lap and hold off Boschele at the last corner and to the line for the win, with Caleb Gafrarar in 3rd. CRP Racing/Nitro Kart driver, Hoyt Mohr had a great drive through the pack to 5th place from last on the grid after missing out on qualifying. Nitro Kart driver Spencer Conrad came home 6th, with Ayden Patty in 8th and CRP Racing/Nitro Kart driver, Aryton Grim in 9th.
SUNDAY
On Sunday, the Dynamic Duo looked like they would repeat the Nitro Kart party at the front of the Micro Swift field, as Gavan Boschele scored quick time in qualifying and Ben Maier won the Pre-Final in a squeaker over Boschele and Caleb Gafrarar. In the Final, Maier would lead early, but then the Nitro Kart teammates would start fighting for the lead, swapping it back and forth several times, allowing Gafrarar to stay in touch and first jump ahead of Maier for 2nd and then by Boschele and into the lead on the last lap. Gavan would challenge for the lead at the Bowl Turn 4, but Gafrarar slammed the door and gained enough of a lead to hold onto the win. Ben edged out Gavan in a side-by-side battle for 2nd place by six-hundredths of a second. CRP Racing/Nitro Kart pilot Hoyt Mohr, had another great drive, this time to 4th place, with CRP Racing/Nitro Kart teammate Aryton Grim in 6th, and fellow Nitro Kart pilot Cameron Weinberg in 9th. Ben Maier holds the USPKS Micro Swift points lead going into the final race weekend at New Castle Motorsports Park, by 69 points over Caleb Gafrarar, with Gavan Boschele in 3rd place.
IAME MINI SWIFT
SATURDAY
In Mini Swift, Team Nitro Kart swept both Finals, but surprisingly, the winners were both making their first starts in the USPKS Mini Swift class. Team Nitro Kart's Adam Brickley, a class rookie, set fast time in qualifying on Saturday, before fellow class newbie, Sebastian NG grabbed the win in Heat 1 over Brickley. Team Nitro Kart's Brent Crews took the win in Heat 2 over NG, which would unfortunately be about the only bright spot in a weekend filled with mechanical problems, and one he surely would like to forget. Sebastian NG would start from pole in the Final, and he would rocket away with the lead, with teammate Adam Brickley in tow. The two Nitro Kart pilots would break away from a fierce battle for 3rd place with Brickley leading laps 3 through 17 in the 18 lap race, but NG would cross the line first, by just over a tenth of a second to take his first USPKS Mini Swift victory.
SUNDAY
Team Nitro Kart's Adam Brickley set to make amends for losing out on the win on Saturday by taking the Pre-Final win, from 2nd place on the grid. In the Final, Adam again found himself in a battle for the lead, but this time with Sam Corry and teammate Sebastian NG running 3rd. On lap 9 of 20, Brickley would take command of the top spot, and eventually beat a charging Sebastian NG, who had briefly taken the lead, out of the final corner and win a crazy drag race across the line by 37-hundredths of a second over Paige Crawford, with Jace Park in 3rd. Sebastian NG lost out in the last corner scrum to finish 4th. Team Nitro Kart's Sofia D'Arrigo finished 7th, and set 3rd fastest time in the Final, proving she has the speed to run up front.
ALSO OF NOTE
Team Nitro Kart's Hayden Jones had a very solid Saturday with strong 5th place finishes in both the X30 Junior class and the KA100 Junior class. Team Nitro Kart's Jacob Graham certainly took the "Tough As Nails" award for racing to an amazing 4th place finish in the KA100 Junior Final from deep on the grid on Sunday. Jacob survived a monster crash early in the Final on Saturday, when several front-runners got together and Jacob's kart flipped and landed on him. Jacob was mostly unhurt in the crash and a new kart was built up for him overnight by ace tuner, Mike Birdsell, allowing Jacob to maintain his USPKS points lead in KA100 Junior going into the final race weekend at New Castle. Also, Team Nitro Kart-supported, Fullerton USA driver, Mike McAndrews, took 3rd place podium finishes in both Finals for a very successful weekend.
UP NEXT
Team Nitro Kart's next race weekend will be the WKA event at Concept Haulers Motor Speedway in Sheridan, IL on July 13-15, for Rounds 7 & 8 of the 12 race series. Nitro Kart's Brent Crews leads the WKA Mini Swift points championship and Ben Maier leads the Micro Swift standings. Nitro Kart's next event, however, will be the 2nd Annual Nitro Kart Summer Camp on June 29-July 1 at Carolina Motorsports Park in Kershaw, SC. There may be one or two spots left, so if you want your driver to get the same world-class training as the Team Nitro Kart drivers, call Nick Tucker at 704-818-7868.
ABOUT NITRO KART
Nitro Kart is based out of Mooresville, NC in the hub of American motorsports. The company was founded by "Nitro" Nick Tucker with a sole focus on youth karting and specifically the cadet ranks, but has now expanded to serve kart racers of all ages. Nick has applied his years of experience from karting all the way up through NASCAR racing to develop the absolute best cadet chassis on the market with the support to back it up. Nitro Kart and their drivers consistently score prestigious victories in major events around the country, hence the slogan "Race One or Chase One." For more information on Nitro Kart, contact Nick Tucker at (704) 818-7868 or kartworxracing@gmail.com