F-Series Gearup: Burchette Honors Fallen Friend by Sweeping Englishtown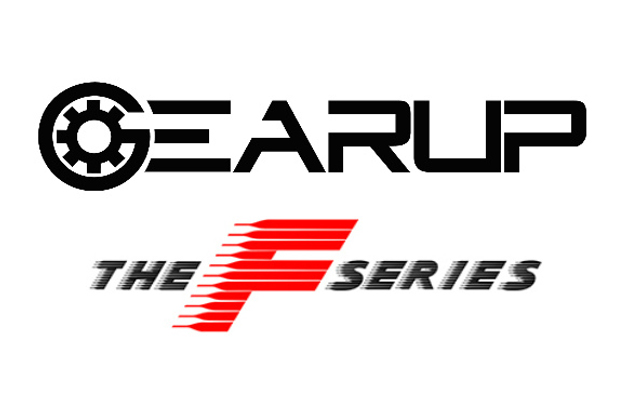 With the initials "CK" taped to the back of his helmet, Jared Burchette (Kaos Kart Shop) took the win on Saturday in Formula 125, honoring a friend lost to a battle with leukemia shortly before the weekend started. At the track where the series started, 30 karts took the green flag, the most of any class. The New Jersey native qualified 4th, but found the lead by lap 1 of the first heat and never looked back. His drive was not without challenge, however, as both John Bonnano (CompKart) and – Pocono winner – Brendan Burcroff (Kompetitive Kartsport) both were hot on his heels, never finishing less than one second behind. The result extends Burchette's advantage in the championship standings to 69 points over Burcroff.
In the 125 Ironman category, Antonio Sparicio (Solo Kart USA) captured his first win of the year over Full Tilt teammates Paul Martins and Ken Lake, respectively. Joe Lattanzi (Full Tilt) edges ahead of Paul Montopoli (CompKart) by 14 points after Montopoli lost body work in the final heat race of the day, resulting in a disqualification.
Formula Junior was set to be a thriller, with Amelia Cangialosi (TonyKart) qualifying on pole position over Justin White (KartWorkz/CompKart) by a mere 0.048 seconds. The two drivers battled hard in the first heat, but a lapped kart impeding Cangialosi would result in White making a pass and claiming the first heat win. The start of the second heat saw TonyKart driver fall to third, behind Chloe Chambers. Cangialosi would reclaim second, but was unable to catch White. Determined to prove a point, Amelia held onto second position at the start of the final heat, slotting in behind Justin, but wasted no time attacking the CompKart. She pounced on lap3 and never looked back, but White only needed to cruise home second to take the overall win. Chambers completed the podium a distant third. White extends his advantage at the top to 52 points over Cangialosi.
Formula TaG championship leader Ryan Raffa (Full Tilt Racing) refused to let title rival Zach Holden (Solo Kart USA) steal victory on his home stomping grounds. Raffa qualified on pole ahead of Holden by an incremental 0.045 seconds. After briefly losing the lead on the opening lap, Raffa reclaimed it and would take the first two heat victories. However, Garrett Johnston (Team Ferris Racing) was slowly chipping away throughout the day after qualifying fifth before taking the final heat win away from Raffa, who would finish second, but still come away the overall winner. Johnston finished the day second overall, ahead of Holden, despite the Solo Kart driver not starting the final heat.
Racing was suspended for a short time at Englishtown due to lightning, but Annie Rhule (Checkered Motorsport) used it as inspiration to strike back from her previous race runner-ups to sweep the weekend in Formula Cadet and Formula Mini Rok. The cadet classes provided great entertainment throughout Saturday's racing in a field stacked with talented drivers. Rhule would have to battle with local Alfonso Lombardo (Kart Republic) to claim victory. Lombardo kept Rhule honest throughout the day, slotting in to second in the first two heats and nabbing the third heat win. Danny Dyszelski (Kaos Kart Shop) struggled to keep up with the two front runners, but would come home in third position. Rhule retakes the points lead by just nine points over Dyszelski.
In Mini Rok, Rhule would again have to battle a New Jersey local, this time in Ryan Stanton (CompKart), who would take pole position in qualifying. Annie would not be so easily beaten however, stealing the lead from Stanton on the opening lap of the first heat and never looking back, although he never dropped back more than a few kart lengths. The second heat looked to be just as dominating for Rhule, until Evan Slater (DRT) snuck in with two laps to go to take the heat victory. Slater would be unable to repeat his performance in the third heat, quickly dropping behind Rhule at the start of the final heat and unable to make a dent in her lead. He would end up battling with Stanton and the CompKart driver would pass by the DR with two laps remaining. Rhule would complete the overall sweep, with Stanton and Slater in second and third,respectively.
After being denied in Pocono, Checkered Motorsports shifter driver Kyle Apuzzo was determined to redeem himself. He claimed pole position with relative ease, but as his season has proven thus far, it was going to be anything but easy.The CompKart driver spun during the warm-up lap, then stalled trying to get back to his grid slot, demoting him to the rear of the grid. So, as one does, he would re pass all 17 drivers in front of him, including a beautiful lunge on race leader Carlos Lopes (CKR/Mike Rivera) on the final lap for the pre-final victory and setting the fastest lap of the race (39.953). Apuzzo would again start on pole for the final, losing out to Lopes in the opening stages, but would quickly reclaim it and sail away for his first KZ victory. Lopes would come home second, with Barry Primus (TonyKart) behind him in third. Andrea Nieri (Praga) showed strong form all weekend, but would end upretiring on lap 17.
A similar story in Rok Shifter as pole sitter (3rd overall in qualifying) Joshua Conquer (VSR) also stalled in the pre-final and had to start from the rear of the field. Although not as spectacular, it was still an impressive drive to catch up to Rok leader Marco Oldhafer Jr (DRT). Although Conquer was unable to pass Oldhafer on track, the DRT driver would be disqualified post race, yielding the pre-final victory. Conquer would be unchallenged in the final to take home the class victory, with Oldhafer in second and Nick Rango third.
In Shifter Honda, Evan Polisky (CKR) would edge out Frank Rapisarda (CRG) for the class pole position by a mere 0.025 seconds. Much to Polisky's dismay, he would be unable to convert it to a pre-final victory as Patrick Cecilian (Formula K) would work his way from the back of the field after not setting a lap in qualifying. Cecilian would ultimately lose out after having issues on lap 13 of the final, allowing Polisky to cruise home victorious, a full lap over runner-up Rapisarda. Cecilian would limp home and complete the podium.
The F-Series: Gearup Challenge resumes action June 29 and June 30 at New Jersey Motorsports Park. Details and registration is available on www.thefseries.com