Andersen RacePark Announces Top Prize Package for New Karting Series
Ties with the Mazda Road to Indy will Include a Fully Funded USF2000 Test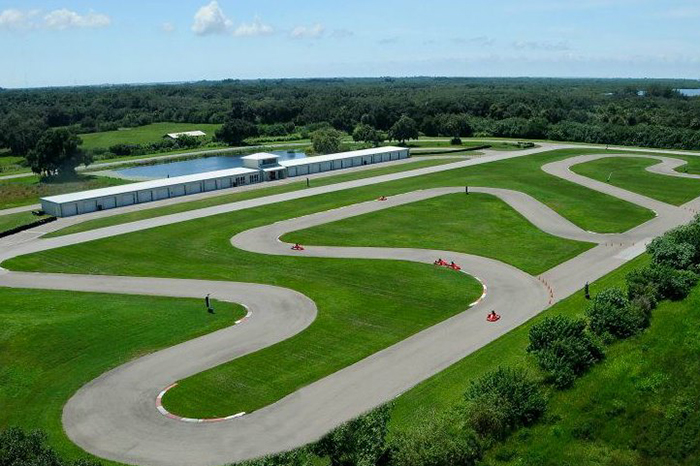 As the summer season begins to creep onto the Florida Gulf Coast, the staff at Andersen RacePark (ARP) and Andersen Promotions are excited to announce new programs and opportunities for karters throughout the state. Highlights include the formation of a brand-new series of races to be hosted at the popular venue in Palmetto, Fla., and an array of prizes offered in conjunction with the highly acclaimed Mazda Road to Indy Presented by Cooper Tires, which provides scholarship opportunities for talented racers to progress all the way from karting to the Verizon IndyCar Series and the Indianapolis 500.
In the wake of the huge announcement that racing will return to ARP via the Sunshine State Karting Challenge, the new local series is set to begin on June 23. The race will provide the perfect platform for drivers and teams to re-familiarize themselves with the tricky and technical 0.6-mile track just one week prior to the prestigious SSKC event.
Two additional events on July 28 and August 18 will comprise the ARP Summer Championship, with three more "Winter Series" dates to be confirmed from October through to December. Points will be offered in every class at all six events, with each competitor able to count his or her best five scores.
The grand prizes will include fully paid one-day tests in a Cooper Tires USF2000 Championship Powered by Mazda car for the Junior and Senior class champions (minimum age 14). For the remaining classes, VIP weekend experiences will be offered for next year's Firestone Grand Prix of St. Petersburg Verizon IndyCar Series event, including all-access passes and an opportunity to enjoy the Turn One Mazda Road to Indy hospitality villa.
In addition, over $10,000 worth of gift cards, MG tires and race-day and training packages with the Andersen Racing Team will be up for grabs at each race meeting. As a cherry on top, class champions for the Summer and Winter Local series for Micro, Mini, Masters and all LO206 Classes will receive a paid entry to Round One of the 2019  Sunshine State Karting Challenge.
Ramping up for the future, Andersen RacePark has re-invested greatly in its facility, adding a state of the art arcade and game room, Paddock Club Café, and the construction of a new parts department that will also feature an online store. Plans for 2019 also include a re-surfacing of the popular 13-turn track.
"A new track surface, allied to an already technically challenging layout, will make our facility arguably the best karting track in Florida," says Andersen RacePark Facility Manager Neil Van Niekerk. "Couple the track with our already world-class facility, we know people will again make Andersen RacePark their home track."
For more information on the series please check our website www.AndersenRacePark.com/ARPlocalseries/, or check out our FaceBook page at https://www.facebook.com/AndersenRacePark . For information about parking or technical questions you can contact Jake Mottaz at 941.723.3900 or email info@andersenracepark.com.
Summer Local Series Schedule:
June 23 – Round One
July 28 – Round Two
August 18 – Round Three Summer Finale
Winter Series Schedule: TBA (October-December)
Class Offerings:
Tag Micro MG red 225 lb
Tag Mini MG red 245 lb
Tag Junior MG yellow 320 lb
Tag Senior MG yellow 360 lb
Tag Masters MG yellow 395 lb
Open Shifter MG yellow 385 lb
Open Shifter Masters MG yellow 405 lb
LO206 JR MG red 310 lb
LO206 Senior MG red 350 lb
LO206 Masters MG red 380 lb
Accommodation/Vacation: With all of the races being held on Saturdays, competitors and their families are invited to stay on to enjoy the weekend with some great prices on offer through our hotel partners. Each year hundreds of thousand of tourists visit the Gulf Coast south of Tampa, with Andersen RacePark situated just a few miles away from some of the most popular beaches in Florida and destinations such as Siesta Key, St. Armand's Circle and Anna Maria Island.
Andersen RacePark is located just 15 minutes south of St. Petersburg and 15 minutes north of Sarasota in Palmetto, Fla. Encompassing 18 beautifully landscaped acres, the facility includes a 1-mile test track, a lake, full-service karting store, pro shop, café, arcade, conference facilities and 11 garages on pit lane.
The track is adaptable to many configurations, and its slow- and medium-speed corners are designed to challenge drivers of both karts and small formula cars. It's the perfect place to learn, and we offer training and testing programs geared toward all ages and skill levels. Whether you're a seasoned expert or just a raw beginner, Andersen RacePark can help you go faster.