Excellent Performance at the CIK-FIA European Championship for OK-OKJ in Germany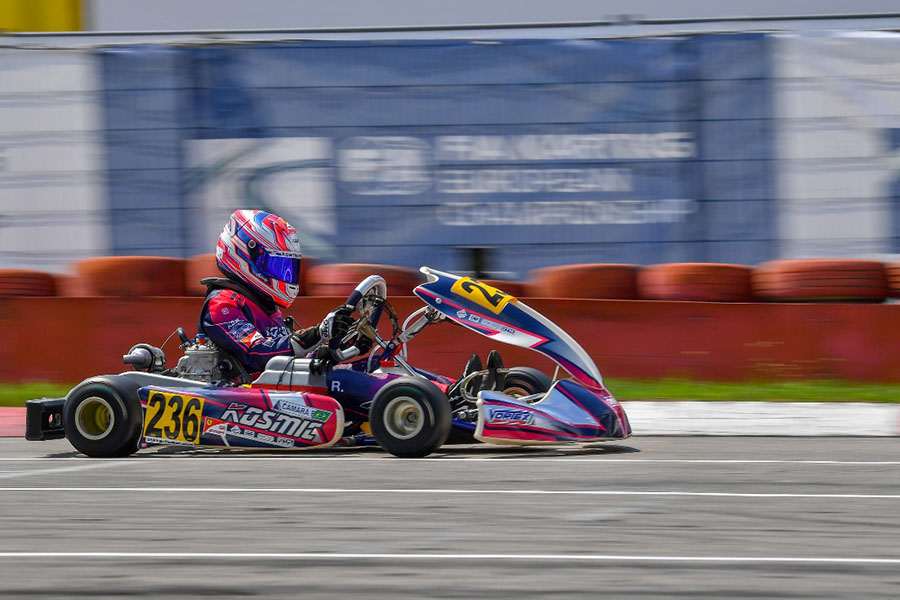 On the Ampfing circuit excellent performance of the Kosmic Racing Department. The spotlight on the Kart Grand Prix – Germanygoes out, the third round (of four) of the FIA Karting European Championshipreserved for the OK and OKJ single-speedcategories that have given a show on the German Ampfing circuit. A track that saw the Kosmic Racing Departmentas protagonist and, in particular, David Hadrien, author of three victories in the Saturday heatsand an excellent fifth place in the final of Sunday.
David starts the German weekend very well, winning the eighth timein the Junior category ranking, followed by three wins during the qualifying heatsand a second place. With these results the French driver conquers the second position on the starting gridof the final, where at the start he is immediately protagonist in the battle for the lead of the race. Hadrien, author of an excellent performance, ends fifth under the checkered flag.
This result, in any case, proves to be important for the French driver, who can now be more confident for the upcoming events of the 2018 season. On the German circuit of Ampfing, also his teammate Rafael Camarabehaved well, confirming his great growth and able to constantly center the Top 10 list in the eliminatory heatswithout, however, succeeding as he wanted to in the final category. The work done by the American Jak Crawford, however, was lost by a penalty of ten secondsin the decisive racefor the detachment of the front fairing of his Kosmic chassis, an inconvenience that made his weekend end in the back positions.
Little luck also for our drivers of the Senior category, especially for Roman Stanekwho could not impose himself in the final in order to recover his disadvantage in the Championship standings. The Czech rider has advanced in theeliminatory heats, centering, among other results, two third placesthat allowed him to start from the seventh position in the decisive race.
At the wheel of our Kosmic Mercury S chassis powered by Vortexalso ran the newcomer David Rozenfeld, who as his best result got a fourth place in the qualifying heats. Viktor Gustafsson, finally, could not compete for a rib injury, which kept him away from the German track for the entire race weekend.
Now the next competitive engagement of the Kosmic Racing Departmentis that of the weekend of June 21st-24th, when our drivers will race on the South Garda Karting of Lonatofor the WSK Open Cuporganized by WSK Promotion.