Birel ART in the Lead Pack with Coluccio and Kremers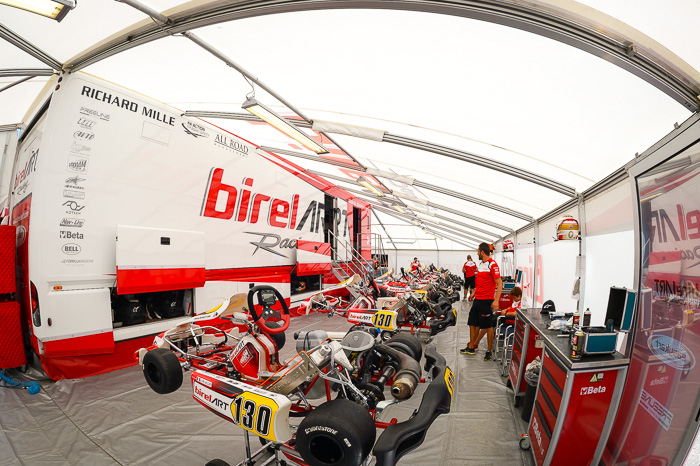 The German round of the European OK Championship ended with an excellent overall result for the Birel ART brand. At Ampfing, in the heart of Bavaria, the competitiveness displayed by the Racing Team enabled Luigi Coluccio and Marijn Kremers to enter the top 10 of the Final, with a 6th place acquired with panache for Coluccio.
Top six for Coluccio in OK
Barely down from the top step of the podium, achieved during the Italian Championship at Sarno, Luigi Coluccio has finally scored the result he expected. "I really have not had much luck in the two previous Finals of the European OK Championship rounds in Italy and England," commented the Italian, after a brilliant and flawless event at Ampfing. "Starting 11th, it gives me great satisfaction to finish 6th on this difficult and twisty circuit, while having run in the same tenth as the front runners."
Marijn Kremers was one of the other drivers to demonstrate the formidable effectiveness of the 2018 Birel ART chassis. The Dutchman never left the leading group during the weekend. "We were really fast in Germany. We found a good set-up for the Final and I was able to keep up a high speed throughout the 26 laps. There were major duels in the pack and I managed to finish in 8th place," said Marijn.
Promising debut for Fraisse
Although he has just joined the Birel ART team, Frenchman Vincent Fraisse managed to qualify for the Final. "It's never easy to get your bearings in a new team, but I was able to gain momentum throughout the meeting. It is an honour to work with a team manager like Davide Forè, a five-time World Champion, who instills a positive dynamic for the entire team. For my part, I finished my heats with an excellent 3rd place. A clash at the start of the Final prevented me from doing better than 27th, but it's promising."
Analysis from the Birel ART team manager
"Ampfing has brought us a lot of satisfaction and we must congratulate the team for the work they have done and their know-how," commented Davide Forè. "As soon as we put the equipment on the ground, many of our drivers were among the fastest and that was also true in the races. Since the start of the European OK and OK-Junior Championships, we have encountered three very different types of circuits in Sarno, PF International and Ampfing. Each time, the chassis has been effective."
"Drivers like Valentino Fritsch and Lorenzo Ressico D'Aloisio deserved to go into the Final if they hadn't had penalties for their spoilers. The Canadian Thomas Nepveu would have been able to get a better result if he had a better Qualifying time, as evidenced by his top 10 in a heat. But in the end, Luigi Coluccio, Marijn Kremers and Vincent Fraisse have done a good job, the result is there. The Birel ART team was the best representative of the TM brand in OK. I will continue to push the entire team, the engine and the drivers to improve everything that needs to be improved!"