Nicholas d'Orlando Finds Redemption at PFI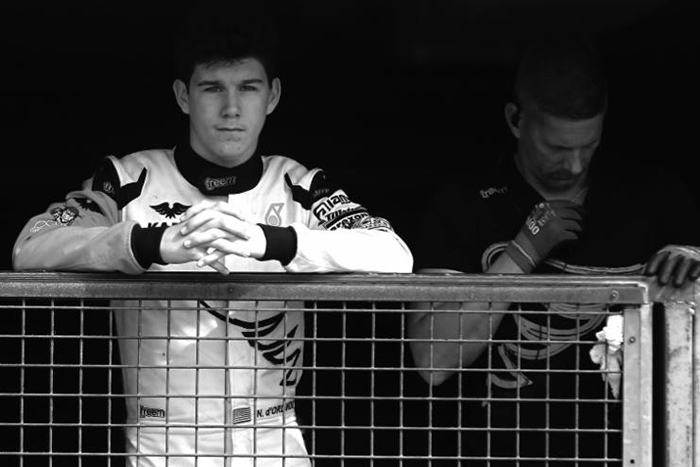 Proving that there's no rest for the wicked, it was time to head back to Europe for Nicholas d'Orlando, as he returned to the world renowned karting facility of PF International in Grantham, England for the second round of the world's top karting competition, the FIA European Championship series. After failing to make the main event at the World Championships last year at the same location, the 15-year-old American was looking for some redemption. And he found it.
After two days of practice, Friday's Qualifying session didn't bring the results he was looking for, but d'Orlando dug deep and worked closely with his Kart Republic Factory Team to move forward in the upcoming five heats. Starting each heat from the 7th row of the starting grid, he would progress forward each session. After overcoming an engine issue in heat 1 with a 19th place finish, the next four heats would improve with a 14th, 12th, 8th and 6th place result. These progressive & solid results earned d'Orlando a precious spot in the main event, a privilege reserved for only the top 34 drivers in the 68 kart field, and redeeming him an opportunity that was missed last year.
"Last year we struggled at the World Championships and even though we showed some bouts of speed and potential, it was very disappointing for me to not make the final." explains Nicholas d'Orlando. " So I was looking forward to coming back here [to PFI] to get the results I know I am capable of. The Kart Republic machine was fast all week and I am happy about the progress we made each and every session."
The talent at any FIA European Championship grid includes previous and reigning world champions and many professional drivers from around the world, and d'Orlando proved he can hang with the best of them. He remained focused & determined throughout the main event, steadily moving forward from his 29th place starting position. Carefully avoiding multiple on-track incidents in the process, d'Orlando pulled off his best European competition finish to date with a 16th place result, as one of the youngest competitors in the top 16.
"The main event was a solid race all around and I am happy to have had the opportunity to show what we are capable of here" continued d'Orlando. "I believe that the ongoing support and instruction from the Kart Republic team has really helped me progress as a driver and I am confident that we can continue this progress into the next rounds."
Nicholas d'Orlando plans to return to kart racing action in July at the FIA European Championship round in Essa, France. The d'Orlando Enterprises team would like to extend their thanks to Focused Project Management, Iona Preparatory School and the Kart Republic Factory Team for all their continued support.
The support from our community is appreciated and is directly influential on the development and results of young talent like Nicholas. For more information on Nicholas d'Orlando, and for opportunities to be a part of his development, contact d'Orlando Racing at info@dorlandoracing.com or Rickard Franchini of Italsport at italsport@live.se. Follow Nicholas on social media at Instagram (dorlandoracing), Facebook (Nicholas d'Orlando Racing) and Twitter (dorlandoracing).