Strong Karting Ambitions for Rosberg Racing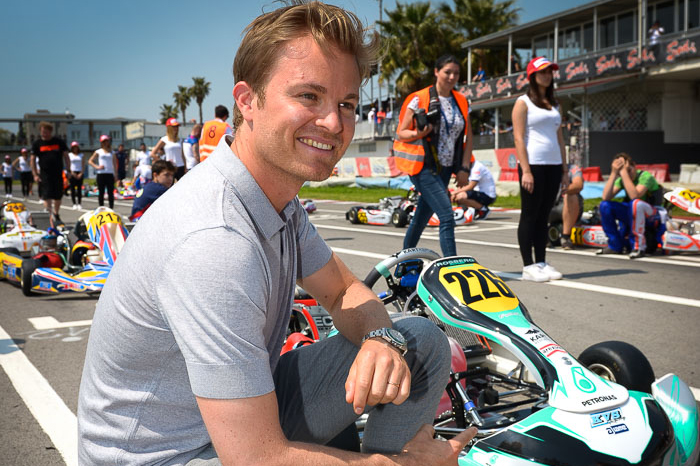 Nico Rosberg and Dino Chiesa, two famous names in motorsport and karting, have decided to join forces to launch a new project for young drivers. This merger is organised around Rosberg Racing, just created, and several partners such as the Malaysian oil company Petronas, Kart Republic and Arexons. Entered under this promising banner with a KR chassis and Parilla engines, Italy's Lorenzo Travisanutto in OK and Britain's Taylor Barnard in OK-Junior have already demonstrated their talent and performance since the start of the European Championship. Even a win was close for Travisanutto at the British Grand Prix Kart.
Deciding to get involved in karting again, Nico Rosberg was in the paddock of the international circuit of Naples-Sarno in April, to officially represent his brand. "For me, in karting is where everything started," said the 2016 Formula 1 World Champion. "Then, the meeting with Dino Chiesa was decisive in my choice. I consider him the best engineer in the world of karting. Therefore it was naturally he who I turned to to create Rosberg Racing, which will be joined by an Academy whose structure will soon be unveiled. My wish is to encourage some of the most motivated young talents in their career."
Strong technical potential
"I'm happy to collaborate with Nico again," said Dino Chiesa. "Together we have had great success in karting. He always impressed me with his determination and the amount of work he put in to win. He pushed the whole technical team to constantly improve his equipment. I think he will act with the same seriousness and the same motivation in his own team." These two perfectionists are starting a new collaboration that promises to be, no doubt, attractive and productive.
Since the beginning of the European Championship, the Rosberg Racing drivers have received the full attention of the KR Motorsport team headed by Dino Chiesa, the technological advances of the new Kart Republic chassis just homologated by the CIK-FIA, the competitiveness of Parilla engines from the IAME factory and the significant support from Petronas. KR Motorsport has set a very high standard for organisation and logistics, which completes a technical team with incomparable knowledge. "We have been working very hard since the previous season to develop an effective package" continued the Italian. "The feedback we have from the drivers is excellent. The KR has already taken many podiums, including several victories in major international competitions in recent months."
For his part, Nico Rosberg will not fail to pass on his experience to the young drivers and to accompany them during their move to single-seaters. Today, having talent is not enough, a driver must be complete. Physical preparation and media management are all aspects to consider to be at the top.
Travisanutto the unhappy hero
At Italy's Kart Grand Prix, Italian Lorenzo Travisanutto recovered from 13th to 6th place in less than three laps, when he was eliminated on a collision in the OK Final. Four weeks later during the second event in Great Britain, he completed a near-perfect race with his KR-Parilla equipment with Rosberg Racing and Petronas colours. Already holder of pole position, he took the lead of the Final at the halfway point to pass the chequered flag as winner. After the finish, he was unfortunately penalised for his front fairing position. "It is obviously a shame to lose a victory for this reason. I would have liked to dedicate this success to the entire team, but I think we have proven the full potential of the equipment and of Rosberg Racing," commented Lorenzo.
Taylor Barnard is one of the fastest progressing young drivers. Noticed on British soil in 2017, he is participating in his first season in OK-Junior with great motivation. In Sarno, Italy, he achieved a convincing recovery of nine places to finish 8th and score his first points at the European Championship. On the British circuit of PF International in Lincolnshire, he started 27th in the Final after some turbulence in Qualifying, but he was already 13th when he had to retire. He still had several tricks up his sleeve to improve his position.
Supported by renowned partners, Rosberg Racing is indisputably ready to play a major role on the international karting scene.