Nitro Kart On Top of the Podium at WKA Pitt Race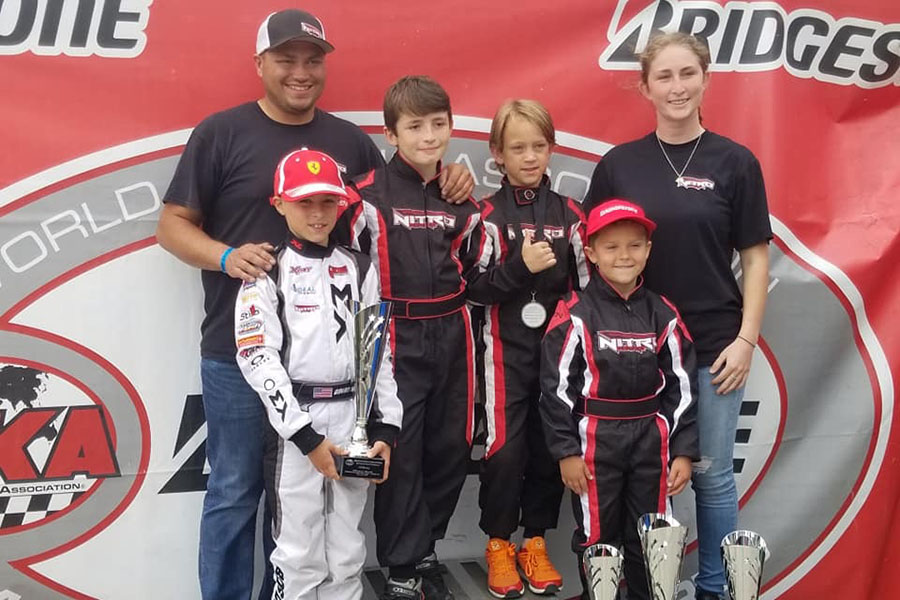 Team Nitro Kart was back up to full strength for the third race weekend of the 2018 WKA Bridgestone Manufacturers Cup Series at the Pittsburgh International Race Complex. Rain fell sporadically throughout the day on Saturday and then again early on Sunday, creating tricky conditions for drivers and tough decisions for tuners, but Team Nitro Kart again rose to the top of the podium on both days. Brent Crews would endure a tough day in Mini Swift on Saturday, but would come back to win the Final on Sunday. Ben Maier saw his 2018 Micro Swift main event win streak come to an end, but Team Nitro Kart rookie Gavan Boschele picked up the mantle and swept both Micro Swift Finals for his first national wins.
MINI SWIFT SPORTSMAN
Nitro Kart Drivers; Brent Crews, Sebastian Ng, Sofia D'Arrigo, James Overbeck, Thomas Annunziata
Mini Swift competition on Saturday saw Nitro Kart driver Thomas Annunziata score pole position and then get the win in Heat 1 when Brent Crews, who had won the race on the road, failed tech  inspection because of a simple oversight. The mistake would give Brent a lot of work to do in Heat 2. but he was able to climb back through the field to 5th place, just behind fellow Nitro Kart drivers Sebastian NG in 3rd and Annunziata in 4th. Saturday's Final started well for Team Nitro Kart as Sebastian NG took the early lead while Annunziata got shuffled back in the field and Brent Crews struggled with an ailing engine that had ingested water. Sebastian would eventually drop back to 5th at the finish, with Annunziata 6th, and Crews 7th. Sofia D'Arrigo came home 8th with James Overbeck rounding out the top 10.
Sunday would turn out to be a substantially better day for Brent Crews as he would qualify only 5th, but would go on to win the Pre-Final and the Final. The Final went down to the wire with Crews taking the win in a 3-wide finish by by just 31 thousandths of a second over Annie Rhule with Jeremy Fletcher only 77 thousandths behind Brent. Thomas Annunziata brought his Nitro Kart home 5th, while Sofia D'Arrigo continued her climb through the Mini Swift ranks with a fine 6th place. Sebastian NG was 8th at the line with James Overbeck in 11th.
MICRO SWIFT
Nitro Kart Drivers; Ben Maier, Gavan Boschele. Miles Murray, Aryton Grim, Hoyt Mohr, Preveil Perkins
Nitro Karts dominated the Micro Swift field with six of the nine drivers entered on the Nitro Kart chassis. Team Nitro Kart's Blazin' Ben Maier started the weekend off right on Saturday by taking pole in a wet qualifying session by 1.4 seconds over CRP Racing/Nitro Kart drivers Aryton Grim and Hoyt Mohr. Ben would win Heat 1 with Team Nitro Kart's Gavan Boschele starting to get cranked up with a 3rd place finish. Heat 2 unfortunately saw Maier DNF after contact with another racer, but Nitro Karts took the top 3 spots with Hoyt Mohr taking the win over Boschele in 2nd and CRP Racing/Nitro Kart driver Preveil Perkins coming home 3rd. Saturday's Final saw Ben Maier get out front early and build a solid lead, but he dropped a wheel and spun out of the race while approaching a lapper on the last lap. Gavan Boschele was able to take advantage of Maier's error to take his first win in national competition; not bad for a driver who just began racing on pavement earlier this year. Hoyt Mohr put his Nitro Kart home on the podium in 3rd place with Aryton Grim in 4th. Team Nitro Kart's Miles Murray rounded out the top 5 with Preveil Perkins in 6th.
Sunday qualifying saw Ben Maier top the charts once again with Gavan Boschele lining up 3rd, Hoyt Mohr in 4th and Aryton Grim in 5th. Maier would win the Pre-Final with Boschele and Mohr close behind in 2nd and 3rd, while Grim came home 4th. Sunday's Final would see an exciting Nitro Kart battle for the win between Maier, Boschele and Mohr with each taking turns in the lead, with Boschele just edging out Maier at the line by 48 thousandths of a second, with Mohr close behind in 3rd. Aryton Grim took a solid 4th place and Preveil Perkins gave Nitro Kart a sweep of the top 5.
ALSO OF NOTE;
The Yamaha Sportsman division would see Team Nitro Kart drivers get on the podium in the Final each day with Sebastian NG taking 3rd on Saturday and Miles Murray finishing in that spot on Sunday. Also, Nitro Kart-supported, Fullerton USA driver Austin Garrison swept the IAME Senior class on Sunday, winning the pole in qualifying, the Pre Final and the Final. Garrison had won both heat races on Saturday, but got shuffled back to 8th in the final. He then lost his brakes and crashed in the morning warm-up on Sunday, but bounced back to dominate the day.
UP NEXT
Team Nitro Kart's next event will be Rounds 4 and 5 of the Karting Challenge club racing series at GoPro Motorplex on May 25-26, the first of two doubleheaders in the series. This race weekend and Round 6 of the Karting Challenge on June 9th will serve as a tune-up for the next round of the USPKS Series at GoPro on June 15-17.
ABOUT NITRO KART
Nitro Kart is based out of Mooresville, NC in the hub of American motorsports. The company was founded by "Nitro" Nick Tucker with a sole focus on youth karting and specifically the cadet ranks, but has now expanded to serve kart racers of all ages. Nick has applied his years of experience from karting all the way up through NASCAR racing to develop the absolute best cadet chassis on the market with the support to back it up. Nitro Kart and their drivers consistently score prestigious victories in major events around the country, hence the slogan "Race One or Chase One." For more information on Nitro Kart, contact Nick Tucker at (704) 818-7868 or kartworxracing@gmail.com`