Driver Diary: Colin Queen – CIK-FIA Karting Academy Trophy – Salbris, France
California driver takes us with him to first of three international events representing USA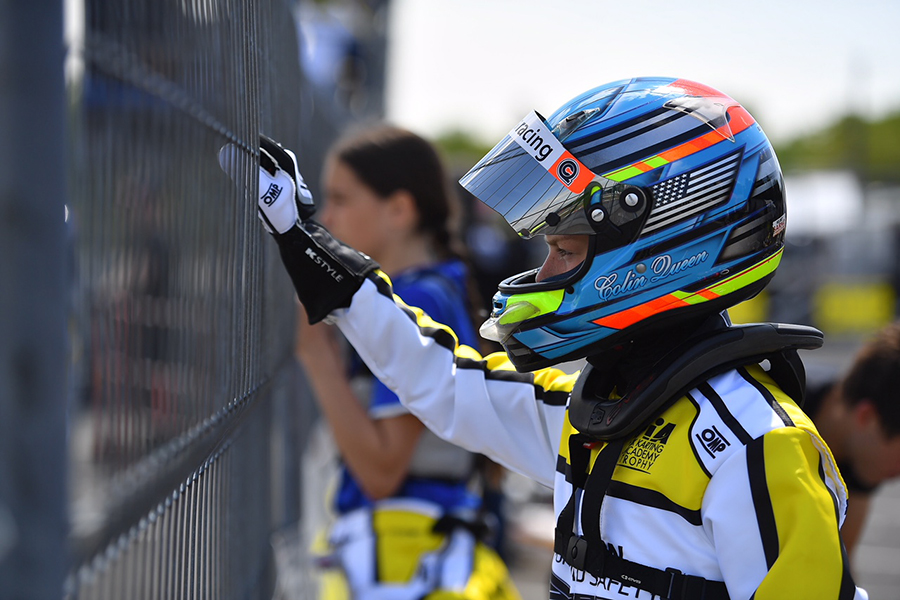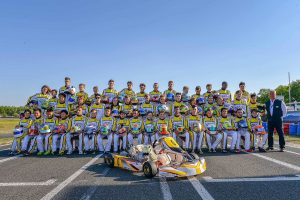 2018 marks the seventh season of karting for California native Colin Queen. The 13-year-old is into his second season at the Junior ranks, following a successful career at the Cadet level at Superkarts! USA, United States Pro Kart Series and Los Angeles Karting Championship. Queen was one of two drivers selected by the World Karting Association to represent the United States at the CIK-FIA Karting Academy Trophy program for 2018. Colin will represent the USA at three world championship events in France, Italy and Belgium.
Queen is a Junior Ambassador for the Children's Hospital Los Angeles (CHLA) where he has been a patient since the day he was born. Colin and his twin sister, Brooke, were born 8 1/2 weeks early. Colin weighed barely 3 pounds, and was diagnosed with hypoplastic left heart syndrome (HLHS), a life-threatening condition in which the heart's left side is severely underdeveloped. Queen has had three open-heart surgeries along with a number of others due to the HLHS. Currently, he is the only person in the world racing in motorsports with his condition.
Colin is providing eKartingNews.com with a look into his travels and weekends competing at the CIK-FIA Karting Academy Trophy. Below is his Driver Diary of the opening event at the Circuit International de Salbris in central France.
Crossing the Atlantic
After a long, tiring and decent flight, my dad and I landed in Paris, France a few day early to see lots of the cool things that I have studied and read so much about in school. During the weekend of April 29 before the event, my dad and I ventured through Paris and saw many historic monuments. It was the same time the FIA Formula-E Championship was competing in Paris. We were able to catch qualifying while we were walking to the Eiffel Tower. I got the opportunity to meet former Formula One driver Jean Eric Vergne and chatted with him about the series and karting. Jean was really cool and even gave me a team shirt. He would later win the race that weekend.
Getting to Salbris
After some amazing days of food and sightseeing, my dad and I took a taxi back to the airport to pick up our rental car. We started our way to Salbris, France, to Sologne Karting, where our race was held. We made it to the track 45 minutes behind schedule after we had to take a detour that sent us through the countryside, which wasn't a bad thing because we found two old chateaus that were incredible, with a moat and all.  When we arrived at the track, I was blown away by the size. The track is huge, fast and very technical. I studied a lot of onboard video on YouTube, but it does not do the track justice. Later, we met the track owner and awesome kart pilot Marc Bertaux and we were able to look at the track, scout out the area, and have a snack at the track restaurant. We would later meet Marc's brother, Guillaume, who is also one of the best kart pilots in France. He was kind enough to give me a few much-needed pointers on how to drive a few corners at Sologne and even showed us some of the old school two-stroke motors he saved and had in storage. No, they were not for sale.
Wednesday, May 2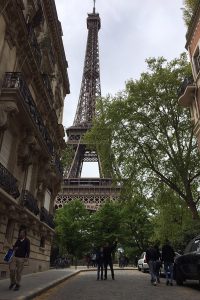 My dad and I went to the track and had a drivers and entrant meeting. During the meeting, we were given important information on the rules and an opportunity for each driver to introduce themselves. That afternoon, we were able to set up our tent and get things sorted. Everyone is given a 10×10 space with a table to pit from. There were 10 tents with about five drivers per tent. We said 'hello' to some people, met the CIK and OTK staff and went to dinner.
Thursday, May 3
The next day our mechanic, Kacper, showed up and helped us get the kart and engine after we drew numbers in a lottery each. We met Kacper through Ward Racing. My WSK mechanic Dominic was not available for Salbris, so we recruited Kacper. He was great all weekend long. Later, I picked up my Academy suit and gloves and helped set up the kart for the rest of the day.
We had three 20-minute practice sessions after we finished putting together the kart. I was quite quick the first practice session despite not being on the track before. In the second session, we were fourth on the time sheet and really started to pick up the technical track. We didn't do well in the last practice session due to some driver errors and a new setup on the kart. The LeCont tires were very different from any tire I had ever been on. They are very hard to master, but very fun to drive on. The Exprit chassis is a very good kart, and the Vortex OKJ motor is a great motor. It has strong power and if you make a mistake and spin, the motor shuts off because of the direct drive system; no clutch or starter. I like it a lot because the motor teaches drivers who are just moving up into the next level of karting.
Friday, May 4
We had three practice sessions and qualifying for the day's action on the track. Qualifying is very different in Europe than in the United States.  In Europe, you have seven-minute sessions. It's a chess match, the first people usually go out on track with five minutes to go, so you really only have two laps to put down a time on a track this long. In the U.S, you have 10-minute sessions and they make you go out in order. In my session, I went out behind the driver who would be the top qualifier and putted around the track for two laps at 10 miles an hour. We were just waiting for draft partners, which was very important at this track. After waiting for more people to come our way, I realized I wasn't putting enough heat into my tires. Suddenly everyone bunched together into a group of 15 karts. I dropped to the tail of the field in order to put down a decent time, since I had only two laps left and tires were still a bit cool. I drove as best as I could and ended up finishing 15th overall. We were better than 15th. In the practice before qualifying, we were three tenths faster with proper heat in the tires. Times for the entire field were pretty close. The top-20 drivers were separated by only a half second. Once qualifying was finished, the Academy had each driver swap motors to make sure that power was even for everyone. My engine went to another kart and I received someone's engine they had just run on. This process continued throughout the weekend.
Between sessions I reviewed the data with Kacper to prepare for setup changes for the next session. We watched the KZ sessions while eating really good food from this aluminum airstream with several drivers in my tent. It was cool hanging with the other drivers from around the world and talking about other tracks and stuff, but the common language for all of us was karting and the video game Fortnite. We all played it!
Saturday, May 5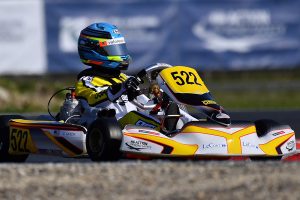 The first two of three rounds of heat races took place on Saturday, In the first heat, I started in the eighth position. Due to the radiator flap closing every time I opened it, the motor overheated and we lost power at the end of the straight. I had to fight hard to not fall deeper in the field the whole race. It felt good to be racing and it was nice to see that I had most of the drivers covered in sector 2 and 3, even with a motor issue. I ended up finishing 11th.
In the second heat, I started on the outside row 4 again. The first start was waved off after the inside row jumped the start. My row checked up and I got pounded from behind forcing my kart into the kart in front of me. I immediately thought about my bumper. In this series, they use the pushback bumper system and if it's even a centimeter out of place, you are given a 10-second penalty, which is huge in a seven-lap race. When we came back around for the second start attempt, several karts were not in their position by the commitment cones, including me. I started in 12th position. Thinking we had the radiator flap fixed, the flap continued to close, forcing me to hold it open on each straight to keep the motor cool. It did help, but the engine temp was not great and power was still off. In the end, I had a strong run and finished 10th. When I pulled into the scales, the marshals took pictures of all of the kart bumpers and found that the left side of my front bumper was pushed in by a half inch resulting in a 10-second penalty, putting me in 21st position. This hurt.
Besides staying at the track hanging out with other drivers and watching the awesome KZ action, we basically went to dinner with other drivers/teams at probably the best eatery in Vierzon France, La Scala. Food was good but the funny stories at the table were even better.
Sunday, May 6
We finished our heat races today in hopes of making it to the Final for later in the day. We finally took the radiator flap off and started fresh after a solid day of good driving on Saturday. It was brutally hot and sunny. The first heat went well.  I started on the inside in seventh and gained two positions on the start.  I knew I had to have a top-10 to advance to the final after the bumper penalty. After a relentless battle trying to keep my position and losing positions to the group behind me, I ended up finishing eighth. It was another top-10 result and I made the Final!
For the Final, only 34 drivers out of the 51 entered get to race. It makes everyone mindful to keep their driving as clean as possible in the heats, because they all want a shot at the final. The heats are run off a point system.  Before the race, all 34 drivers were brought onto the grid with their karts for the presentation of the drivers. Former F1 driver for Ferrari, Felipe Massa, the President of the CIK, greeted every driver on the grid and presented them with a medal and shook their hand. I must admit, I was stoked!
I started 23rd and had a great start only to have to avoid a cluster of karts in turn three that dropped me back to my starting position at the end of lap one. The kart started to push on entry early and got worse as the laps ticked off. I fought my way back and gained a few positions to finish 20th, not what I'd hoped.
Monday, May 7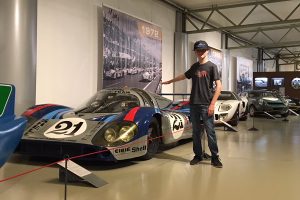 On our way back to Paris, there was just one more place we had to see…Le Mans. Dad and I toured the museum and saw some legendary 24-Hour cars. We even got a tour of the track, and watched superbikes practice on the Bugatti Circuit. Best part was the road trip to the track. Dad even let me drive the rental car on a country road. First time driving a manual gearbox and I crushed it! Thank you iRacing!
The trip back home was easy, but jet lag the next day was tough. It sure was nice being back on US soil. Dad and I immediately grabbed some American food in Chicago. It was cool to get messages from other Academy drivers and follows on Instagram. It just makes it easy to DM each other and follow what they are up to.
I had a great time in France. I am looking forward to for the next one in Italy and I'm already training. I can't thank my family enough for making this all happen. Big thanks to my mechanic Kacper for the instruction and setting me up with a fast kart. This was my first time working with him and we worked really well together. I'd also like to thank the WKA for selecting me to represent my country. Thank you to eKartingNews and Rob Howden for letting me have this opportunity to share my experience.
Next stop, Italy, for Round 2 of the CIK-FIA Karting Academy Trophy on at South Garda Karting in Lonato, Italy on July 13-15.