Race Report: Margay Ignite Challenge – Autobahn Country Club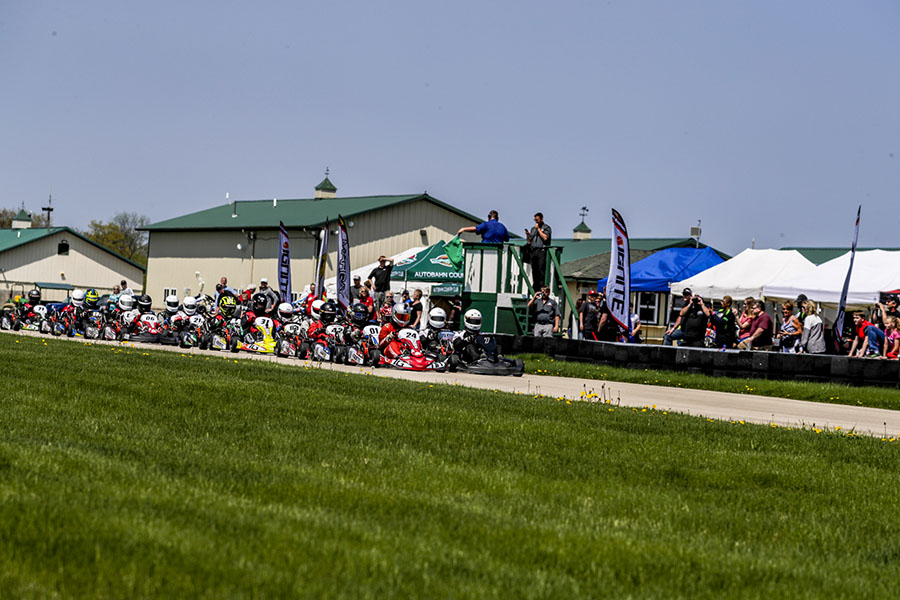 Ignite Senior Field (Photo: Mark Schwigen)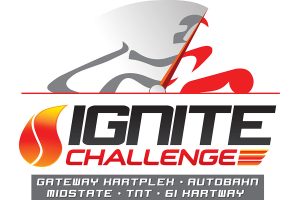 Sunday, May 6 marked the third round of the 2018 Margay Ignite Challenge Series at Autobahn Country Club in Joliet, IL. Autobahn is racing facility unlike any other which created a unique experience for the Ignite drivers as they were welcomed by 2 flowing road courses lined with 30+ "Garage Mahals or "Glorified Man Caves" busy all weekend with Ferraris, Porsches, BMWs, Pro Mazdas and Radicals on track along with a visit of the "One Lap of America" event Saturday night.
For those unfamiliar with the spec Ignite classes, Margay Racing has provided a proven spec chassis equipped with the popular Briggs and Stratton 206 engine, creating an extremely competitive, affordable and reliable racing kart. Targeting new karters, Margay has worked to remove or minimize entry barriers to the sport and has created a platform where drivers can focus on developing their on-track skills while keeping costs and maintenance to a minimum. The goal of the series is to give Ignite Series drivers an opportunity to affordably travel and compete at a new track without the extensive costs usually tied into a regional or national program along with utilizing the same rulebook across each track.
Kid Kart Honda
In Kid Kart Honda, Quinn Ahrens took her first ever Ignite Challenge victory after Race Beckman had some early race trouble. Beckman was able to recover from 5th to 2nd place to secure a podium finish and maintain his points lead.
Quinn Ahrens
2. Race Beckman
3. Peanut Price
Ignite Rookie
Cameron Myers, fresh off his Route 66 IAME Micro Swift win, came back to the spec Ignite Challenge Series where he had already won the first two rounds. Myers would dominate the weekend with Rachel Fasching finishing a career high second place and Jaiden Beckman rounding out the podium after some early-race trouble.
Cameron Myers
2. Rachel Fasching
3. Jaiden Beckman
Ignite Junior
Ignite Junior proved to be one of the best battles of the weekend between Ashton Wheeler and Reid Sweeney. 2016 Ignite Junior Rock Island Grand Prix champion Wheeler and WKA standout Sweeney would work together to gap the field and trade the lead later in the race. Showing each other respect on the track, Sweeney was able to fend off Wheeler and secure his third straight Ignite Challenge victory.
Reid Sweeney
2. Ashton Wheeler
3. Anthony Noto
Ignite Senior / Master / Heavy
Ignite Senior saw the highest kart count of any Ignite Challenge race thus far with 20 karts in the class. Blaine Finnigan, Jordan Missig and Gage Rucker would form a 3-kart break-away and check out from the field. The pre-final victor, Missig would trade the lead with Finnegan for most of the race, but a late mistake by Missig allowed Rucker to move into the second position. With Rucker and Missig battling it out, Finnigan would be able to pull away and take the checkered for his first career Ignite Challenge victory. Pulling double duty, Finnigan would also take the Ignite Masters win over teammate James Newbold and Gateway Kartplex driver Brandin Moore. A sub-class of Ignite Masters, Ignite Heavy saw Josh Holt take the victory over Quincy's Bryan Strackeljahn and St. Louis' Rich Fasching.
Ignite Senior
Blaine Finnegan
2. Gage Rucker
3. Jordan Missig
Ignite Masters
Blaine Finnegan
2. James Newbold
3. Brandin Moore
Ignite Heavy
Josh Holt
2. Bryan Strackeljahn
3. Rich Fasching
For more information on the Ignite Challenge Series, visit http://www.margay.com/race-with-us/ignite-challenge.html
Autobahn Country Club "Karting Memberships" are now available! For more information, please visit https://www.autobahncc.com/join/
For updated Ignite Challenge points, visit http://www.margay.com/images/2018ignitechallengepointsautobahn.pdf
For Margay Racing updates, follow us on Facebook at http://www.facebook.com/MargayRacing and Instagram at https://www.instagram.com/margayracing/.