JH Motorsports Opens 2018 with Championship
Team driver Chase Gardner earns Challenge of the Americas title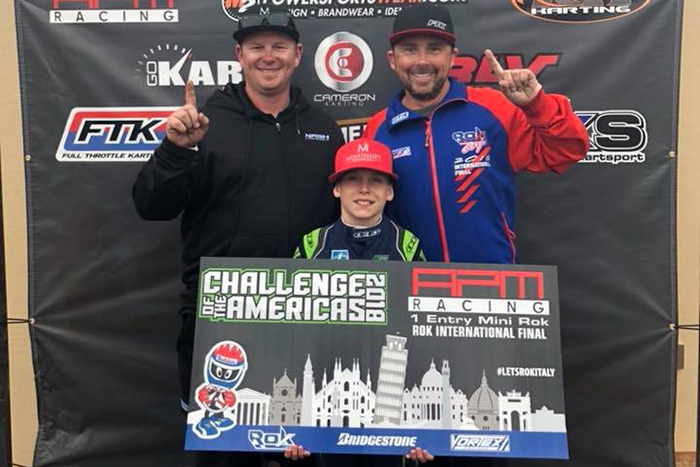 Jeff Osborne and Josh Huff celebrate the Challenge of the Americas championship with Chase Gardner (Photo: Chase Gardner Racing)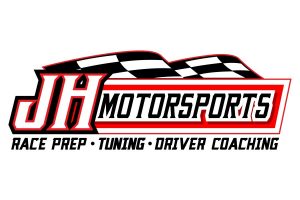 Fifteen months ago, JH Motorsports was launched by long-time karting industry member Josh Huff. The operation had a phenomenal debut season in 2017, helping develop new karters in the local and regional level in southern California along with working alongside young talent on the national scene. Victories and podium finishes have greeted JH Motorsports over the first season and into the second year of operation, with 2018 bringing its first major title to the mantel.
Texas driver Chase Gardner has been working with JH Motorsports over the last year, with focus on driver development under the tutelage of owner Josh Huff. Gardner entered the 2018 season as one of the rising stars at the Cadet level in United States karting. To begin the year, the VemmeKart driver contested the Challenge of the Americas in the Mini Rok division. Chase opened up with two podium finishes in Phoenix, including a runner-up and his first series victory. Two more podium finishes at CalSpeed helped to establish him as the championship leader. Earning a second victory in Sonoma, Gardner locked up the Mini Rok title along with the ticket to the Rok Cup International Final in Lonato, Italy this October. Chase completed the season with six straight podium finishes.
"I could not be happier about where our program has gone since we launched last year," stated Josh Huff of JH Motorsports. "It is exciting to be entering our second season of operation as we continue to grow as a business. Earning a major championship, like the one at the Challenge of the Americas is big for us. It shows the work we can do with driver and the effort Chase put in has paid off. Also a big thank you to Jeff Osborne for his experience and knowledge while working with Gardner during the Challenge season."
JH Motorsports has developed a strong alliance within the industry to provide the best products available for their customers. The season began with their announcement of becoming a VemmeKart dealer for the state of California. VemmeKart is the creation of the Madarino that has been under development for over a decade, reaching great results in the last few years. From the beginning, JH Motorsports has worked with kart industry legend RLV and their VLR chassis, designed for the growing Briggs & Stratton 206 market. Powerplant wise, JHM has developed an alliance and direct support with Chris Freckleton at Precision Works Racing Engines.
"Winning with Vemme Kart after only 2-3 months of dealer status is great for us at JH Motorsports," continued Huff. "I enjoy working with Mr. Mandarino and Andy Gernand at VemmeKart USA providing technical support at all major events in 2018. Their product provides something unique and successful for the US market. Chris at Precision does a phenomenal job with his engines and I trust him with every engine we send him. We have welcomed a number of new and experience drivers into our VLR/Briggs karts since we opened. It is a great grassroots program to get people out and enjoying the sport we love."
The VemmeKart chassis line is available for all ages and engine platforms. From Cadet to 100cc Junior and Senior frames, along with all age levels for TaG and shifterkarts, JH Motorsports can put your driver into the fast and winning VemmeKart. All models are in stock at JH Motorsports.
VemmeKart is going strong throughout North America and in Europe. Erik Jackson scored a second Challenge of the Americas title for VemmeKart, earning the Masters Rok title. Jackson was another driver to earn six podium finishes in all six races, showing the consistency of Jackson and the chassis. earning COTA title. JH Motorsports driver David Pergande finished third in that championship chase, battling hard all season and especially at the finale with injured ribs.
Huff added, "Thank you to those who have supported the operation during its first 15 months. Congrats to David Pergande on his performances this year at the Challenge as he continues to make strides as a driver each time out. I can't wait to work with him again along with all of the drivers under our JH Motorsports banner."
Plenty of options for drivers at JH Motorsports, including Briggs 206, 100cc, Senior/Master TaG packages as well for club, regional or national level competition. To learn more about JH Motorsports, you can contact Josh Huff via email josh@joshhuffmotorsports.com or call 619-201-5474. And joshhuffmotorsports.com is as the online home along with their social media pages:
Facebook: jhmotorsports1
Twitter: @jh_motorsports
Instagram: @jhmotorsports1