Nick d'Orlando Returns to European Competition with Factory Team Kart Republic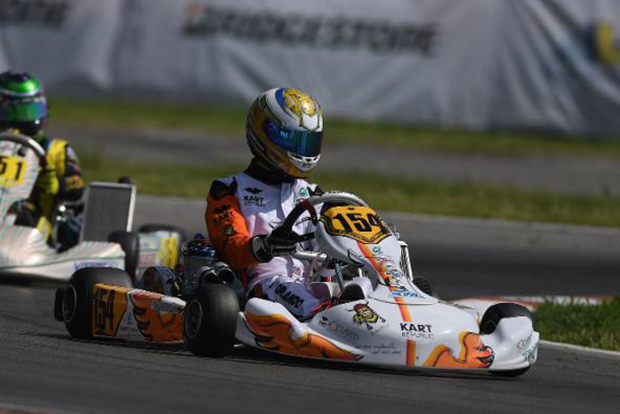 Nicholas d'Orlando returned to the world stage of karting at the WSK Super Master Series and the FIA European Championship Series, in Sarno, Italy after a three-month lull from competition. Thanks to mother nature's wrath of snow in northern Italy early last March that resulted in the cancelation of a WSK Super Master series race, 15-year-old d'Orlando hasn't been a part of European competition since the World Championships in England last fall. So to get back into the Euro-groove, d'Orlando spent these past few weeks traveling back 'n forth from New York to Sarno to get reacquainted with his new Kart Republic X30-Senior machine.
The first weekend in Sarno was for the final round of the WSK Super Master series, at the Circuito Internationale di Napoli, just 30 minutes outside Naples. The weekend's goal was to get back up to speed in the X30 Senior class. This was d'Orlando's first time competing in the Kart Republic machine on European soil since he moved to the Kart Republic Factory Team program late last year, and this was also his first opportunity to drive the X30 IAME engine package with the new series' spec tire from Bridgestone.
It didn't take long for d'Orlando to adapt and their goal was quickly achieved. Earning a spot in the WSK series' main event on Sunday was a tremendous feat, and his performance by crossing the finish line in 22nd was a good result in a field of highly experienced world competition, all while also tracking lap times throughout the weekend as quick as the top drivers.
After a short 5-day trip back to New York to maintain studies at Iona Preparatory School, d'Orlando went right back to Sarno for the first round of the FIA European Championship series. Unfortunately the results were not quite as expected and a disappointing qualifying position setup d'Orlando up for a lot of work throughout the weekend to try to recover. Ultimately finishing with two DNFs (did not finish) and three top-15 results in the heats, d'Orlando would watch the main event from the side lines.
Although the FIA European Championship weekend was a struggle, d'Orlando is confident to be back in action overseas for his second season and looks forward to another promising year of competition. The upcoming schedule will be grueling for a young racer commuting across the Atlantic but both the Kart Republic team and the driver are focused on driver development for a long term career in motorsports.
"Nick is obviously young at only age 15, but he has great potential." explains Rickard Franchini, Team Manager of Kart Republic and Owner of Italsport. "This level of racing [at the European Championship] is extremely high but he has proved that he has the speed and ability to compete at this level. As he gains experience over here in Europe and continues to develop with the Kart Republic program, we are confident for his future."
Nick and the d'Orlando Enterprises program would like to extend their ongoing appreciation for the support and sponsors at Iona Preparatory School (New Rochelle, NY) and Focused Project Management (New York, NY), and also the continued the leadership & mentoring from ItalSport (Jonkoping, Sweden).
The next stop for Nicholas d'Orlando will be at the FIA European Championship series at PF International Karting in England from May 17-20. For more information on the FIA European Championship series please visit their website at www.cikfia.com