Race Report: Northwest Gold Cup – Round One and Two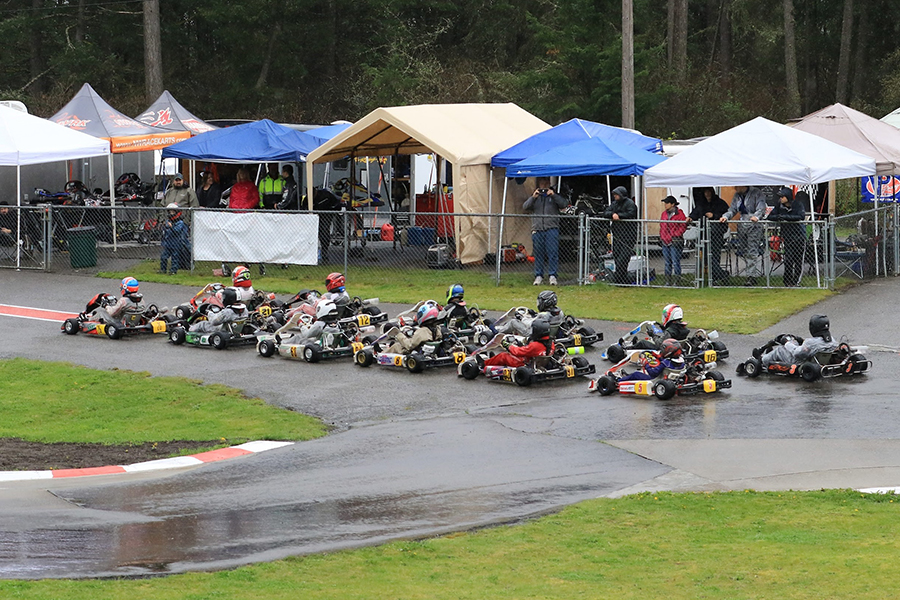 (Photo: Lisa Gadeken)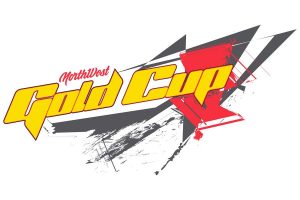 Racing at the Mountain Highway racetrack in Tacoma, Washington is a unique experience. The track is an older track, designed back in the 1960s, and it's character reflects that. Narrow and undulating with large elevation changes, the track is really a reflection of its namesake. The track surface is made up of different materials from concrete to asphalt, aged over the years for different levels of grip in each corner. It truly is a Mountain Highway that karts race on.
The circuit is relatively small as well, making for an relentless and intense lap. Especially in the faster TAG and shifter karts, drivers rarely get a moment to take a rest when lapping alone. Add a field of other competitors all fighting for the same piece of tarmac, and racers get a dramatic experience unlike the other circuits in the Pacific Northwest.
So take all that, add in the spring rainfall that the Northwest is known for, and racers were in for a dramatic weekend for the first and second rounds of the Northwest Gold Cup, sponsored by LeCont tires on April 14 and 15.
The rainfall made for changing track conditions almost every session. Skilled drivers ignored the laptimes they were running, and focused on finding the limit of grip that the tires would give them.
This weekend was all about staying on the island as the rain felt, rather than a primo setup or focusing on the ultimate laptime. The intense conditions helped some of the best drivers shine at the front of the grids in their respective fields, and was an education on how to race in the rain for everyone else.
In addition to that, the local community provided prizes and awards to all of the racers who braved the elements. These sponsors, along with LeCont tire will be supporting the series all season with prizes, awards, gifts and vouchers.
Briggs & Stratton sponsored entry vouchers for the JRI and JRII 206 classes, up to 30 entry vouchers worth  $2250. CMC sponsored the World Formula class, awarding $150 to the winner each day with a total contribution of $1500.
Kart-O-Rama provided cash drawings for the 4 Cycle group, up to $50.  Mike's Kartstands provided Spinning T-handle wrenches for the 2 Cycle racers, a value of $125 a set. Odenthal Racing  awarded an EZ set motor mount, worth $270 and Seattle Tees  awarded all the racers the official shirt of the NWGC.
The next round of the Northwest Gold Cup is at the high speed track at McMinville, Oregon during the May 4th to 6th weekend. As a bonus, PKA will be giving away Race Weekend Entries one for McMinnville race and one for SOK Medford race
Thanks to the racers and sponsors for a fantastic time and hope to see more of you at the next one!
Current Class Leaders.
Tag Cadet
William Ginn
Massimo Valiante
Jr 1 Briggs 206
Trey Arnzen
Preston Franzke
Mason Smark
JR II Briggs 206
Kason Lau
Caleb Shrader
Jacob Smith
TAG JR
Cole Faker
Kason Lau
Caleb Shrader
TAG Sr
David Schorn
Ricky Worley
TJ Madonna
TAG Heavy
Davin Sturdivant
Gary Roehl
Wade Janssen
Shifter
Mateo DeLeon
Travis Henson
Kevin Janders
Senior Briggs 206
James Carson
Jeff Lewis
Kevin Janders
CMC World Formula Heavy
Mike Schorn
Bryan Green
Tom Bailey