KZ, KZ2 and Academy Enter the Scene at Salbris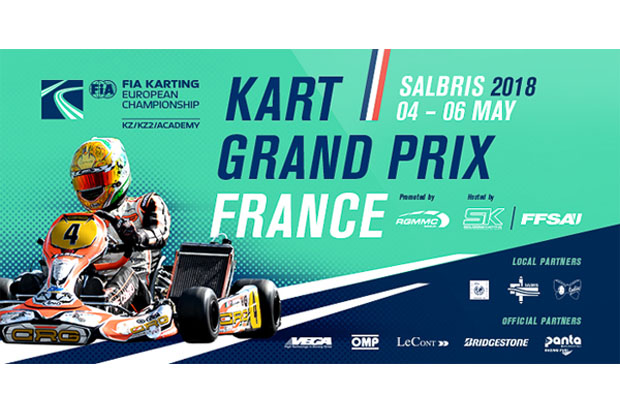 The second Competition in the 2018 season includes the opening of the CIK-FIA European KZ and KZ2 Championships, as well as the CIK-FIA Karting Academy Trophy. This important event will take place in France, on the international circuit of Salbris from 4th to 6th May with 150 Drivers entered. The setting in the past of major international Competitions, on this occasion the track of Salbris will resume the thread of its long history of high level Karting.
This season, the CIK-FIA European KZ and KZ2 Championships will feature two rounds in which all points will be counted. The importance of the issue will be reinforced during each event. In parallel, the CIK-FIA Karting Academy Trophy retains its usual pattern of three Competitions. Forty nations from five continents will be represented, with Italy having a clear numerical advantage with 47 Drivers, ahead of France (26) and the Netherlands (10).
KZ is the leading category of karting with a gearbox and brings together the best Drivers, often with a prestigious track record. This is of course the case of the four World Champions entered at Salbris: Paolo De Conto (ITA), the current major specialist in the discipline, as well as Marco Ardigo (ITA) who has just made a remarkable comeback in competition, and Jorrit Pex (NLD) and Pedro Hiltbrand (ESP). Their opponents are not short of achievements and the fight for the European title promises to be fierce among the big teams that will line up at the start : Patrik Hajek (CZE), Marijn Kremers (NLD), Alex Irlando (ITA), Stan Pex (NLD), Simo Puhakka (FIN), Anthony Abbasse (FRA), Fabian Federer (ITA), Jimmy Iglesias (FRA) and Rick Dreezen (BEL).
78 Drivers have signed up for the first Competition of the CIK-FIA European Championship in KZ2. In the absence of the outgoing Champion, the best contenders of last year are trying again their luck. This is the case for Paolo Ippolito (ITA), Matteo Vigano (ITA), Tom Leuillet (FRA), Rokas Baciuska (LTU), Adrien Renaudin (FRA) and Max Tubben (NLD), who were in the top 10 in 2017. Other Drivers of value will also challenge the European title, including Francesco Iacovacci (ITA), Riccardo Longhi (ITA), Emil Skaras (SWE), Alessio Piccini (ITA), Benjamin Tornqvist Persson (SWE), Daniel Stell (DEU), Alexander Schmitz (DEU). Marta Garcia Lopez (ESP), David Vidales Ajenjo (ESP), Giuseppe Fusco (ITA) and Killian Meyer Prat (ESP) are among the newcomers to the gearbox category, which should bring many surprises.
The 9th edition of the CIK-FIA Karting Academy Trophy remains faithful to the formula that has ensured its success in the discovery and training of young talents from around the world. 51 drivers from 40 countries will compete on equal terms on a one-design Exprit / Vortex / LeCont kart. This Competition is supported by OTK Kart Group for chassis and engines, LeCont for tyres and OMP for clothing. This year the list includes three female drivers and nine repeaters.