Roman Stanek and Kosmic Win at CIK-FIA European Championship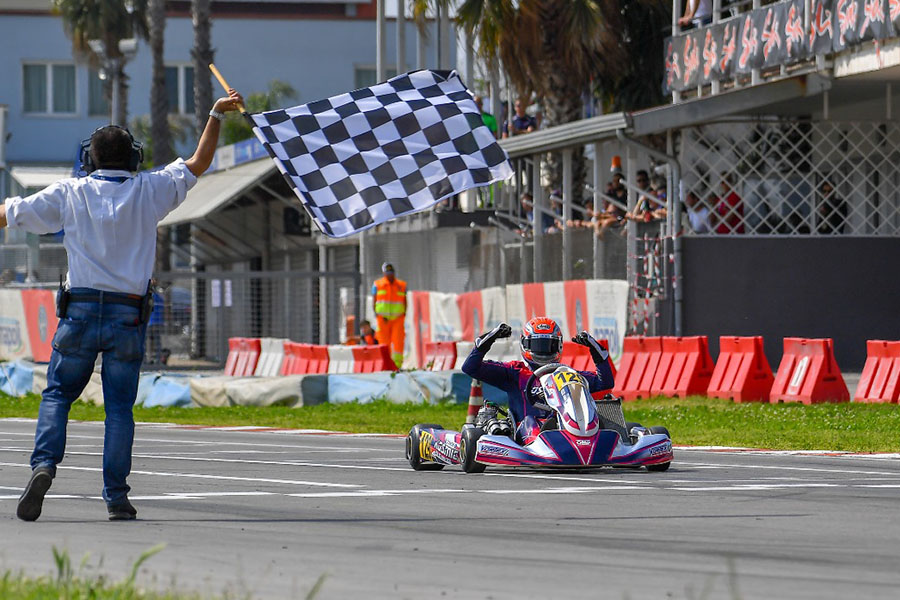 On the International Naples circuit of Sarno, Roman Stanek takes to the success the colors of the Kosmic Racing Department, by winning the final of the OK category.
The FIA Karting European Championship of OK and Junior categories start in the best way for the Kosmic Racing Department: the first round, held on the International Naples circuit of Sarno, rewards the work of the whole team and, in particular, of Roman Stanek, who in the final of the OK category manages to impose himself on the competition, gaining his first win of the 2018 season.
The Czech driver starts the race weekend with the third time in the qualifying, followed by three second places and a victory in the eliminatory heats. Results that allow his start from the first box of the final starting grid. At the start, Stanek remains quiet, is overtaken by two rivals but, after a brief moment of study, he breaks the delay, goes with the decisive attacks and on the third lap he is again in the lead.
He will stay there until the chequered flag, always keeping a very high pace and always keeping his chasers at a safe distance. Thanks to this result now the Czech driver is at the top of the general ranking and can look forward to the next championship events.
A little less lucky the weekend of his teammates: Viktor Gustafsson runs a good final and closes in the top ten list, unfortunately due to the misplacement of the front fairing of his Kosmic Mercury Schassis powered by Vortex,costs him a penalty of ten seconds that makes him retreat of ten positions in the order of arrival.
InOKJ class, David Hadrien and Rafael Camara cannot find the right pace to fight constantly in the top positions. The French driver, winner of the third WSK round in Muro Leccese, is particularly unlucky in the first heat, where he leaves the scene after only three laps. In the other heats he performs well, even reaching a 7thplace, not enough to fill the score gap and hit the final. His Brazilian teammate, on the other hand, defends himself well in the heats and enters the final, where he finishes in 23rdplace.
For OK and OKJ drivers the next appointment is on May 17th-20that the PF International circuit in Great Britain, seat of the second round of the FIA Karting European Championship. The next engagement of the Kosmic Racing Department, instead, will be that of May 4th-6th, when the Kart Grand Prix France will start, on the International Salbris circuit, with the first round of the FIA Karting European Championship for the KZ and KZ2 categories.