Energy Successful Around the World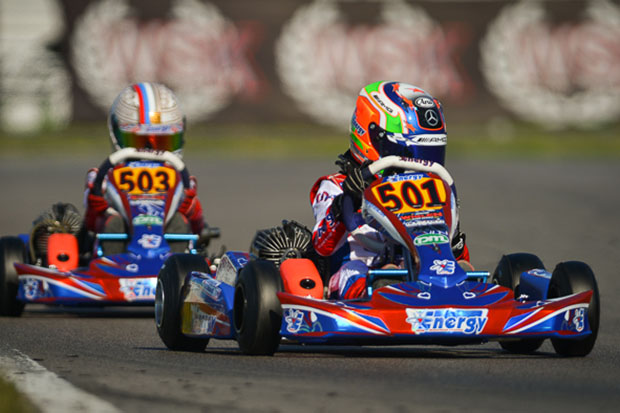 The results are piling up for Energy Corse in all corners of the world. The factory team has achieved excellent results in the European Championship and the WSK Super Master Series, while the Italian chassis enabled many drivers to reach the podium thanks to the efforts of distributors around the world, including in Japan, Australia and Germany.
In Sarno, the WSK Super Master Series ended with the obvious competitiveness of Energy Corse chassis, especially in 60 Mini. Until the end, Kimi Andrea Antonelli fought for the title, eventually finishing on the third step of the podium overall, just ahead of the Pole Karol Pasiewicz of the Revolution Motorsport team. The last event of this exceedingly competitive series ended with more top 10s for Belgium's Ean Eyckmans and Russia's Kirill Kutskov. In OK-Junior, the Frenchman Loris Cabirou was noticed with a magnificent rise from 34th to 10th place.
5th place for Skaras at DKM
Already very fast in the WSK at Sarno in KZ2, the Finn Emil Skaras ramped up his performance further the following week at Lonato for the first round of the German Championship (DKM), where he constantly positioned himself among the leading men: 6th after the heats, 6th in Race 1 and an excellent 5th in Race 2, with close to the fastest lap in the race.
Back at Sarno for the FIA Karting European Championship, the Energy Corse team was back at work to advance its young drivers. Although Loris Cabirou had two OK-Junior lap records, the best result went to an excellent Jak Crawford. After his top 10 finish in the German Championship at Lonato, the American made a perfect run in the heats, before being very incisive in the Final where he finished in 7th position at the wheel of his Energy-TM. Qualified for the Final out of the 78 drivers at the start, the Polish Marcel Kuc had to retire.
Victories in Australia and Japan
In Australia, KZ driver Joshua Fife completely dominated the second round of the National Championship in Albury-Wodonga from Timed Qualifying to the Final. Also driving an Energy Corse chassis, Marcos Flack was the master of the Cadet 12 category. A brilliant winner in the Final, he also took the lead of the Championship.
These successes were confirmed during the first race of the "All Japan Karting Championship" with a double in Jr Cadet with the Storm model from Energy Corse. The victory went to the youngster Mirai Nishida. The same weekend, Reimei Ito was on the third step of the podium in FS-125 Class.
"At Energy Corse, the particular care we take in the manufacturing of our products remains a top priority, as is the quality of our services and the relationships we have with our distributors," concluded Mick Panigada.