Sorensen Succeeds, Wharton Stars in Wodonga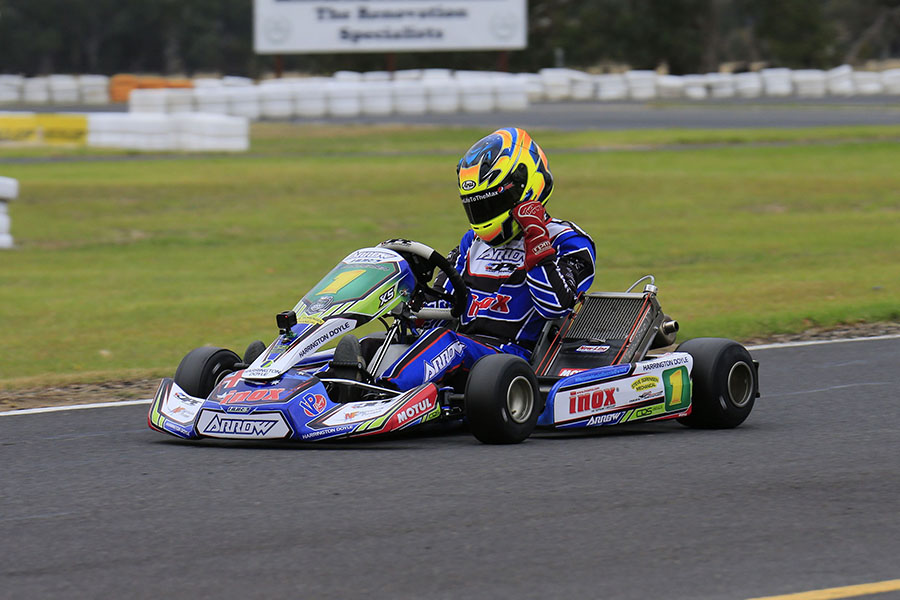 Scott Sorensen crossing the line for victory in Round Two of the SP Tools Australian Kart Championship (Pic: Coopers Photography)
Scott Sorensen has joined an elite club as the most successful drivers in Australia's premier Karting Championship at the second round of the SP Tools Australian Kart Championship, presented by Castrol EDGE in Wodonga, Victoria on Sunday.
Sorensen claimed his eighth round victory in KA1, while James Wharton became the youngest driver ever to win a round of KA2 in his category debut.
The Queenslander now sits alongside Bart Price, Neil McFadyen and Pierce Lehane on top of the honour role and was able to get his Championship defence back on track after a difficult opening round.
The HDR Arrow pilot won KA1 from Kosmic PFG Race Team pilot, Broc Feeney and round one winner, Tasmanian, Lochie Dalton in his AWC Motorsport Academy machine.
Wharton in his Shamick Racing FA Kart left it until the final stages of the last lap to etch his name in the Australian karting history books as the youngest winner of the elite Junior category, KA2.
Starting seventh on the grid, Wharton chipped his way forward until getting into second position. Runaway race leader, Kart Republic's Blake Purdie thought as though he was on target for his first ever round victory until Wharton wore him down.
Not close enough at the hairpin at the end of the back straightaway, Purdie left a slight gap that Wharton didn't need a second invitation to take and slotted his way through into the lead and then across the line.
Jaiden Pope followed the reigning Cadet 12 Champion narrowly across the line popping South Australian Purdie back to third.
In an epic TaG 125 final, Elly Morrow became the first female racer to stand on the podium in this year's SP Tools Championship.
She grafted forward throughout the course of the race to get herself in position to be on the podium. Up the front, in an epic final, Kody Garland took the win for CRG, which was also the second straight for the PRD Galaxy motor.
Coming home in second scoring his first AKC Podium was Jack Black in his Rotax-powered Exprit.
Australian Champion Joshua Fife made a successful return home in KZ2 aboard his TWM Energy. Missing the first round due to commitments with the Energy factory team in Europe, Fife showed the class and experience that he has built over recent months racing against the world's best in staging an undefeated performance throughout the course of the weekend.
Pierce Lehane ran with him in the early stages before Fife managed to pull away and in the end, he scored a comfortable victory over Lehane with first round winner, Aaron Cameron bringing his JC Kart home third – just in front of rapidly finishing Kiwi, Dylan Drysdale.
Another to complete the Grand Slam of race wins and the fastest lap in the final this weekend was Matthew McLean in KA3 Senior.
The Arrow-mounted Victorian was without peer throughout the course of the weekend as he also assumed the Australian Championship lead by virtue of his results. His adversary from the last round Benito Montalbano came home in second position,while new South Welshman, Oscar Priest completed the podium in his Boost Mobile-backed machine.
Cody Gillis carried on his winning ways in X30, taking a comfortable victory in the end. He won the final by 1.667 seconds in securing his second consecutive round win.
Queenslander, Harrison Hoey scored a hard fought second placing in his Zed Corse CompKart and Brad Jenner secured a bunch of Championship points in third driving his Kart Republic chassis.
After not setting a time in qualifying on Saturday for KA4 Junior, Fletcher Harris had to work his way forward from the rear of the grid in his opening races and came through to win the fourth heat and then went on to win the final. The entertaining race saw Harris take the win in his Pentair Water Haase chassis over Victorian, Bailey Collins. Hugh Barter got through for the final podium position on Rhys Smith after all four were locked in a race long battle.
The sub-Junior categories produced two first time winners.
Visper Racing Energy Corse driver, Marcos Flack – fresh from the final round of the WSK Super Masters Series in Italy – broke through for his first Cadet 12 victory, edging out the oversubscribed field of 50 competitors. The 40 karts that lined up for the final produced a terrific race behind Flack, who won by 1.8 seconds.
Jesse Lacey got through for second position in his Arrow Kart with Joe Fawcett scoring his first Australian Kart Championship podium in his Formula K.
In Cadet 9, Lewis Francis backed up his win from the previous weekend in the first round of the Victorian Kart Championship with a comfortable victory in his Kart Republic chassis.
He won by 5.5 seconds however the race behind kept everyone enthralled. The Zed Corse CompKarts of Jaxson and Jenson Burns and Max Walton were squabbling with Peter Bouzinelos' Shamick Racing kart throughout the entire race.
The quadrant were swapping positions at will before getting to the last lap and after some post-race penalties for front fairing infringements it was Jenson Burns and Walton who joined Francis on the podium.
Thus brings to a close the second round of the SP Tools Australian Kart Championship, presented by Castrol EDGE with the new track delivering a bit of everything.
The Championship now moves to Newcastle in New South Wales for the third round over the weekend of May 25-27.
2018 SP TOOLS AUSTRALIAN KART CHAMPIONSHIP
presented by Castrol EDGE
RESULTS: Round Two (top three)
KZ2
1st Joshua Fife (ACT)
2nd Pierce Lehane (NSW)
3rd Aaron Cameron (VIC)
KA1
1st Scott Sorrensen (QLD)
2nd Broc Feeney (QLD)
3rd Lachlan Dalton (TAS)
KA2
1st James Wharton (VIC)
2nd Jaiden Pope (NSW)
3rd Blake Purdie (SA)
X30
1st Cody Gillis (NSW)
2nd Harrison Hoey (QLD)
3rd Bradley Jenner (VIC)
Tag 125
1st Kody Garland (NSW)
2nd Jack Black (NSW)
3rd Elly Morrow (VIC)
KA3 Senior
1st Matthew Mclean (QLD)
2nd Benito Montalbano (NSW)
3rd Oscar Priest (NSW)
KA4 Junior
1st Fletcher Harris (VIC)
2nd Bailey Collins (VIC)
3rd High Barter (VIC)
Cadet 12
1st Marcos Flack (QLD)
2nd Jessey Lacey (VIC)
3rd Joe Fawcett (VIC)
Cadet 9
1st Lewis Francis (VIC)
2nd Jenson Burns (QLD)
3rd Max Walton (QLD)
For more information on the Australian Kart Championship, visit www.karting.net.au or follow www.facebook.com/australiankartchampionship.