Fans Free Saturday at So Cal Karters Race at So Cal Motorcycle Speedway in Perris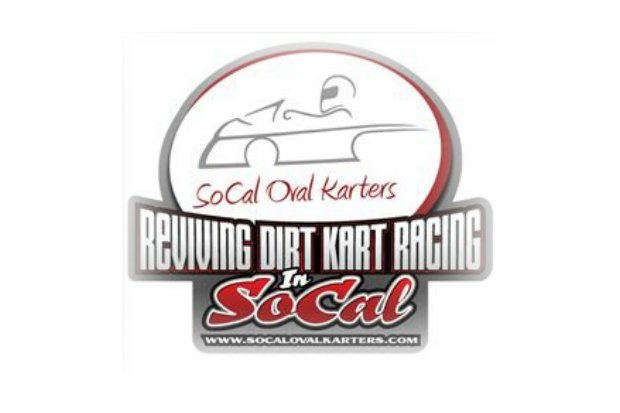 The So Cal Oval Karters club opens its 11th season this Saturday, April 7th, at SoCal Fair Motorcycle Speedway in Perris.  The first race will be at 1:00 P.M. at the brand-new track located on the SoCal Fair and Event Center (Lake Perris Fairgrounds).  Admission is free for fans in the grandstands (parking on the fairgrounds is $5.00).
Built just outside of turn four of the world-famous Perris Auto Speedway half-mile clay oval, the new track will be the home base for the SCOK in 2018 and it will host eight of the series 12 races.   Two of the other four races will take place in the adjacent PAS infield.  That means 10 of the series races will be at the SoCal Fair and Event Center.  The other two races will take place at Wheel2Wheel Raceway in Victorville.
2017 champions Thomas Southern of Hesperia (KT100), his father Chris Southern also of Hesperia (Open Class), Norm Reynolds of San Marcos (F200) and San Diego's Ronnie Benton (Senior 4 Cycles) are all expected to be in competition on Saturday.  In addition, the Junior classes will also be on the season-opening program.  Anybody who has a kart who would like to race, bring it out and officials will find a class for you.
As well as the SCOK, the lawn mower racers from the nearby Norco Mower Racing Association will also be on hand.
For those who wish to enter the pits, the pit gate will open at 10:00 A.M. and pit passes are $10.00.
Fans wishing to attend Saturday's race can find the SoCal Fair Motorcycle Speedway on the SoCal Fair and Event Center (formerly known as the Lake Perris Fairgrounds) at 18700 Lake Perris Drive in Perris (92571).
After Saturday's race, the SCOK will be off until April 28 when it journeys north to Wheel2Wheel Raceway which is located on the San Bernardino County Fairgrounds in Victorville.
April 7 – SoCal Fair Motorcycle Speedway – Perris
April 28 – Wheel2Wheel Raceway – Victorville
May 12 – SoCal Fair Motorcycle Speedway – Perris
June 2 – Perris Auto Speedway – Perris
June 23 – SoCal Fair Motorcycle Speedway – Perris
July 21             – SoCal Fair Motorcycle Speedway – Perris
August 4 – SoCal Fair Motorcycle Speedway – Perris
September 8 – SoCal Fair Motorcycle Speedway – Perris
September 22 – SoCal Fair Motorcycle Speedway – Perris
October 13 – Wheel2Wheel Raceway – Victorville
November 3 – Perris Auto Speedway Road Course – Perris
November 10 – SoCal Fair Motorcycle Speedway – Perris
To keep up with the So Cal Oval Karters on Facebook, please use the following link:  https://www.facebook.com/search/str/so+cal+oval+karters/keywords_search
The So Cal Oval Karters website is available at http://socalovalkarters.com/