Drew Price Inducted into Motor Sport Hall of Fame
Mick Doohan elevated to Legend Status alongside Sir Jack Brabham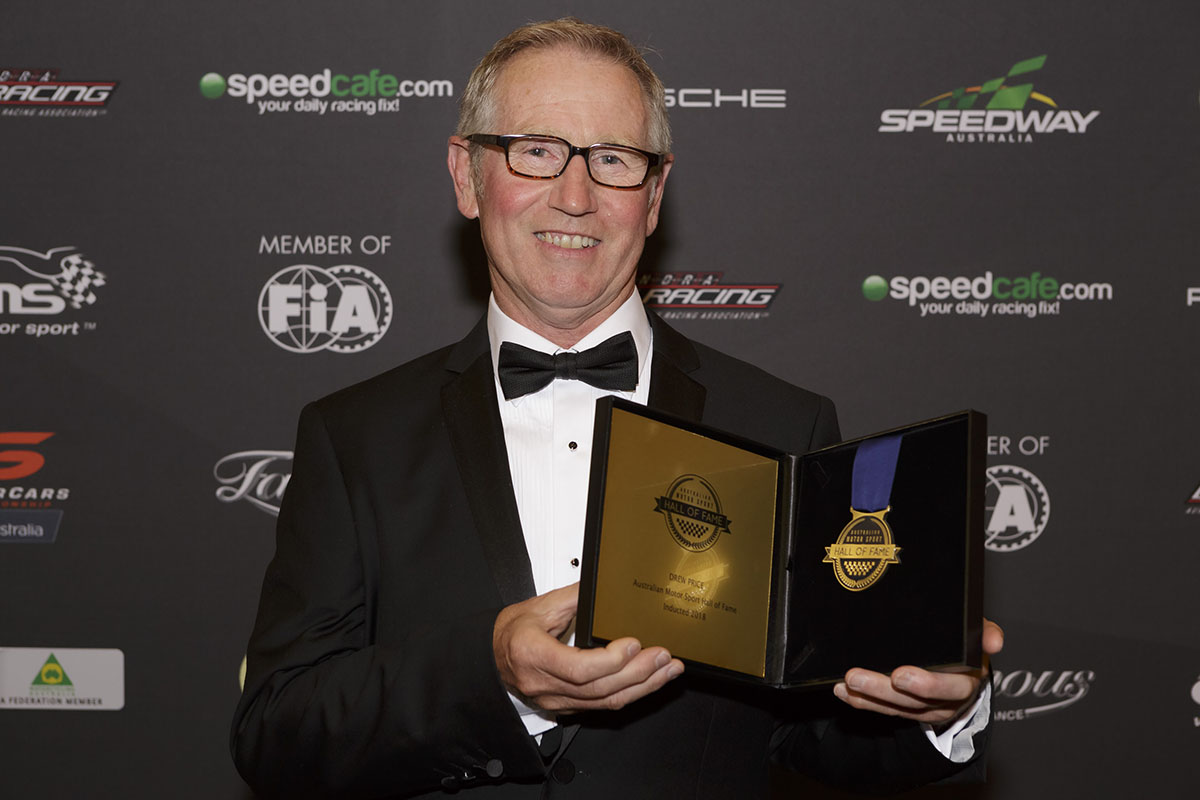 Australian karting icon Drew Price was inducted into the Australian Motor Sport Hall of Fame in Melbourne on Friday evening.
The Hall of Fame is an initiative driven by the Confederation of Australian Motor Sport and brings together every discipline of motorsport in Australia, and sees legends from Formula 1, Touring Car racing, Motorcycling, Speedway, Drag Racing, Rallying and Karting inducted each year.
The six-time Australian champion was recognised as one of th 20 inductees for Hall of Fame for 2018 during the gala dinner, presented by Speedcafe.com at the Melbourne Exhibition Centre.
Price joins dual World Karting Champion James Courtney and 15-time Australian Champion John Pizarro as inductees for their karting prowess.
"My career in karting is something that I'm proud of but I think more importantly I'm very proud of the role that I've played with my business in the sport to help the growth and development of karting," said Price.
"Karting has provided an enormous talent pool for the world of motorsport and I think if we took all of the karting people out of the Supercars pit lane there would be very little left.
"If you're involved in motorsport or the business of motorsport, it is very intense and long hours, and I'd like to take the opportunity to thank my wife Donna and my family who have supported me throughout all of my years.
"I'm really honoured to be inducted into the Hall of Fame and it is very humbling to be in this room tonight with so many greats of Australia motor sport."
In a karting career that spanned two decades, Price's maiden Australian Championship came in 1972 at the Burnie circuit in Tasmania, ironically it was also the scene of his final Championship in 1984.
After winning his first Championship, he started Drew Price Engineering during 1973 first starting in his father's shed to manufacturer his own karts. Over the past 45 years the business has gone on to become Australia's largest karting business and only recently Price handed over the reins of the business over to his son Bart.
The Arrow, Monaco and Sera brands manufactured by DPE Kart Technology have won 128 National Championships and more than 1300 State Championships. The Arrow Kart has been victorious in major Championships in New Zealand, Japan, Malaysia and America.  It is also a previous winner of the Rotax MAX Challenge Grand Final.
After being inducted into the Hall of Fame during the inaugural event in 2016, Karting Australia Chairman Mick Doohan was one of two people elevated to Legend Status at this year's dinner – the other being Sir Jack Brabham.
During his motorcycling career, Doohan won five consecutive F.I.M World Championships from 1994 through to 1998.
Doohan overcame many obstacles throughout his career including injuries that mauled his legs – the scars still evident to this day. His remarkable career saw him record 54 wins from his 137 starts, 95 podiums and 58 pole positions.
"There's a lot of people who helped me achieve what I did in my career and I call them Legends but I appreciate the Committee honouring my career with the Legend Status," said Doohan.
The full list of 2017 inductees can be found at https://www.speedcafe.com/hall-of-fame-inductees/