Nepveu Signs with Factory Birel ART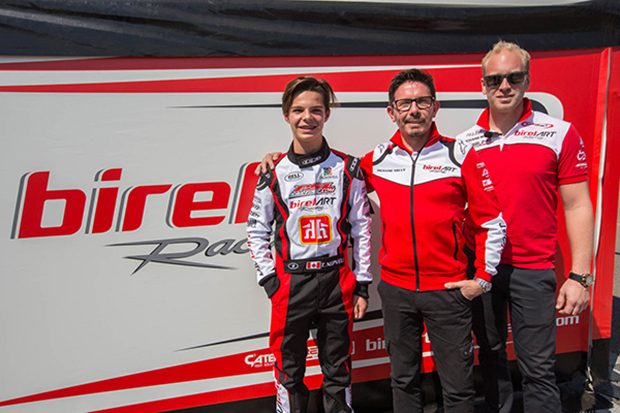 Thirteen year old, Thomas Nepveu of Montreal, Canada, signs as an official driver for the Birel ART Factory Race Team, based in Lissone, Italy. Thomas will compete in the CIK-FIA European and World Championship events, racing in what would be considered the Formula One series of Karting. In fact, the CIK-FIA Karting series is just another step in the pursuit of a Formula One career, as the FIA organizes such series as Formula 3, Formula 2 and the much discussed Formula-E (Electric) racing series.
Thomas Nepveu has been regarded as one of the top prospects so far in driver rankings for 2018, having only moved to Junior looking for speed in 2017. For 2016, Thomas was crowned Champion at the coveted Las Vegas Super Nationals, in addition to winning the Canadian Championship, Vice champion at the Rotax world final in the same year. Thomas will compete in the last two rounds of WSK beginning April, and will prepare for the first round of the CIK-FIA European Championship. In addition to this, Thomas will continue to compete in a partial regular Canadian/America season.
Dominic Labrecque, President, Birel ART N.A. – "We are very proud of what Thomas has accomplished in just such a short period of time. The young man is always working to his full potential, analyzing race data, and listening to his driver coaches and mechanics. This will be another page added to his already impressive driving resume."