A Whitewash in the Wet for Nitro Kart at GoPro Motorplex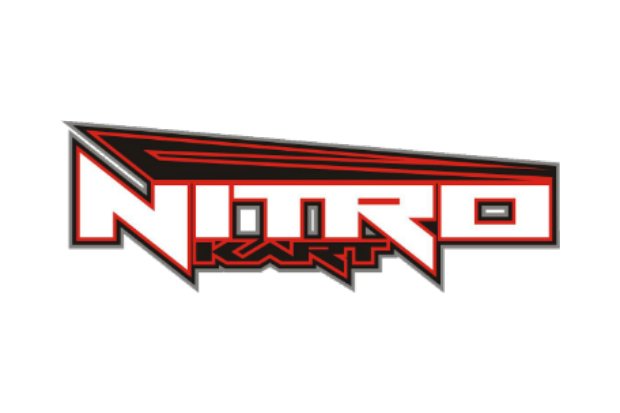 The 2018 Karting Challenge at GoPro Motorplex kicked off under sodden skies this past Saturday, February 17th, but 114 brave competitors could not be deterred and faced the cold and wet conditions with skill and enthusiasm.
Of the 11 classes run, Nitro Kart had entries in 7 under their fully-subscribed tent, and they went a perfect 7-for-7 in wins, sweeping the podium in two classes, and nearly doing so in another. A dominant performance by any measure and a clear indication of the growing popularity of the Nitro Kart program as several of the winners and podium finishers were new to Nitro Kart.
IAME Mini Swift: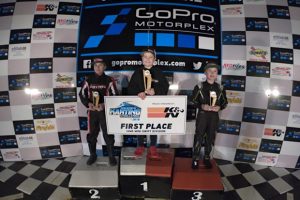 The IAME Mini Swift division was a bit of a layup for Nitro Kart as all 5 entrants were on the Nitro Kart chassis. New Nitro Kart driver, Ayden Patty, won the Pre Final and jumped out to an early lead in the Final, but made a mistake and went off in Turn 8 with 3 laps to go, giving the lead to Miles Murray with another new Nitro Kart driver, Spencer Conrad, in 2nd. Conrad got by Murray on the last lap to take the win with another Nitro Kart newcomer, Mason Cantrell, in 3rd place. Preveil Perkins came home in 4th place and early leader Patty was classified 5th.
IAME Swift:
In the IAME Swift Division,Team Nitro Kart veteran, Sebastian NG, who recently celebrated his 11th birthday, showed his rain racing prowess by pulling out to a 3-second lead, which he would hold to the checkered flag. Team Nitro Kart's Alex Delemo III, had been a close 2nd to NG in the Pre Final and brought it home in 3rd in the Final, with Liam Kelly on another Nitro Kart in 4th place.
IAME Junior:
The IAME Junior Division final saw a breakout performance by new Team Nitro Kart driver, Hayden Jones. Jones only graduated to outdoor kart racing last season at GoPro Motorplex, and was in his first race with Nitro Kart, but showed what great preparation and practice can do as he broke away from an early battle with Pauly Massimino to win the Final by over 11 seconds on a sopping wet track. Jones also set fastest lap in the Final, which he had likewise done on his way to victory in the Pre Final.
IAME Senior: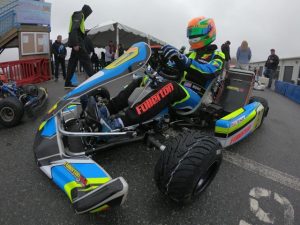 In the IAME Senior final, Team-Nitro Kart supported, Fullerton USA driver, Blake Hunt, jumped out to a quick two-second lead over second place Ashley Rogero, and was able to maintain the gap to take the victory.
Briggs LO206 Cadet:
In the Briggs LO206 Cadet Division, James Overbeck had come down to GoPro from Cincinnati, just looking to get a little early-season track time, and ended up blowing the field away in the Final, taking the win by over 8 seconds. Overbeck passed early leader Ayden Ingratta as the rain fell harder and the track got wetter. Nitro Kart swept the podium with Ben Maier in 2nd place and Sebastian NG in 3rd. Overbeck also set fastest lap of the race in the Final.
IAME KA100 Junior:
In only his 2nd race in the KA100 Junior Division, Team Nitro Kart driver, Jacob Graham, jumped out to an early lead and building on it with clean, consistent driving in very tricky conditions. Graham's last 6 laps of the race were within .4 of a second, which allowed him to build his lead to over 4 seconds at the flag. Graham did not have the fastest lap in the Final, or the Pre Final, which he also won, but he did have the most consistently fast laps, which resulted in his first win in the KA100 Junior division.
IAME KA100 Senior:
In the KA100 Senior Division, Blake Hunt, on his Team Nitro Kart-supported Fullerton USA chassis, opened up a 2 second lead early, but had to hold off a charging Cal Stewart to take win number two on the day. Hunt scored fastest lap in the Final, which he also did in the Pre Final on his way to 2nd place behind Nick Losito.
UP NEXT
Team Nitro Kart's next event will be the opening weekend of the SKUSA WinterNationals at NOLA Motorsports Park, on March 2-4. Expect some extra-special news from the Nitro Kart camp as the team heads to the "Big Easy" to continue their winning ways in 2018.
ABOUT NITRO KART
Nitro Kart is based out of Mooresville, NC in the hub of American motorsports. The company was founded by "Nitro" Nick Tucker with a sole focus on youth karting and specifically the cadet ranks, but has now expanded to serve kart racers of all kinds. Nick has applied his years of experience from karting all the way up through NASCAR racing to develop the absolute best cadet chassis on the market with the support to back it up. Nitro Kart and their drivers consistently score prestigious victories in major events around the country, hence the slogan "Race One or Chase One." For more information on Nitro Kart, contact Nick Tucker at (704) 818-7868 or Kartworxracing@gmail.com