eKartingNews.com Driver of the Month: January 2018 – Colin Warren
Florida driver defends home turf, sweeping SKUSA Winter Series in Briggs class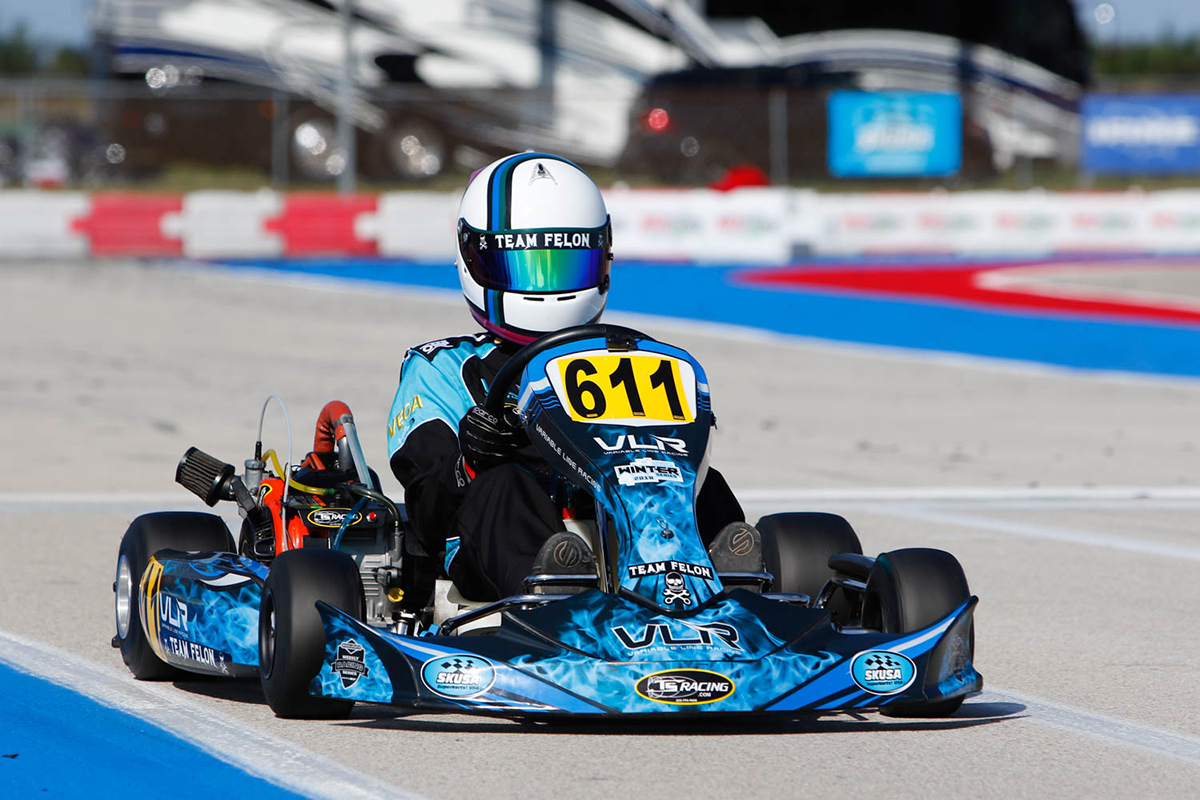 Colin Warren drove his VLR chassis to a sweep of the inaugural SKUSA Winter Series Briggs 206 Senior class (Photo: On Track Promotions - otp.ca)
In a continued effort to highlight the many outstanding performances by drivers around the country, eKartingNews.com is proud to introduce the 'Driver of the Month' program. Each month, the staff at EKN will determine the one driver who stood out above the rest and give the viewers a chance to know exactly what they accomplished and who they are.
For a handful of years now, EKN has supported and continues to support the grassroots movement of the Briggs & Stratton 206 engine. The affordable, sealed powerplant has continued to gain momentum at the local and regional level. At selected high profile events, the Briggs engine has made its appearance and Superkarts! USA brought it on board for the inaugural SKUSA Winter Series in Florida. A Senior / Master race group was added to the schedule, and welcomed 23 drivers at the inaugural event held at AMR Homestead-Miami Motorplex presented by MG Tires in January. All of them ended up chasing one driver throughout the weekend – Colin Warren.
The 20-year old Florida driver set the bar throughout the weekend in terms of pace. Warren piloted his VLR kart to a 54.638-lap in qualifying for fast time, clearing the field by over two tenths of a second. He stayed consistent throughout the 13-lap Prefinal. While not the fastest, Warren led the entire distance to win by nearly one-second. Colin continued leading the way in the Final, going wire-to-wire without a challenge to score the inaugural victory by seven seconds, posting fast lap in the process (54.705).
Warren was able to improve his laptime in qualifying for Round 2, posting a 54.526-lap to secure the pole position once again. His time was over two tenths quicker than the next driver. For the first time in the weekend, Warren lost the top spot during the first half of the Prefinal. California native Brenden Baker put his CRG into the lead on lap two. He and Warren went back and forth until the VLR emerged as the lead, going on to score the race win. Colin turned up the wick in the Final, making sure he was untouched in the 20-lap run. Warren led green-to-checkered, running fast laps of the race (57.791) to establish a nine-second advantage for the weekend sweep.
The success continued to February and the final two rounds of the SKUSA Winter Series at the Ocala Gran Prix. Warren once again sweep the weekend, securing the inaugural SKUSA Winter Series Briggs 206 Senior championship. Colin is planning to compete in SKUSA competition the rest of the 2018 season, looking to race X30 Senior, along with the AKRA and Cup Karts North America nationals. Of course, Warren is looking ahead, keeping on eye on progressing into cars if given the opportunity.
January 2018 EKN Driver of the Month – Colin Warren
Bio
Born: May 11, 1997
Hometown: Naples, Florida
Marital Status: Single
Children: None
Height/Weight: 5'10" / 120lbs.
Education: College
Occupation: Student
Racing Resume
Chassis: VLR
Engine/Engine Builder: Briggs 206 / TS Racing
Sponsors: TS Racing
Series You Compete In: AKRA, Cup Karts North America, SKUSA
Years Karting: 14
How did you get started in karting? Always wanted to race karts
What has been the high point in your racing career? Racing Easykart Grand Finals in Italy
What are your goals in racing? To race cars
In a few words, how would you describe your driving style? Smooth and consistant
Funniest moment at the race track? Hanging with Dave and Chad
Likes
Favorite Track: Jesolo, Italy
Favorite form of professional motorsports: Formula 1
Favorite karting driver: N/A
Favorite professional driver: Kimi Raikkonen
Favorite website: eKartingNews.com
Favorite movie: N/A
Favorite actor/actress: N/A
Favorite music/group: N/A
Favorite vacation/activity spot: Europe
Favorite food: Bison Filet Mignon
The Real Deal
What do you do when not at the track? College
What are your goals outside of karting? To race cars
What type of street car do you drive? Mini Cooper S
What type of street car would you like to drive? Lotus Exige
What are your pet peeves or things that irritate you? Too many questions
What do you think could be done to improve the sport of karting? Decrease the politics at higher levels
What are your favorite aspects about the sport of karting? Competitiveness
January 2018 Driver of the Month – Honorable Mention:
– Edwardo Barrichello: Florida Winter Tour – Senior Rok winner
– Nick Firestone: Challenge of the Americas – 2 Wins (Rok Shifter Masters)
– Victor Jimenez: SKUSA Winter Series – 2 Wins (S4 Super Master)
– Adam Kasick: Challenge of the Americas – 2 Wins (Masters Rok)
– Jim McKinney: Challenge of the Americas – 2 Wins (Senior Rok)
– Ugo Ugochukwu: Challenge of the Americas – 2 Wins (Junior Rok)