USAC Karting Relay Race Added to Thor Industries Elkhart Riverwalk Grand Prix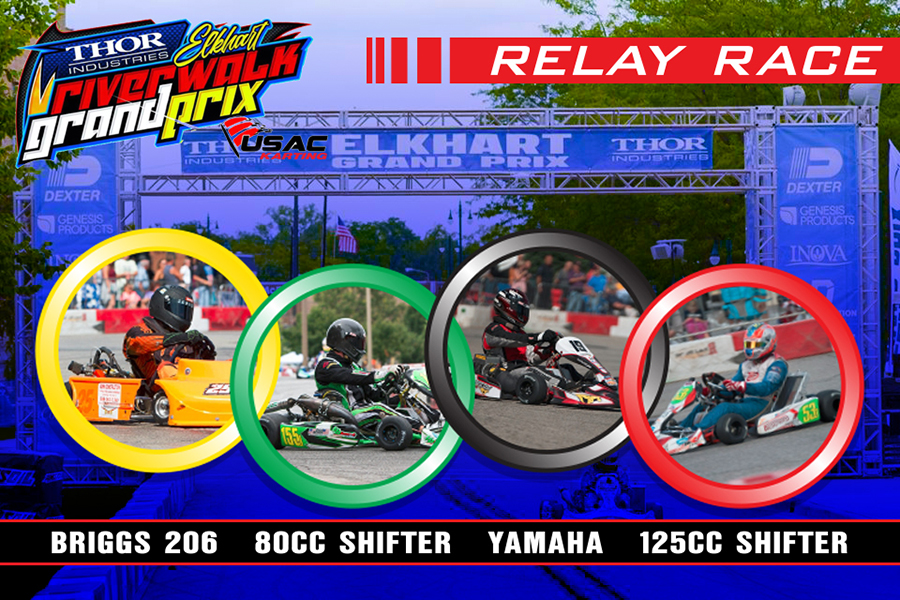 In the spirit of the current Winter Olympic Games USAC Karting adds a Relay Race to the 2018 Thor Industries Elkhart Riverwalk Grand Prix. In what will be a unique addition to the event, the race will see 4 different karts per team in a 20 lap race on Saturday August 11. Much like a standard relay race the drivers will have to make a hand off with each other as they start their segment.
"We're looking at different ways to make our events fun and unique for the drivers and their teams along with the fans. We were watching the biathlon relay event in the Winter Olympics and it gave us a great idea for a team event" Explains USAC Karting Director Mike Burrell. "Last year we ran an endurance event for the Briggs and Stratton 206 class but we wanted to be able to include more classes. This will be an inexpensive event to just have fun in the spirit of racing."
Each team will be made up of a Briggs and Stratton 206, Yamaha Can, 80cc Shifter, and 125cc Shifter. A minimum of 3 drivers aged 15 and up will make up the teams driving line up. The Relay Race will feature four five lap segments with 4 different karts per team. The handoff will occur on the front stretch in front of the fans that came out by the thousands for 2017's inaugural event. The entry per team will be a low $40 in keeping with our effort to make karting more affordable.
Look for more details on this event as we get closer to the second annual Thor Industries Elkhart Riverwalk Grand Prix August 10-12, 2018. For more information and news make sure to follow www.USACkarting.com and be sure to keep up with us on social media.