Great Start to the 23rd Winter Cup In Lonato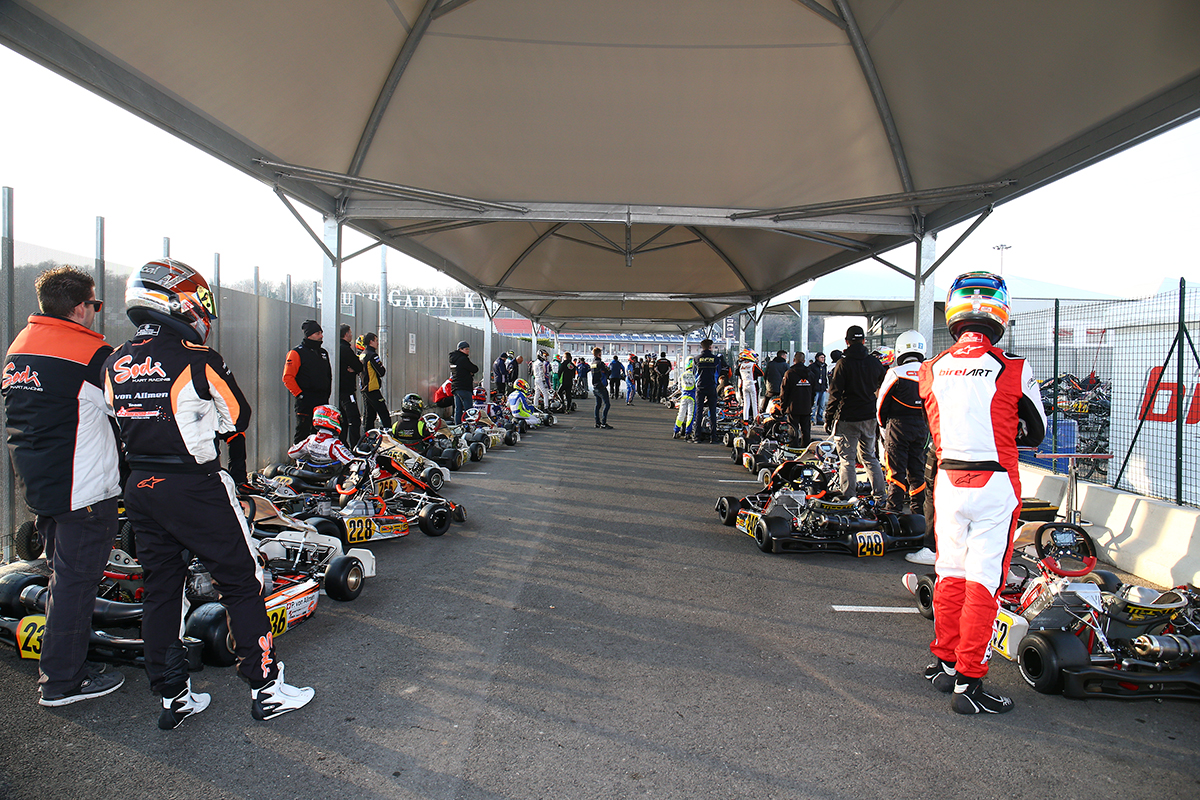 The 23rd edition of the Winter Cup got underway at the South Garda Karting circuit with free practice that named the first protagonists of the event. Qualifying practice and heats on Friday February 16th.
After the first two intense days of Wednesday and Thursday dedicated to sporting and technical scrutineering, all is set at the South Garda Karting circuit of Lonato for the official opening of the 23rd Winter Cup, the historic early season appointment that has relaunched its popularity.
A total of 333 drivers entered this event, with drivers coming from a whopping 40 countries covering all five Continents, which is another participation record.
All the most prestigious teams and constructors are present, with several champions and a lot of young promising drivers at the beginning of their professional career. Several sons of famous drivers will also present as Enzo Trulli, son of former F1 driver Jarno Trulli, Sebastian Montoya son of Juan Pablo Montoya, Brando Badoer son of Luca Badoer, and the very young Andrea Kimi Antonelli son of former GT driver and current team manager Marco Antonelli.
In free practice held on Thursday, Leonardo Lorandi, who has been competing in Formula 4 since last year but came back to karting for the occasion with team Baby Race on Tony Kart-TM-Bridgestone, has been the quickest in KZ2, while Lorenzo Travisanutto and the new team led by Dino Chiesa topped OK charts on KR-Parilla-Bridgestone, the Russian Smal Kirill   of team Ward Racing has been the fastest in OK-Junior on Tony Kart-Vortex-Bridgestone, as the Polish Piotr Prtotasiewicz in Mini Rok on Parolin-Vortex-Bridgestone. A lot of protagonists of this event are getting ready to come under the spotlight and the first official indications are awaited tomorrow Friday February 16th in qualifying heats and then on Saturday heats, that will define the starting grids of the Finals of Sunday February 18th together with Super Heats.
LIVE TIMING AND STREAMING. The race will be available through Live Timing on www.southgardakarting.it from Thursday February 15th, and Live Streaming from Sunday February 18th, as well as on the Facebook page SOUTH GARDA KARTING.
THE PROGRAM
Thursday February 15th: Free practice from 8:30, Sporting scrutineering from 8:30, Technical Scrutineering from 15:40, Briefing from 15:15.
Friday February 16th: Warm up from 8:30; Technical Scrutineering Mini Rok from 8:30; Qualifying practice from 11:30; Qualifying heats from  13:50.
Saturday February 17th: Warm up from 8:15; Qualifying heats from 10:25.
Sunday February 18th: Warm up from 8:30; Qualifying heats from 11:00; Super Heats from 12:00; OK Final at 15:00; OK-Junior Final at 15:30; Mini Rok Final at 16:00;  KZ2 Final at 16:25.