NF Piquet Sports Heads to Ocala Gran Prix for Popular Winter Karting Programs
Successful January sees NF Sports and Dudu Barrichello score the victory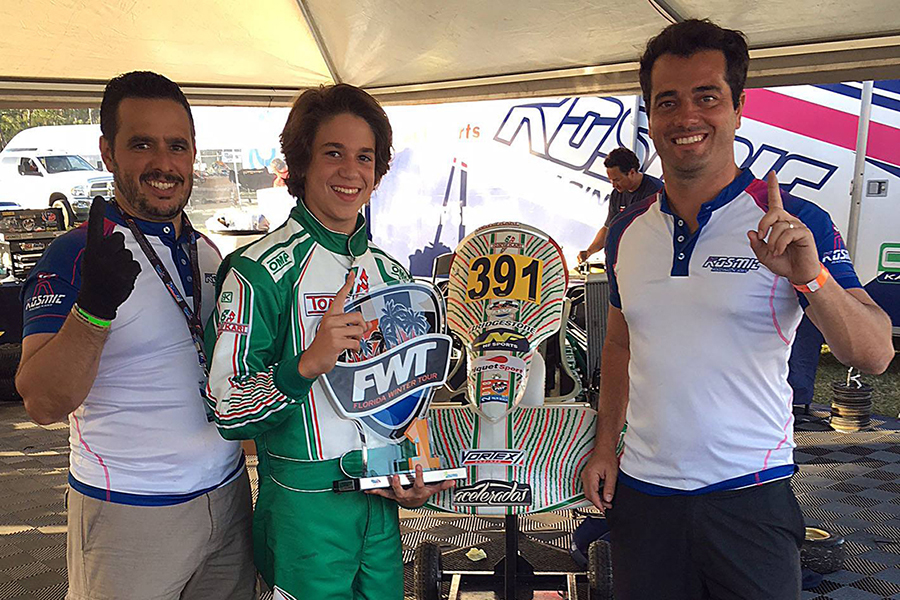 Dudu Barrichello will be going for a second Florida Winter Tour Senior ROK win while in Ocala
(Photo: NF Piquet Sports)
After a successful January that saw the NF Piquet Sports drivers compete at both the Superkarts! USA (SKUSA) Winter Series and ROK Cup Promotions Florida Winter Tour (FWT), they are back on track for the next two weeks at the pristine Ocala Gran Prix facility. Showing great speed and power during the January events, which included a victory for Dudu Barrichello in the Vortex ROK Senior class, it is now time to go at it again, beginning with the IAME power plants.
A total of seven drivers will be in Ocala for the next two weekends flying the banner for NF Sports. In the SKUSA Winter Series, the Orlando based squad will see Diego Ramos in X30 Senior following his debut in the class in January. Coming from the tail of the field that weekend, Ramos led one of the heats before being forced to the sidelines after contact with a fellow competitor. Multi-time champion Andre Nicastro will also pilot an NF Sports prepared Kosmic kart in the Senior ranks. In the X30 Junior class, Gabriel Fonseca will try to steer his Kosmic to the front of the field in his first career start at the short but challenging facility.
The following weekend brings more speed and expectations for all. Joining the group for the second event weekend of the Florida Winter Tour will be the three Barrichello drivers. Fefo Barrichello and Felipe Bartz will battle in Junior ROK along with Jaoa Matos, who made his United States debut with the NF Sports team late in 2017. Senior ROK round one winner Dudu Barrichello will look to make it two for two on FWT competition and strengthen his points stance in the end of the series championship battle.
"We are confident that NF Piquet Sports and our talented drivers will repeat the same great performances shown in Homestead and Palm Beach back in January," explained Bruno Fusaro. "We had the chance to claim both the first and second positions in ROK Senior in Palm Beach, but luck was not on our side. Our drivers are learning and adapting to the Kosmic Kart and OTK equipment and results are now there. Andre's (Nicastro) experience in coaching the kids within the NF Sports program is a huge positive for all involved."
NF Piquet Sports is an Orlando Kart Center based team owned and managed by Andre Nicastro, Nelson Piquet Jr. and Bruno Fusaro. NF Piquet Sports is an official Kosmic Kart Racing Team in the United States and offers Arrive and Drive Programs for drivers in all classes in North America's top karting programs. For those interested in the services of NF Piquet Sports or the Kosmic line of products produced by OTK, please contact Andre Nicastro via email at info@nfsportsusa.com