Tony Kart: Bad Weather Complicates First Round of WSK Super Master Series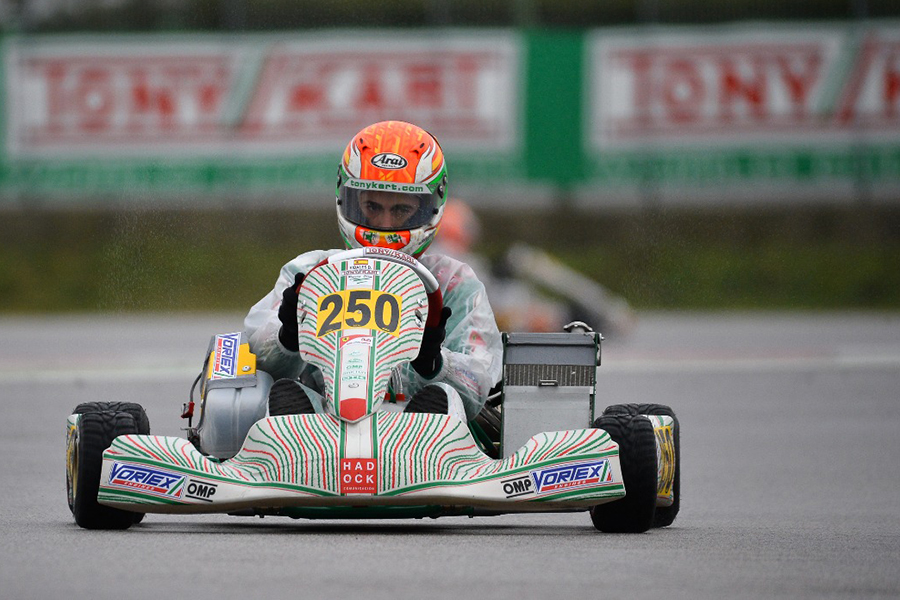 The weather, the true protagonist of the race, made the Tony Kart Racing Team's seasonal debut very difficult. However, we got a first, a second and a third position with the Tony Kart chassis in OKJ, KZ2 and OK categories, respectively.
The curtain falls to the Adria Karting Raceway, theater of the first race of the season for the Tony Kart Racing Team, the round 1 of the WSK Super Master Series. During the weekend, the bad weather conditions were the protagonists. After the qualifying heats and the wet track ones, during Sunday drivers had to start from scratch, in order to give their best on the dry asphalt.
In the major category, the KZ2, the weekend at the top of Matteo Viganò was compromised by an accident at the start of the pre-final. Therefore, his comeback that had seen him climb the ranking from the 24th position in qualifying to the 5th on the pre-final grid was cancelled. However, jumped from the bottom in the final, Viganò conquered positions to the Top 10, also signing the best lap of the race. Alessio Piccini, after some very hard qualifying heats, closed with a 27th place, was able to recover positions in the various stages of the race, finishing 5th in the final. Race to forget for the new "green" driver, Simo Puhakka, who ends with a withdrawal an unlucky event.
In OK category, Noah Milell, author of a great comeback that saw him run from the 27th position in the qualifying heats to the 5th position in the general ranking after the heats, until he left the scene in the pre-final. David Vidales, though, performed perfect heats, collecting victories only. Therefore, he is not satisfied with the fourth place in the final, after a second one in the pre-final. However, this is an excellent result in the view of the championship. It's all been uphill the race weekend of our youngest drivers in the Mini and OKJ categories. In particular, our drivers pay for the lack of addiction to international competitions and above all a weekend marked by difficult and changing track conditions. An excellent gym, however, to learn many concepts and tricks, under the direction and advice of the Tony Kart Racing Team's staff.
In the first round of the WSK Super Master Series the value of the Tony Kart material was still exalted, chosen and brought to the track by over 20% of the drivers lined up in the 4 categories. In fact, not less than three podiums have been green with the first place of Kirill Smal (Ward Racing) in OKJ, the second place of Leonardo Lorandi (Baby Race Academy) in KZ2 and the third place of Nicklas Nielsen (KSM Schumacher Racing Team) in OK.