Maranello Kart and Team BMS Absolute Protagonist in Guadalajara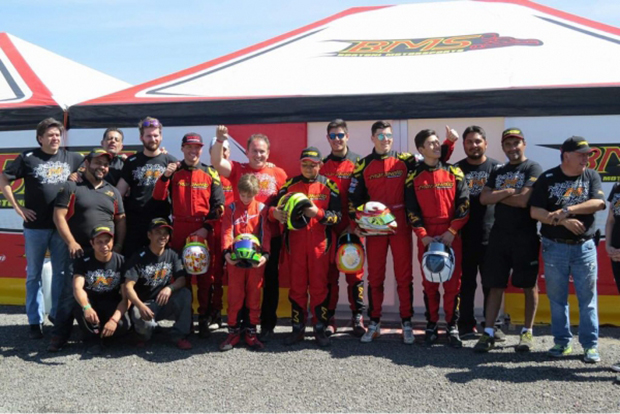 Team BMS Bortoni Motor Sport and Maranello Kart have dominated the opener of the Mexican racing season in nearly all categories. Gonzales close to the victory in GP1.
Maranello Kart's flag has been raised high in the important round held in Guadalajara (Mexico) valid for the GP1 GP1 Wing's Army. Team BMS, Bortoni Motor Sport – the Maranello's reseller for Mexico at the debut this year with its works Racing Team –  scored in fact prestigious results and had an important presence in this race.
Team BMS drivers and Maranello have been the absolute protagonists dominating most of the categories present in this race that opens the season and that is very important for the Mexican market.  Among the main contenders to the victory in GP1, the French Maranello Kart works driver Nicolas Gonzales, has been among the quickest of the weekend and led most of the Final, before the red flag favoured his rival Paolo De Conto and ended an exciting duel. Gonzales had to settle for P2, but he showed a great speed anyway. Maranello Kart's performance in GP1 was rounded off by the seventh place of Jorge Ortiz and the 13th of  Santiago del Rincón.
Regarding the other categories on track in Guadalajara, Team BMS by Bortoni won Rotax Senior with Javier Gonzales, DD2 Master with Carlos Medina,  DD2 Senior with a clear domination by  Tylor Greenfield, the second place of Javier Gonzalez, the fourth of Juan Manuel Gonzalez and the fifth of Luis Enrique Chavez. Regina Sirvent claimed a good fifth place in Rotax Junior, while Mateo Moya was 15th. Juan Pablo Cepeda came to the fore in Mini Max taking P2.
The results of Team BMS Maranello Kart in Guadalajara:
GP1: P2 Nicolas Gonzales, P7 Jorge Ortiz, P13 Santiago del Rincón.
Rotax Junior: P5 Regina Sirvent , P15 Mateo Moya.
Rotax Senior: P1 Javier Gonzalez Cáceres.
DD2 Master: P1 Carlos Medina.
DD2 Senior: P1 Taylor Greenfield, P2 Javier Gonzalez Cáceres, P4 Juan Manuel Gonzalez, P5 Luis Enrique Chavez.
Mini Max: P2 Juan Pablo Cepeda.
BMS Team Manager Bortoni commented the race in this way: "We are really happy for the results obtained in this season opener. I would like to show my appreciation to our new driver Mateo Moya, who is learning a lot and will stay with us for the whole season. We are also very proud of Taylor Greenfield for his driving skills and the support he gives to the team. Jorge Ortiz is also appreciated within the Team and we are happy for his improvements in all sectors. Santiago del Rincón and Carlos Medina have been excellent, as Luis Chavez: his improvements are really impressive. The very young Juan Pablo Cepeda is already a great and aggressive driver. Javier Gonzalez Cáceres confirmed to be one of the best drivers and he is still very quick after the incident. We really have a great Team."