Michael d'Orlando: 2017 Year in Review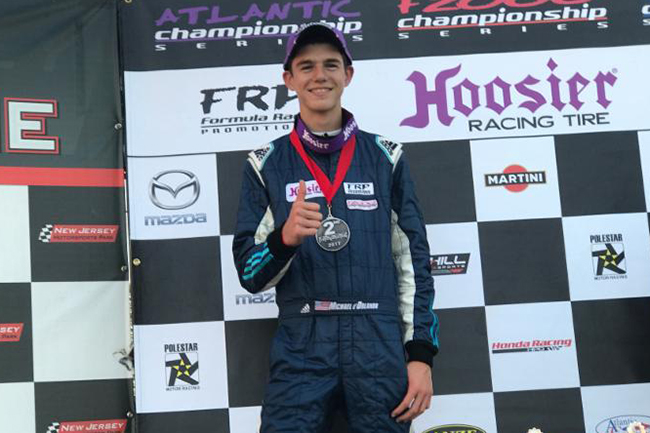 To start off the new year, the drivers at d'Orlando Enterprises have submitted their own Year in Review of 2017, in lieu of a typical press release. Enjoy the read and Happy New Year!
As I, Michael d'Orlando, look back to 2017, overall I think it was a good year for me on many levels. I continued to learn in karting for the first part of the year then I got to progress into open-wheel racing. A dream I've been dreaming about for nine years.
At the beginning of the year, I will admit, I was nervous about what 2017 could bring. And although the results in karting weren't exactly what we were looking for, I learned a lot this year and proved that I am a fast learner and can find speed almost anywhere.
The WSK Super Master Series and CIK FIA European Championships are two extremely difficult series, and I wish my results were better, but all year long, I gave it everything I had no matter what.  I charged to the front of the field at LaConca (Italy), one of the world's most difficult kart tracks, and also found myself battling it out with world championship & professional karting drivers all season long. I knew the plan for my European racing was to learn from a top program like Birel ART and work on my skills at the highest level.  I also know that was the most important thing for my future. I will miss karting but am super excited for the next step.
Throughout the year I also gained some great memories and met some new friends that I hope I will have for the rest of my life.  One of the most exciting things I did this year would have to be my weekend at Monza for the Italian Grand Prix of Formula One.  I met so many people, including Fernando Alonso, Paul DiResta, Jos Verstappen and Marcus Ericsson, and had lunch in some of the race team's hospitality tents with our All Access Passes. I also spent the day at a karting media event with Daniel Ricciardo, where I was so shocked that he remembered me from when we met in Bahrain last year … but I guess if you eat dinner and trash talk with someone like that for a few hours, you would probably remember them too!
The best times were spent with teammates & roommates, with the possibility of a minor prank or two, and just for the record I'm certain that toy horse was broken before Mariijn sat on it.  The food in Italy is the best in the world. Period. Finland is FAR! Scandinavia has beautiful girls and some taller than me! But in all this, I learned some valuable lessons – for example: it's not entirely impossible to get out of the seat of a van when you're zip-tied to it, but don't ever leave your cell phone unattended in plain site as you'll never know just how high it can be duct-taped to the ceiling.
Later in 2017, I hung up my karting helmet and made my debut into open wheel cars. There's no feeling like it. Since I was 6 years old, standing on the podium of my very first kid kart race, I dreamed of a career in car racing. So you can imagine how excited I was for my first race near my home, at New Jersey Motorsports Park. And even more proud to get my first podium at the same time.
Because my first race experience went so well, I was pretty confident for my weekend at Indianapolis Motor Speedway.  This wasn't expected or part of our original plan, so the opportunity was a complete surprise. And I'd never driven a USF2000 car before so this made me a little nervous, and a bit anxious too. But it was a great experience, and I surprised many people with my performance. And I'll admit, I even surprised myself a little. I was as fast as the experienced drivers and I only had two days in the car.
To sum it up again, I think that 2017 was a great year for me.  I will keep working hard towards my dream and develop as a race car driver. Although I will miss the chocolate croissants, and the pizza and the gelato in Italy, and also miss being at the track with my brother [Nicholas] again, I am super excited and confident of what this year will bring.   I love what I do!
I had a lot of help and support over the years so I would like to say Thanks to everyone for that. Thank you to Birel ART for the great opportunity over the past couple of years and for the guidance & support they provided. The entire team at Team Pelfrey – I appreciate them making my entry into cars so amazing., Thank you to Rickard Franchini of ItalSport for your continued support in both karts and in cars. And also my sponsors such at Focused Project Management, DB Collaborative, Fyshe USA/adidas, Celtic General Contracts, Parish Property Management and Iona Preparatory School. Finally, but not really lastt, thanks to my parents for giving us the opportunities to pursue our dream.
Stay tuned for future announcements coming soon,!
For more information on Michael d'Orlando, and for opportunities to be a part of the development of this young talent, contact d'Orlando Enterprises' management team at info@dorlandoracing.com or Rickard Franchini of Italsport at italsport@live.se. Follow Michael on social media at Instagram (dorlandoracing), Facebook (Michael d'Orlando Racing) and Twitter (dorlandoracing)..