Nitro Kart Dominates WKA Daytona KartWeek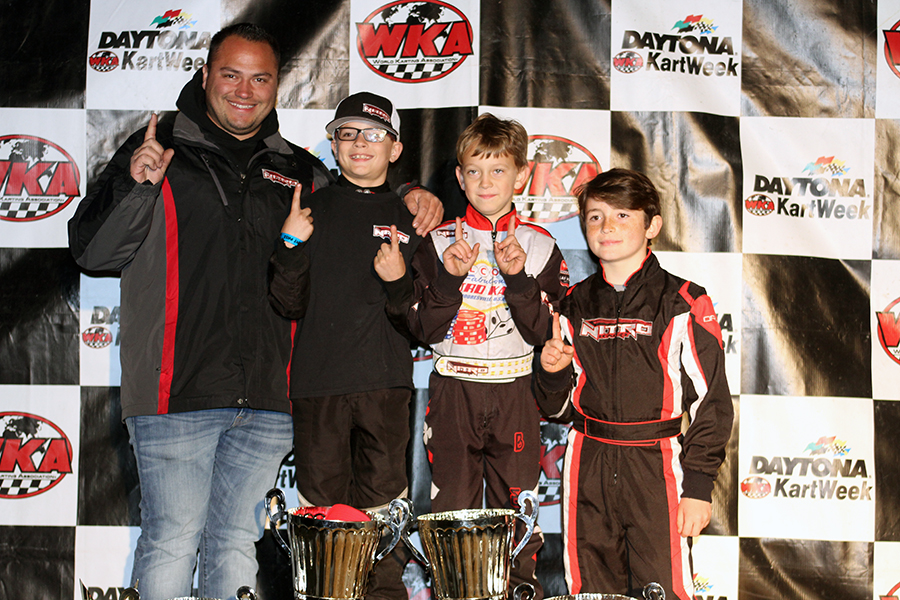 (Photo: EKN)
Nitro Kart got the new season off to a great start with a dominant performance at the World Karting Association Manufacturers Cup race at Daytona International Speedway this past weekend. The Team Nitro Kart tent was a very popular place to be with a full 28 karts under the tent and many Nitro Kart drivers featuring in the results in the Mini Swift and Micro Swift divisions on both Friday and Saturday.
MINI SWIFT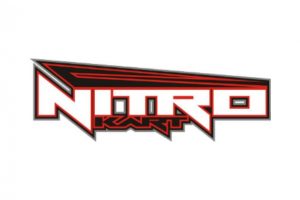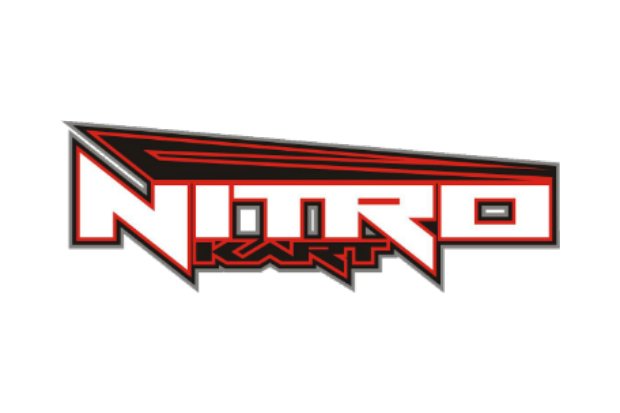 Day 1 Qualifying for the 45-kart strong Mini Swift division saw Mini rookie, Sebastian NG, lead the way for Nitro Kart with a strong 3rd place, with Emmo Fittipaldi (in only his second race with Nitro Kart) in 5th place, and 2017 IAME International Final Champion, Brent Crews taking 6th place on the grid. In the Pre-Final, Crews did his usual thing and drove to the front to take the win while NG took 6th place, Fittipaldi took 8th, and Liam Kelly came in 10th on another Nitro Kart. In the Friday Final, Crews emerged from a multi-driver fight with many lead changes to finish a very close 2nd place, with Sebastian NG coming home an impressive 7th place in his Mini debut.
Day 2 Qualifying found Brent Crews a couple of tenths off of pole in 4th place, but he again raced to the front in the Pre-Final to take 2nd with Nitro Kart's Frankie Iadevaia coming home in 6th. In Saturday's Final, Crews again found himself in another battle for the lead, but this time the Nitro Kart pilot was victorious, with Emmo Fittipaldi putting in another strong drive to finish 9th.
MICRO SWIFT
In the Micro Swift division, Nitro Kart's Ben Maier was virtually untouchable with a sweep of the Pre-Finals and Finals on both days. In Friday Qualifying, Maier put his Nitro Kart on pole by over four-tenths of a second, with Preveil Perkins putting his Nitro Kart 5th on the grid and fellow Nitro Kart pilots Cash Wyke and Miles Murray qualifying 9th and 10th respectively. In the Friday Pre-Final, Maier took the win with Perkins coming in 4th, Wyke in 7th, and Murray in 9th. The Friday Final saw Nitro Kart take five of the top-ten positions, with Ben Maier in 1st, Adam Brickley in 3rd (up from 17th place on the grid), Bryce Sanders in 7th, Cash Wyke in 8th and Preveil Perkins in 10th.
On Saturday, Bryce Sanders took his Nitro Kart to pole position in qualifying with Adam Brickley 2nd and Ben Maier in 5th. In the Pre-Final, Maier was able to get to the lead and take the win with Bryce Sanders crossing the line in 4th, Adam Brickley in 5th, Miles Murray in 6th, and Cash Wyke in 10th. In the Final, it was a Nitro Kart blowout with Ben Maier taking the win over Adam Brickley by more than 3 seconds, who in turn had a 9 second margin over 3rd place. Nitro Kart again took five out of the top-ten spots in the Final with Miles Murray charging to 5th place, Preveil Perkins in 6th, and another Nitro Kart piloted by Aryton Grim coming home in 10th.
Team Nitro Kart's next national event will be the first round of the SKUSA Florida Winter Series on January 12-14 at AMR Homestead-Miami Motorplex.
Nitro Kart is based out of Mooresville, NC in the hub of American motorsports. The company was founded by "Nitro" Nick Tucker with a sole focus on youth karting and specifically the cadet ranks, but has now expanded to serve kart racers of all kinds. Nick has applied his years of experience from karting all the way up through NASCAR racing to develop the absolute best cadet chassis on the market with the support to back it up. Nitro Kart and their drivers consistently score prestigious victories in major events around the country, hence the slogan "Race One or Chase One." For more information on Nitro Kart, contact Nick Tucker at (704) 818-7868 or Kartworxracing@gmail.com