Maxxis Prime Tire Makes Successful Debut at Daytona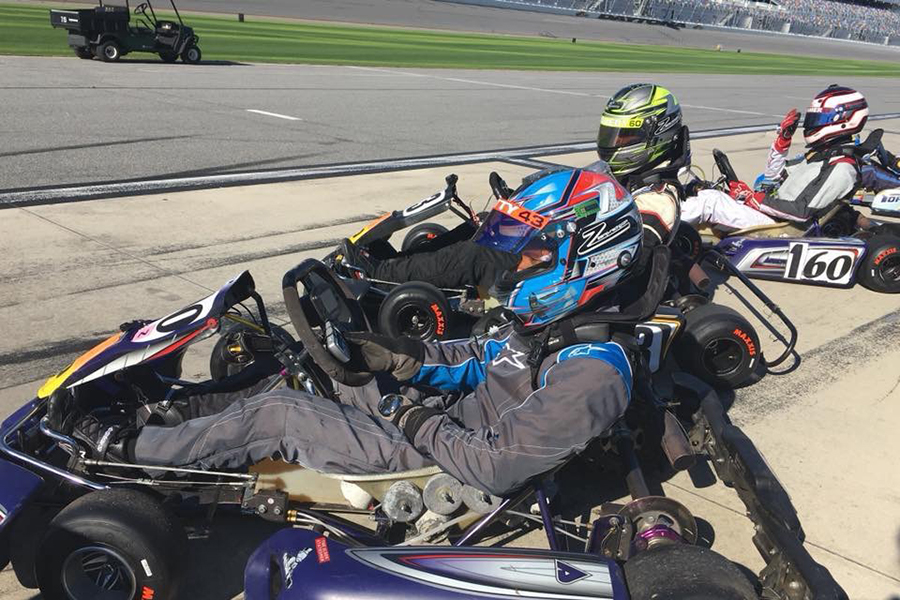 As Goldspeed USA Officials busily prepare for the upcoming racing season, traditionally in the Dirt world, exhausting efforts have been ongoing to also aid the newest member of the Maxxis Tire Family into the world of Sprint and Road Racing. The Maxxis Prime Tire, designed to accommodate the 5 inch wheel, passed some initial tests, beginning with the recent WKA Road Race event in December at Daytona International Speedway.
Several competitors, including Rob Hindery, Andrew Petty, and Daniel Creamer, recently bolted on the Prime Tire in the CIK LO206 Senior and LO206 Sprint 390 classes, generating some solid results, with Hindery finishing 3rd on Day 1, while Petty took 5th, and Creamer was 7th. Creamer and Petty were 5th and 6th on Day 2, while Hindery suffered mechanical issues. While the results were encouraging, even more notable of the finishes were a result of a Daytona type draft, with many front runners running nose to tail in a pack, finishing under a blanket at the stripe, further justifying the quality of the new tire, and leaving many other competitors in the pits wanting the chance to bolt on the newest challenger in Road Race competition.
Hindery posted a 2nd and 4th in LO206 Sprint 390 action.
Several cases of the Prime Tire are being shipped to the Williamston, South Carolina facility, with yet another new program, the Maxxis 4 Cycle Sprint Series, readying for its debut March 24th at 103rd Street Sports Complex in Jacksonville, Florida, stop #1 of a 6 race regional program, involving Carolina Motorsports Park in Kershaw, South Carolina, as well as Lamar County Speedway in Barnesville, Georgia. The series will culminate with a Championship race October 26-28 at Carolina Motorsports Park, with several titles on the line, not to mention major awards and merchandise for the competitors.
For more information on the new Maxxis Prime Tire, as well as the Maxxis 4 Cycle Sprint Series, contact Buddy Long at buddy@goldspeedusa.com.