CRG Welcomes Back Pedro Hiltbrand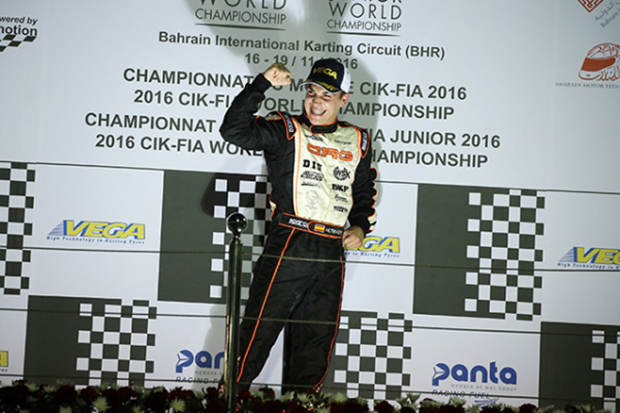 Pedro Hiltbrand returns to CRG after a different choice in 2017. The victorious union between CRG and Pedro Hiltbrand will be back in 2018. Pedro Hiltbrand and CRG won the OK European Championship, the KZ2 International Super Cup and the KZ2 Spanish Championship in 2016.
CRG is delighted to announce the very welcome comeback of Pedro Hiltbrand to its Racing Team. This is a very happy comeback for the whole CRG Racing Team that is all set to strengthen its drivers lineup for season 2018 with a very competitive driver of the likes of Pedro Hiltbrand.
In the past few years, Pedro Hiltbrand's career has reached very high levels with CRG, until 2017 when the Spanish driver from Girona decided to undertake a different path. Pedro Hiltbrand reached the top with CRG in 2016, year in which he won three CIK-FIA titles: the OK World Championship, OK European Championship and KZ2 International Super Cup. In 2016 Pedro also rounded off his successful season taking the victory of the KZ2 Spanish Championship.
The winning partnership between CRG and Pedro Hiltbrand will be back in 2018 to reach further important results together.
This is Pedro Hiltbrand's comment on his comeback at CRG: "I would like to thank Giancarlo, Marina and the whole CRG team for giving me the chance to be back. I am really very happy. In 2017 I had a different work experience. Work is obviously important, but human relationships are just as important. CRG has been like a family to me in the past, and I am really happy for being again part of it. Karting is my life and CRG is part of my life. I hope I can give CRG some further great victories.