Road America Hosts Annual Karting Awards Banquet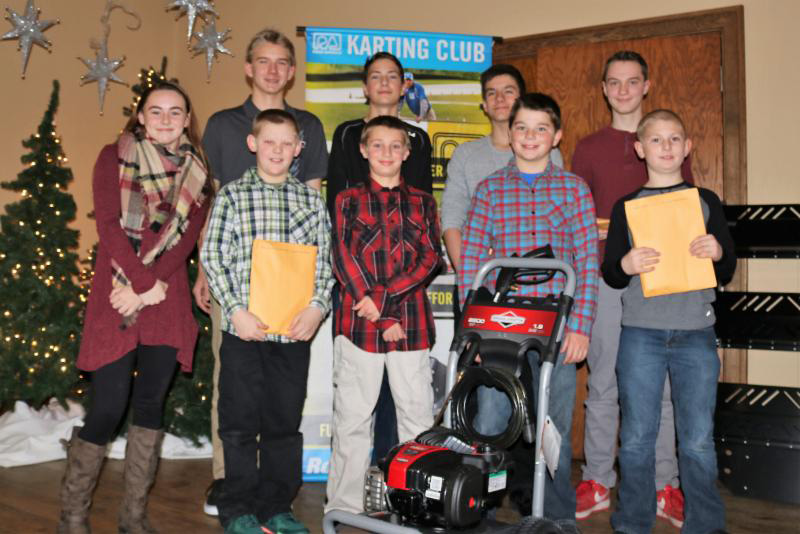 On Friday, December 9, karting competitors alongside their friends and families showed up at Millhome Supper Club in nearby Kiel, Wis., to celebrate the many champions, special award winners and sponsors of Road America's Karting Club (RAKC) as part of its 2017 awards banquet. In addition to great food, there were tremendous raffle prizes won by the attendees.
Eric Mueller served as the emcee and gave the address thanking the volunteers and RAKC's generous sponsors including CTECH Manufacturing, Bridgestone, Trudell Performance and Briggs & Stratton. Highlights of the Road America Karting Club's 2017 banquet were several raffle prizes and awards including a new Briggs & Stratton LO 206 Engine, a new Briggs & Stratton 206 Junior Engine, and Trudell Performance donated a brand new Streeter Super Lift.
In the RAKC weeknight series, Payton Glodowski was awarded the 206 Sports title presented by Faster Motors. The 206 Lite title presented by Odyssey Fun Center went to Rob Radmann. Grant Zimmerman took home top honors in the 206 Heavy category presented by Streeter Super Stands. Erick Heling captured the World Formula crown presented by Faster Motors and Troy Schmitz won the Kohler Super Sports title presented by Logan Christel Motorsports.
In the RAKC weekend series, Logan Perl won the 206 Sports title presented by Faster Motors. Rob Radmann won the 206 Lite title presented by Odyssey Fun Center. Brian Sorgen won the 206 Heavy title presented by Streeter Super Stands. Bryce Mersberger captured the Yamaha Sportsman crown presented by Yamaha. Eric Blumer won the Yamaha Lite category presented by Yamaha. Joey Sproule took home top honors in the Yamaha Heavy class also presented by Yamaha. Talina Sotelo won the Komet title presented by Two Cycle Technology. Jared Siegel won the T.A.G title presented by Brenner Brewing. Bill Kohlhagen won the Rotax DD2 title and the Stock Honda Shifter crown went to Brandon Steinhauer.
In addition to the night's festivities, Road America Karting Club members were treated to a few photos and videos of the repaving project for the CTECH Manufacturing Motorplex, which was completed in November. The CTECH Manufacturing Motorplex will remain true to the layout and geometry of the one-mile track that was constructed in 2000, with a few minor elevation changes to support drainage. Northeast Asphalt was contracted for the project.
Upcoming events that anyone interested in karting need to be aware of include the RAKC's annual Swap Meet, which will be held on March 10 from 11 a.m. to 3 p.m., at Racers Hall in nearby Plymouth, Wis. The RAKC is also hosting its annual Explore Karting Day on April 21 from 9 a.m. to Noon at Road America. The event is FREE to the public and anyone interested needs to meet at Gate 4 of Road America to enter the facility.