eKartingNews.com Driver of the Month: November 2017 – Ryan Kinnear
Champion Racing / Intrepid drivers honors friend with SuperNationals victory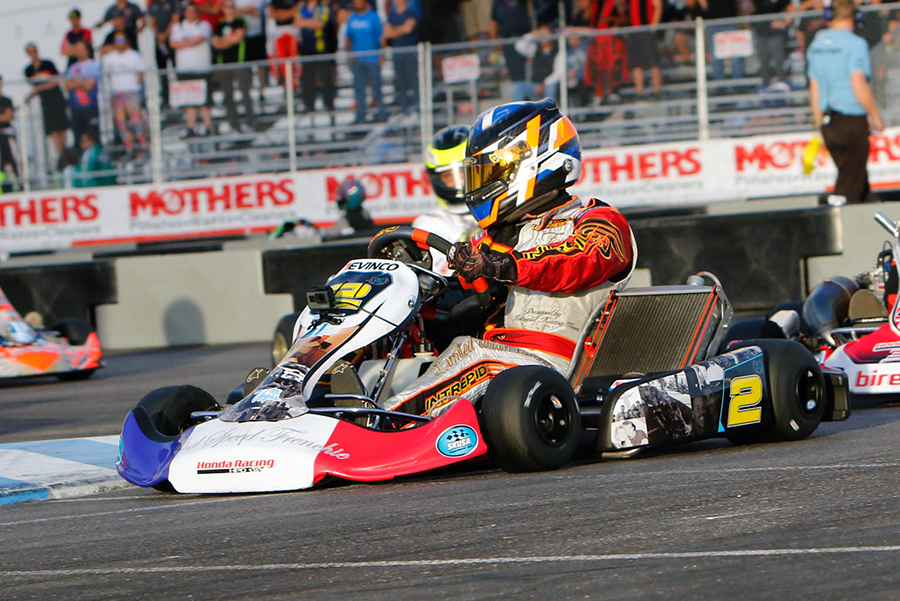 (Photo: On Track Promotions - otp.ca)
In a continued effort to highlight the many outstanding performances by drivers around the country, eKartingNews.com is proud to introduce the 'Driver of the Month' program. Each month, the staff at EKN will determine the one driver who stood out above the rest and give the viewers a chance to know exactly what they accomplished and who they are.
A decade ago, Gary Carlton was dominating the national karting scene in shifterkart racing. It was the ICC that was the engine package, with the Stock Honda gaining ground in the west coast under the new Superkarts! USA ownership with the Kutscher family completing their first full year. Among those chasing Carlton was Texan Ryan Kinnear. The Scottish native was ranked inside the top-20 in the EKN ICC Driver Rankings, finishing the Stars of Karting national championship in the 14th position. Alongside him in the Intrepid tent was Jordy Vorrath, arguably one of the best shifterkart drivers ever and one of two drivers to beat Carlton that season (Alex Speed the other).
Fast forward 10 years and Kinnear continues to compete aboard the Intrepid brand with the Berryhill family under the Champion Racing tent. Turning the wrenches and providing 'advice' now is Vorrath. Kinnear and Vorrath have been working together for a number of years, including when Kinnear was among the top S2 Semi-Pro drivers in 2013. Kinnear was battling for the SKUSA Pro Tour championship and among those in contention on SuperSunday for the victory at the SuperNationals. Kinnear was running second, in position to fight for the victory and clinch the championship, when a $1 part failed and cost him a chance at both. It was a devastating loss.
Kinnear moved up to S1 and remained there until the end of 2015 when he made his debut in the S4 Master Stock Honda division at the SuperNationals, placing eighth. 2016 was a memorable year for Kinnear, going four for four on podium finishes to begin the SKUSA Pro Tour in S4, including two victories at New Castle. Ryan was among the many drivers in contention for the victory at the SuperNationals that November, with Kinnear coming home third to secure the championship. Along with Vorrath, Alain Bordes – or 'Frenchie' as he was known by many – was right there with them. The trio, along with the Berryhill family, celebrated the 2016 SKUSA Pro Tour championship together.
Kinnear had the honor of carrying the SKUSA #1 plate for the 2017 season. It was a struggle, but Ryan drove to third place in both main events. Trouble followed him to Sonoma, with a DNF suffered in the Prefinal on Saturday, but bounced back Sunday to claim the win in a wild main event. That would be the last event the trio of Kinnear, Vorrath and Frenchie worked together. Shortly after, Bordes passed away. The SummerNationals was the first event back to the track without Frenchie. Kinnear was able to honor his fallen friend, carrying a special graphics kit with photos of Bordes while adding a second victory on the year. It was not enough to defend the championship, but the moment Sunday evening taking the checkered flag in first was special.
Earning the SKUSA #2 plate, Kinnear entered the SuperNationals among the favorites in a smaller, but very competitive S4 Master field. Nearly every one of the practice sessions saw a different driver at the top of the time charts. Kinnear was among them, posting fast time in Session 6 of seven. Qualifying Thursday evening came and under the lights, Kinnear was in the spotlight. By 26 thousandths of a second, Kinnear secured the fast time in the session with a 1:00.967 lap, edging out SKUSA Pro Tour champion Jordon Musser. Kinnear fought off Musser for the win in Heat #1, leading all 10 laps in Heat #2. Saturday was only the Heat #3 run, with Kinnear finding himself second at the checkered flag behind veteran karter Terry Lawrence, breaking up the possible perfect weekend.
The focus however was on SuperSunday, as the results still kept Ryan on the pole position for the main event. The holeshot went to Kinnear with Lawrence falling in behind. Lawrence kept the pressure on the SKUSA #2 plateholder until former champ and defending SuperNationals winner Gian Cavaciuti moved into the runner-up spot. The Italian pressured for a lap, until he retired with a mechanical issue. Lawrence retook second until Aussie Jason Faint became the new challenger. Late pressure was applied to Kinnear, who fended off all challengers to reach the checkered flag first to claim his first SuperNationals victory.
Kinnear is thinking about stepping back a little bit and just running a few select events that work with his schedule in 2018. His ultimate goal is to defend the SuperNats crown in 2018. He is simply enjoying the fact that he is the 2017 Superkarts! USA SuperNationals S4 Master Stock Honda winner – in honor of Frenchie.
November 2017 EKN Driver of the Month – Ryan Kinnear
Bio
Born: 8/14/85
Hometown: Richmond, Texas
Marital Status: Single
Children: 0
Height/Weight: 5'9" / 160lbs
Education: High School and Technical Training
Occupation: Offshore Service Supervisor
Racing Resume
Chassis: Intrepid
Engine/Engine Builder: Honda CR125 / SwedeTech
Sponsors: Champion Racing
Series You Compete In: SKUSA Pro Tour
Years Karting: 17 years
How did you get started in karting? My dad raced motocross as a kid and wanted to get me into that, but my mum wouldn't allow it, so instead him and his friend got a kart that we all played around on and it went from there.
What has been the high point in your racing career? Winning the SKUSA Pro Tour last year (2016) was big, but I think winning the SuperNationals this year was more special.
What are your goals in racing? Continue having fun and keep trying to win what I can.
In a few words, how would you describe your driving style?  Calculated and consistent.
Funniest moment at the race track? Hard to name just 1 moment as the entire race weekends with Champion Racing are constant jokes and having fun.
Likes
Favorite Track: New Castle Motorsports Park. I normally do well here so it's a very biased response.
Favorite form of professional motorsports: Formula 1
Favorite karting driver:  I'll let him have his moment – Jordy Vorrath.
Favorite professional driver: David Coulthard
Favorite website:  Facebook probably haha.  Gotta keep up with the times when you're offshore on a rig with nothing to do.
Favorite movie: Man that's tough and hard to single out just one.  My favorties to watch are the comic book movies like Batman and Iron Man etc.
Favorite actor/actress: Scarlett Johansson is pretty
Favorite music/group: Eminem
Favorite vacation/activity spot: On a sunny beach drinking an adult beverage
Favorite food: Pizza
The Real Deal
What do you do when not at the track? Work, play video games
What are your goals outside of karting? Continue growing in my career and being successful in it.
What type of street car do you drive? Toyota 4Runner
What type of street car would you like to drive? Something exotic like a Ferrari would be nice. I would probably end with a suspended license though.
What are your pet peeves or things that irritate you?  With my job and racing, I fly a TON, so when I get behind someone in security that don't know what they're doing that definitely irritates me.
What do you think could be done to improve the sport of karting? Just need everyone to get on the same page with classes, motors and series.  So much division just waters down the events and hurts everyone.  Also, I believe there should be a junior shifter class again.  When I started it was 80 Junior and from there you went to K1 (80 senior) and it was just a natural progression and not to mention how great the engine/classes were.  Now that there is no junior shifter class, the shifter classes are dying because as a junior you're only in a TaG kart, so the natural progression from there is into TaG senior.
What are your favorite aspects about the sport of karting?  The friends and memories you make at the track are things that I will cherish forever.  Also being able to compete at such a high racing level as I'm getting older is what keeps me coming back.
November 2017 Driver of the Month – Honorable Mention:
– Jak Crawford: SKUSA SuperNationals 21 – X30 Junior Winner / Rotax Max Challenge Grand Finals – 6th place (Junior Max)
– Brent Crews: Rotax Max Challenge Grand Finals – 5th place (Micro Max)
– Aidan Fox: Rotax Max Challenge Grand Finals – 11th place (Mini Max)
– Mike Jones: SKUSA SuperNationals 21 – S4 Super Master Winner
– Billy Musgrave: SKUSA SuperNationals 21 – S1 Winner
– Luke Selliken: Rotax Max Challenge Grand Finals – 17th place (Senior Max)
– Derek Wang: Rotax Max Challenge Grand Final – 7th place (DD2 Masters)