American Driver Ugo Ugochukwu Joins Fusion Motorsports in 2018
Talented driver ends Mini career; moves to Junior ranks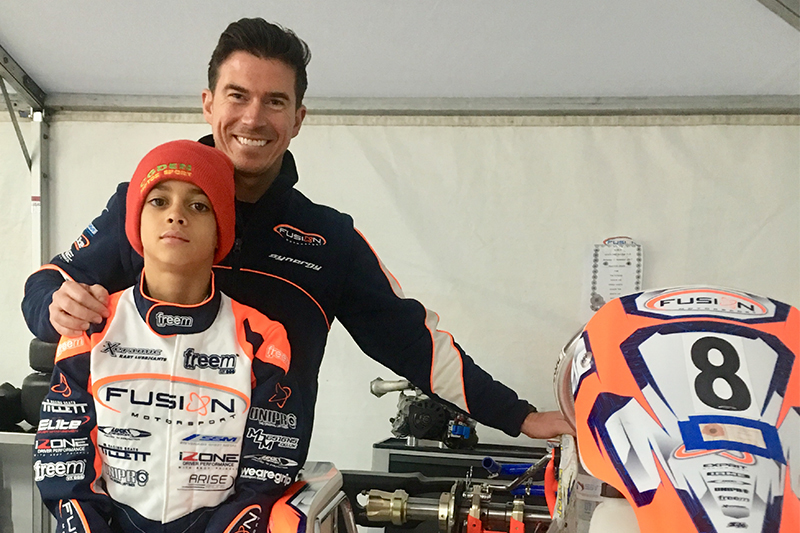 New York born driver Ugo Ugochukwu is set to move to the Junior ranks, ending a successful career in the Micro and Mini kart divisions that extended over two different continents during the past three seasons. Set to join Fusion Motorsports in the UK, Ugochukwu will embark on a new adventure in his young, yet flourishing career.
During a four year span Ugo has claimed a long list of titles: 2014 United States Micro ROK Champion, 2014 Pan American Rotax Micro MAX Champion, 2015 Florida Winter Tour Rotax Micro MAX Champion, 2016 Italian Vortex Mini ROK Vice Champion, 2017 Mini 60 Italian Vice Champion, 2017 Mini 60 Junior Italian Champion, 2017 Mini X30 Italian All Stars Champion and 2017 Mini X30 Mini Kup Champion.
After two wonderful years racing for Energy Corse in Italy, Ugo will join the Fusion Motorsports team in the UK and compete in the X30 Junior division in the Super One Championship and the LGM Championship.
This winter Ugo will return stateside to compete in the Vortex ROK Junior class at the 2018 ROK Cup Promotions Florida Winter Tour (FWT) before heading back overseas to continue his growth and development in the UK.
"Ugo has matured a lot in the past seasons and improved his race craft tremendously," explained Ruggero Melgrati, Ugochukwu's manager. "Moving to the UK for the 2018 season represents the next step in Ugo's preparation to his 2019 International debut in the OKJ FIA European and World Championship."
"We have been following with interest the results of Ugo on either side of the ocean," explained Fusion Motorsports' Dan Hazelwood. "And to be able to add him to our driver roaster makes us very proud. We would like to welcome him to the team and look forward to great success together."
Ugochukwu will compete this weekend at the ROK Winter Cup at Palm Beach Karting in Jupiter, Florida in the Vortex ROK Junior class.